Chef Michael Cimarusti brings the heat to baked shellfish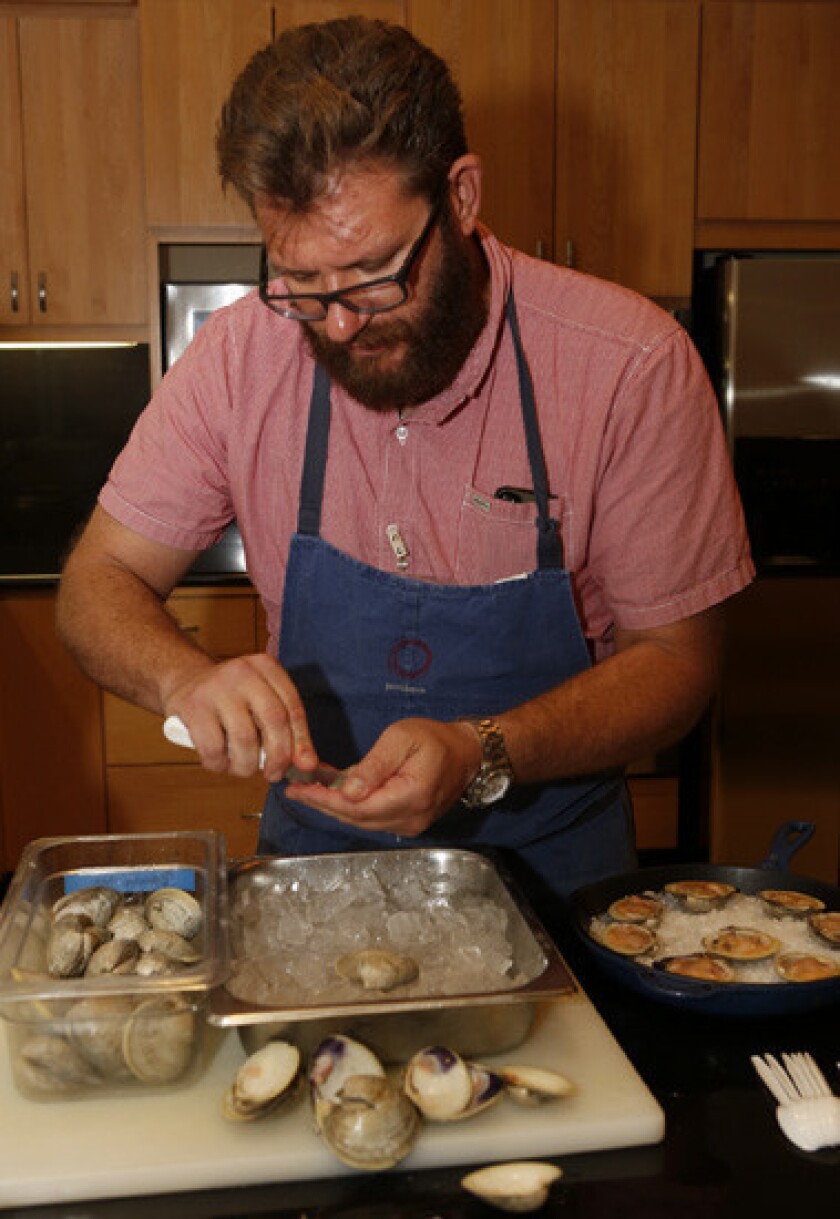 A pristine oyster on the half shell, unadorned, fresh, cold and briny, is a near-perfect thing. A properly shucked littleneck clam, alone, or with a drop or two of lemon and Tabasco, will make you say mmmm, every time.
But just because these shellfish are so good raw doesn't mean we shouldn't cook them too. Properly cooked shellfish is a wonderful thing. The cooking intensifies and transforms the flavor. Oysters especially change completely when cooked, seeming rich and fatty in the best way, while in the raw state they are anything but.
You've got to be careful when cooking either type of shellfish, though. When overcooked, neither is good, so mind the time and temperature.
The initial preparation is the same for raw and cooked. You need to find a good source to buy from and most likely pre-order to get exactly what you want. Clams and oysters will come from the vendor with tags, stating when and where they were harvested. Look for shellfish that has been harvested within the last four or five days.
Once you get them home, keep them refrigerated or on ice in a cooler that has a drain. Keep them covered with wet paper towels, a damp newspaper or seaweed when storing them in the fridge.
Oysters and clams need to be washed well before any type of preparation. I like to place them in a sink with crushed or cubed ice and enough water to nearly cover them. Use a wooden spoon to stir the ice water vigorously for several minutes. The ice will serve as an abrasive, removing most of the sand and debris from the surface of the shells. Any that remains can be removed with a bristle brush.
This process will also deeply chill the shellfish and make them a bit easier to open. You will need a clam knife for the clams and an oyster knife for the oysters. Remember, opening clams and oysters is not a test of strength and actually requires very little physical effort. The best shuckers make it look easy, and it often is, but you will need to do it often to become proficient.
Baked shellfish dishes rely heavily on the freshness of the clams and oysters, so you will need to find the best that you can. Open the clams and oysters just before you are ready to prepare the dish.
Oysters Rockefeller is a recipe that we all know by name. A Rockefeller is basically an oyster topped with spinach that has been cooked down with fennel, Pernod and a bit of cream and butter.
The deviled oysters are even more simple to prepare and equally delicious. Once shucked, the oysters are glazed with sauce, some white bread crumbs and a little butter before being baked. They are finished under the broiler to create a crispy crust. The oysters are garnished with some red jalapeño and sliced scallion. Both recipes should be served hot from the oven with shellfish forks. Once you've eaten the oyster from the shell, you'll want to slurp the juice and scrape the crusty bits from the shells.
The baked clam dish relies on the flavor of a compound butter to which you will add bread crumbs and a bit of panko crumbs. You will need to roll out the butter thinly and evenly before placing it in the freezer overnight. Once chilled, the butter is cut into a shape that is similar to the size of the clam. Simply pop the butter on top of the shucked clams, bake for three minutes and then broil them until they are well browned and bubbly.
Eat them immediately and drink the broth from their shells, repeating often. You'll find that a half-dozen or so will do for most people, or you might want to serve them at a cocktail party as passed hors d'oeuvres. Mind your fingers and try to keep the guests out of the kitchen. Go ahead, try.
---
Get our weekly Tasting Notes newsletter for reviews, news and more from critics Bill Addison and Patricia Escárcega.
You may occasionally receive promotional content from the Los Angeles Times.