E-bikes help you get in a workout — and a breezy commute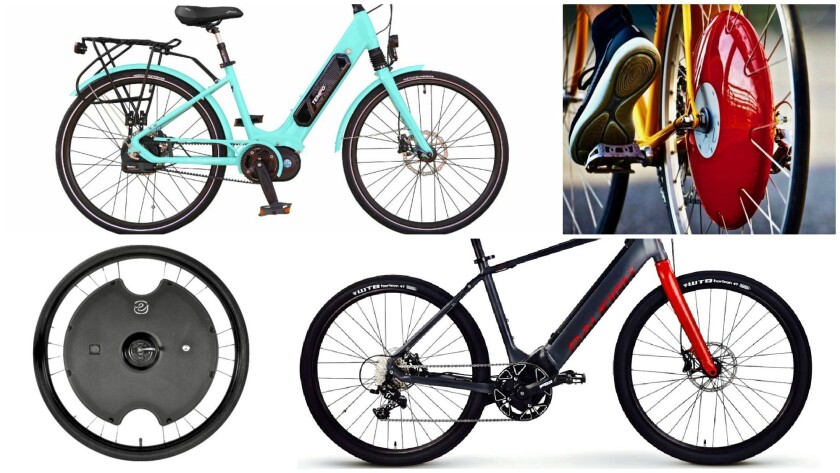 The market for pedal-assist electric bicycles is red hot, with well-known bike, car and component name brands like Specialized, Raleigh, BMW, Yamaha, Bosch and Shimano getting in on the action.
It's no surprise why: E-bike riders are dazzled by the fun of pedaling on the flats for fitness while zipping up hills without breaking a sweat (thanks to the e-boost). They're also drawn in by the sleek new battery-hiding designs, declining prices and new categories. Formerly skeptical club riders, slowed by age but determined to keep up with the pack, are unabashedly snapping up expensive road and mountain bike versions, joining early adopters that include commuters and Baby Boomers, who make up the bulk of buyers, and commuters..
E-bikes can even be found in Costco and Walmart these days, and are perfect for an extravagant last-minute holiday gift — or a jump on those New Year's resolutions.
Here are some electrifying models — including add-on e-wheels for your existing bike —seen earlier this year at the Interbike expo in Las Vegas and a demo day at the Orange County Fair in Costa Mesa.
Stylish and shiftless
Look, no gear shifters! The comfy, convenient Tempo Santa Barbara features a NuVinci auto-shifting rear hub, which uses speed sensors to keep you at the right cadence. The deluxe 53-pounder has a range of 30-35 miles. $4,495. tempobicycles.com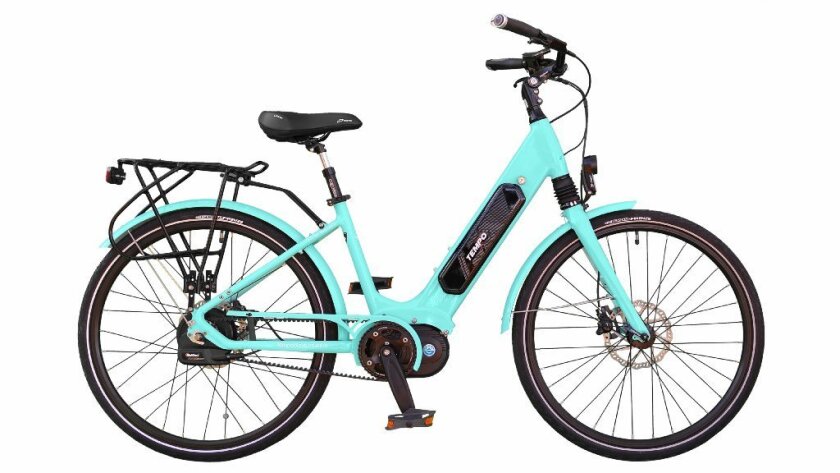 For the budget-minded
Why break the bank? The Populo Sport cuts costs by ingeniously mating a simple one-speed drivetrain with a 250-watt hub motor and 8 levels of electronic assist (others have 3 or 4). It comes with a smart LED screen and a 36-volt battery with a USB charging port for your iPod. Range: 30-plus miles. $999. populo.com
Traffic tamer
A top speed of 28 mph at max electric assist lets the handsome Trek Super Commuter + live up to its name. The racy 52-pounder boasts a 30-mile range. $4,999. trekbikes.com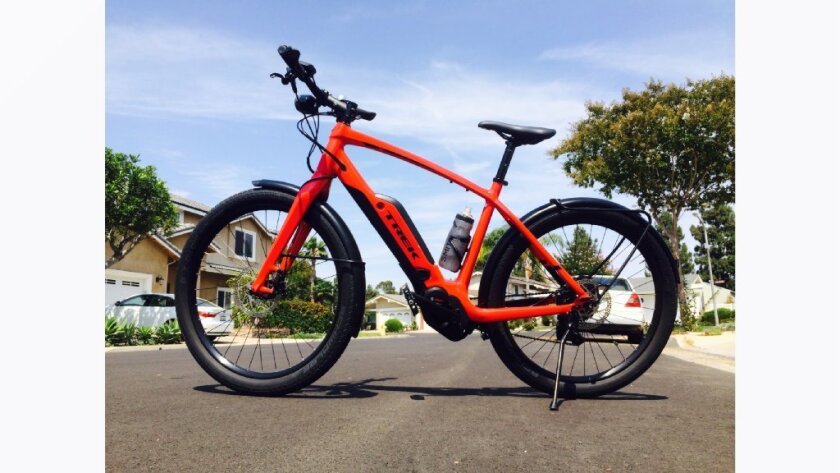 Load it up
The Tern GSD cargo bike stands out — literally — with three highly practical and unique features: Low center of gravity, which gives it rock-solid stability and regular-bike length (just 6 feet); slots for two batteries, for a 150-mile range; and the ability to stand on end for easy storage. Slated to be available in March. $3,999. ternbicycles.com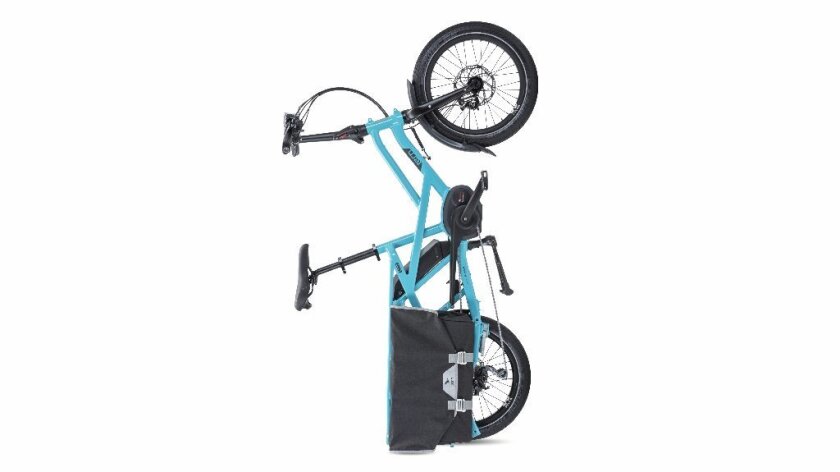 Long-range luxury
The Elby cuts range anxiety with a regeneration mode that recharges the battery while coasting and braking, claiming 80-90 miles per charge. Its moped-inspired step-through design includes a handlebar mount for your cellphone to serve as the dashboard speedometer, Google Map router, and bike status system check. Purchase includes "Concierge Delivery" to your front door. $3,899. elbybike.com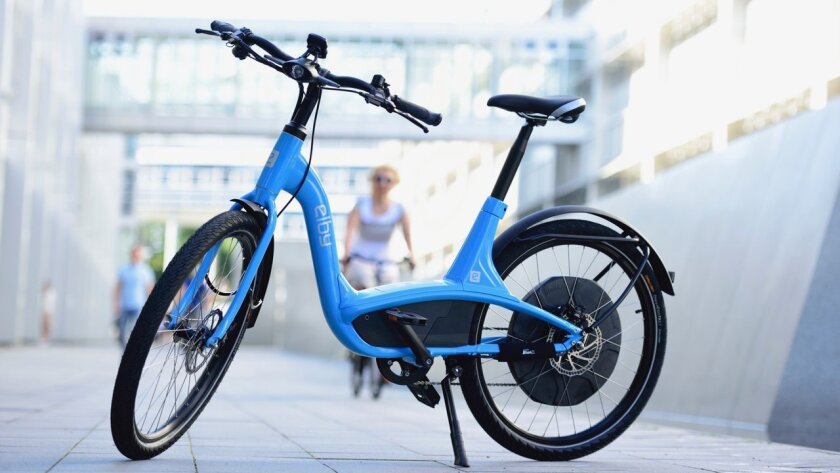 E-Mountain bike
Since balance is everything on a mountain bike, the Cannondale Moterra positions the 250-watt Bosch motor and the battery low and central — and yes, there are shocks. $5,499. cannondale.com
A fold-up flyer
Built to take on a bus, a train or in your trunk, the tiny, 50-pound Pedego Latch folds in half in seconds. It includes a built-in headlight and rack-mounted battery and fenders. It's quiet, too. $2,695 and up. pedego.com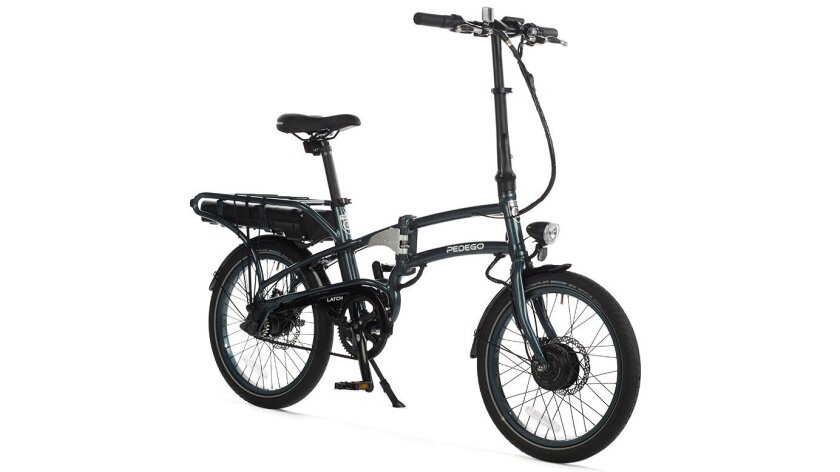 For the workout/commute
The versatile RaleighTamland iE, one of the market's first drop-bar e-road bikes, sports wide tires that can tackle gravel roads and a 28 mph top speed for commuting. It's about 45 pounds, and boasts a 70-mile range on low assist. $4,399. raleighelectric.com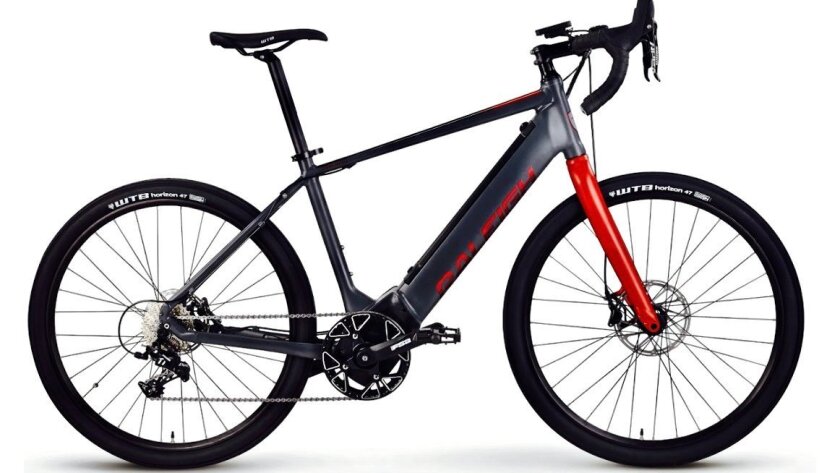 DIY conversion
Interested in e-biking but don't need another bike cluttering your garage? Convert your regular bike by swapping in an e-wheel, which tucks a motor and battery inside. Here are three ways to do just that:
The Geo-Orbital front wheel includes a flat-proof tire — and a USB port for phone charging. Generative braking extends its range to over 50 miles. $995. geoo.com. The Superpedestrain Copenhagen's brainy rear wheel contains a 720-watt motor and battery that you control via an app on your cellphone, and matches speed to your pedaling effort — giving you a boost of power on hills and during other hard efforts. $1,500. content.superpedestrian.com. And finally: Activated by a pedal sensor that talks to a handlebar-mounted cellphone, this 400-watt front wheel from Electron kicks in extra juice when you encounter a hill. Range is 50 miles at 20 mph assisted pace. $799. electronwheel.com
READ ON!
Yes, you can eat your way to beautiful skin
10 high-tech gadgets to help you get to sleep
How 'Scandal's' Katie Lowes hid her psoriasis
7 steps to making your health your No. 1 priority
---