7 reasons why you're about to fall in love with floating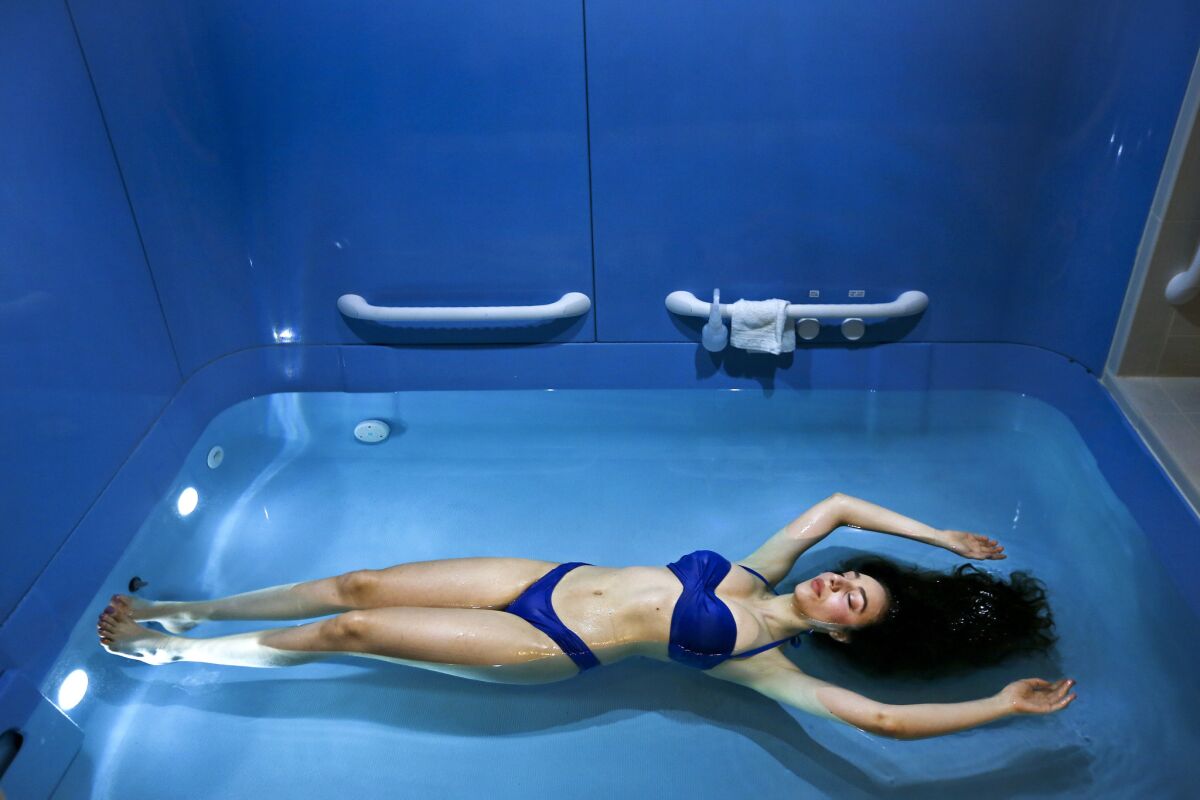 What used to be rather grimly called "sensory deprivation" or "isolation" therapy has resurfaced as the far more appealing "flotation therapy": Those in need of some de-stressing and mental relaxation can bob about, alone, in an enclosed tub filled with enough salt water to keep them gently suspended on its surface.
One of the newest entrants to the Los Angeles float scene is Just Float, a 3-month-old facility in Pasadena. With 11 separate "suites," it is also the largest in the world, according to founder Jim Hefner, who decided to open it after he tried flotation therapy and was just "blown away."
Here are seven reasons why floating could be your next thing.
1. There's plenty of room. Flotation chambers used to be akin to little tanks — not great for those prone to claustrophobia. But no longer. At Just Float, for example, chambers are eight feet long by five wide with a ceiling that is seven feet high, so you can stand up in it and not hit your head. Not that you would want to be standing anyway: The point is to lie down and let the water carry you while mental clutter falls away.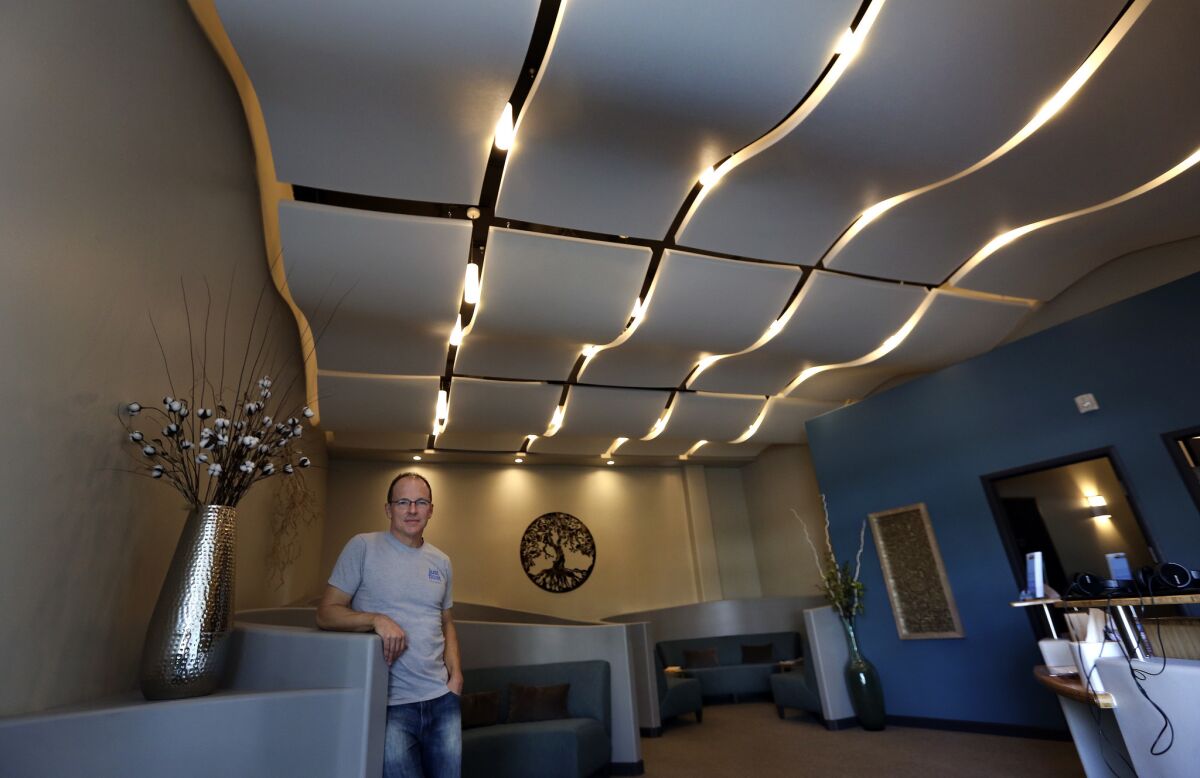 2. It's totally private. Float centers are catering to individual needs. At Just Float, each suite, which locks from the inside, comes with its own shower and small dressing area, complete with basic toiletries and a fluffy towel and bathrobe. The idea is to get naked, although if you want to wear a bathing suit, nobody will stop you. (Hefner says the experience is heightened if there is no barrier between skin and water.) Once you've showered, another small door leads into the flotation unit. It looks like a large, shallow hot tub. Step in, and let the floating begin.
3. You'll enjoy a feeling of absolute suspension. At Just Float, it comes from the 1,300 pounds of Epsom salts dissolved in 260 gallons of body-temperature water. As the mind relaxes, the music piped in shuts down. (It's only on for the first five minutes.) The unit is completely soundproof: Coachella could spring up around you and you wouldn't hear a thing.
See the most-read in Life & Style this hour >>
4. You can keep the lights on, if you want. Traditional float therapy may call for total darkness. But many places allow you to decide. At Just Float, the lights turn off after five minutes. Floaters can get half of them back — just enough for it to be soothingly
dim.
5. Float therapy centers pride themselves on cleanliness. At Just Float, a high-tech system purifies the water four times between each user, running it through an ultraviolet disinfection process. Indeed, just minutes after the float is over, an invisible machine whirs to life, starting the cleansing process. If there's any doubt, ask before you buy.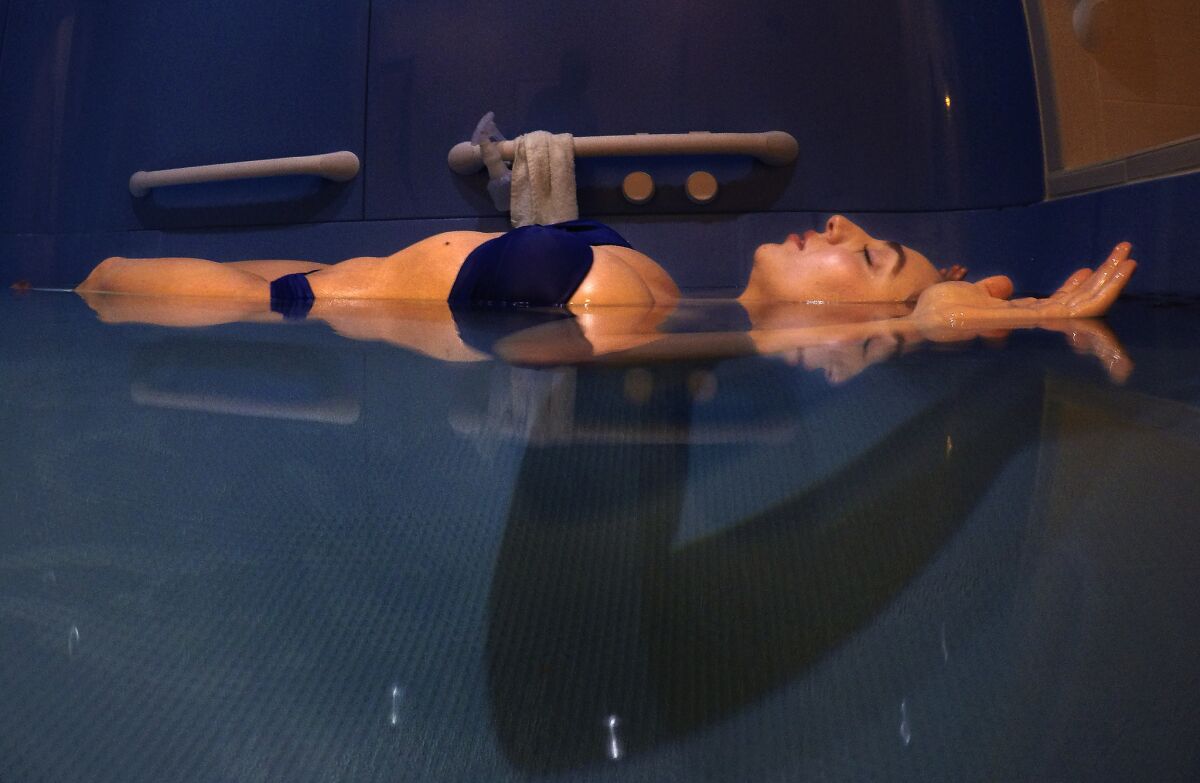 6. There is no rush. Many float centers offer sessions that last an hour or longer. At Just Float, once the float is over, a second shower (using a special post-float conditioner) gets rid of the salty residue on the body and in the hair. A tea lounge with a selection of organic teas is used for regrouping before hitting the 210 Freeway.
7. Floating is for just about everyone, so shop around: At Just Float, for example, there is a specially fitted room designed for those who have physical disabilities.
Here are some float centers in and around the Los Angeles area:
Just Float, in Pasadena. $60 per hourlong float. Justfloat.com
Float Lab, in Venice and Westwood. $40 for a two-hour float. floatlab.com
Float Clinic, in Torrance. $45 for a 90-minute float, done in total darkness. floatclinic.com
Nova Center, in Woodland Hills. $99 for 90 minutes. You can float to various light patterns, or total darkness. Floaters also listen to a guided meditation. novacenter.com
Newport Float Therapy, in Costa Mesa. First-time float special is $59 for 90 minutes. newportfloat.com
MORE FROM HEALTH AND FITNESS
Want to look like super-fit Kate Hudson? You won't get there with quick fixes or fad diets
Want a well-rounded workout regimen? Add tai chi for flexibility -- and serenity
Feeling sick but still want to exercise? Let the 'neck rule' be your guide
---