School's out! 12 fun things for kids (and adults) to do this summer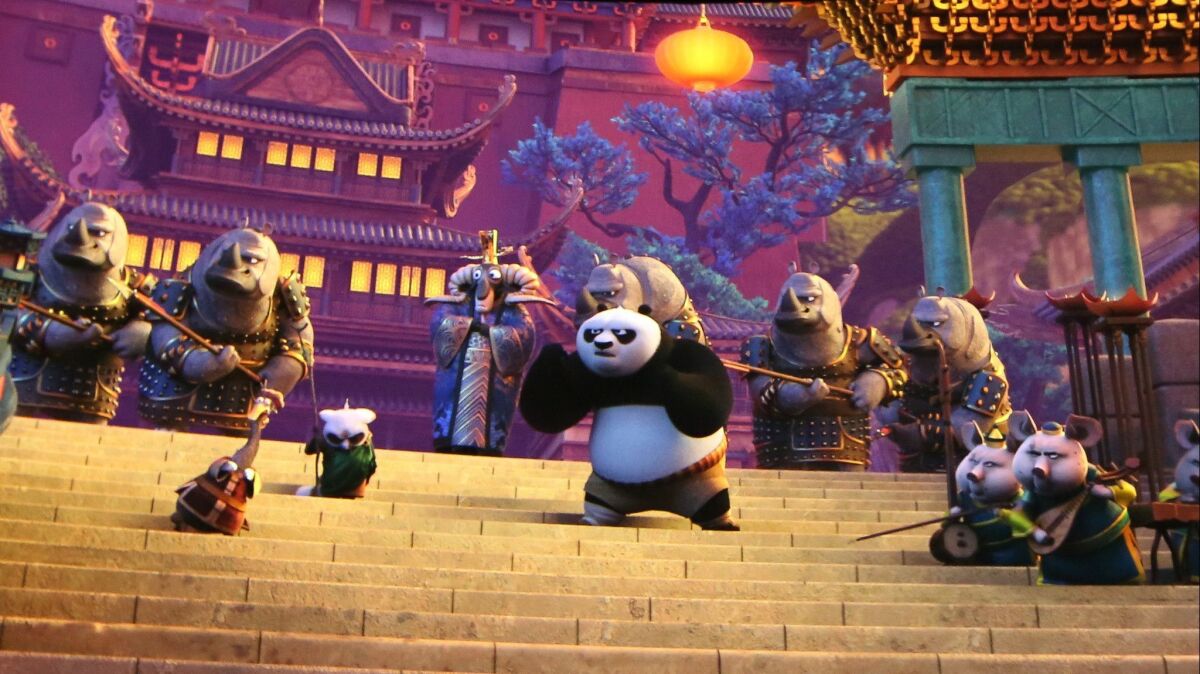 It's summer. That means it's time to play. Here are a few of our favorite things for kids — and, ahem — adults to do this swimming season.
1. Summer of the Panda
If you need a reason to visit Universal Studios Hollywood, perhaps the world's favorite slacker panda will tempt you into negotiating the 101. Kung Fu Panda: The Emperor's Quest, an immersive attraction for the newly built DreamWorks Theatre, opened June 15, and Universal promises "state-of-the-art visual effects and cutting-edge technology to engulf you in a world of adventure." 100 Universal City Plaza, Universal City. General admission ticket prices start at around $110. universalstudioshollywood.com
::
2. Free outdoor movies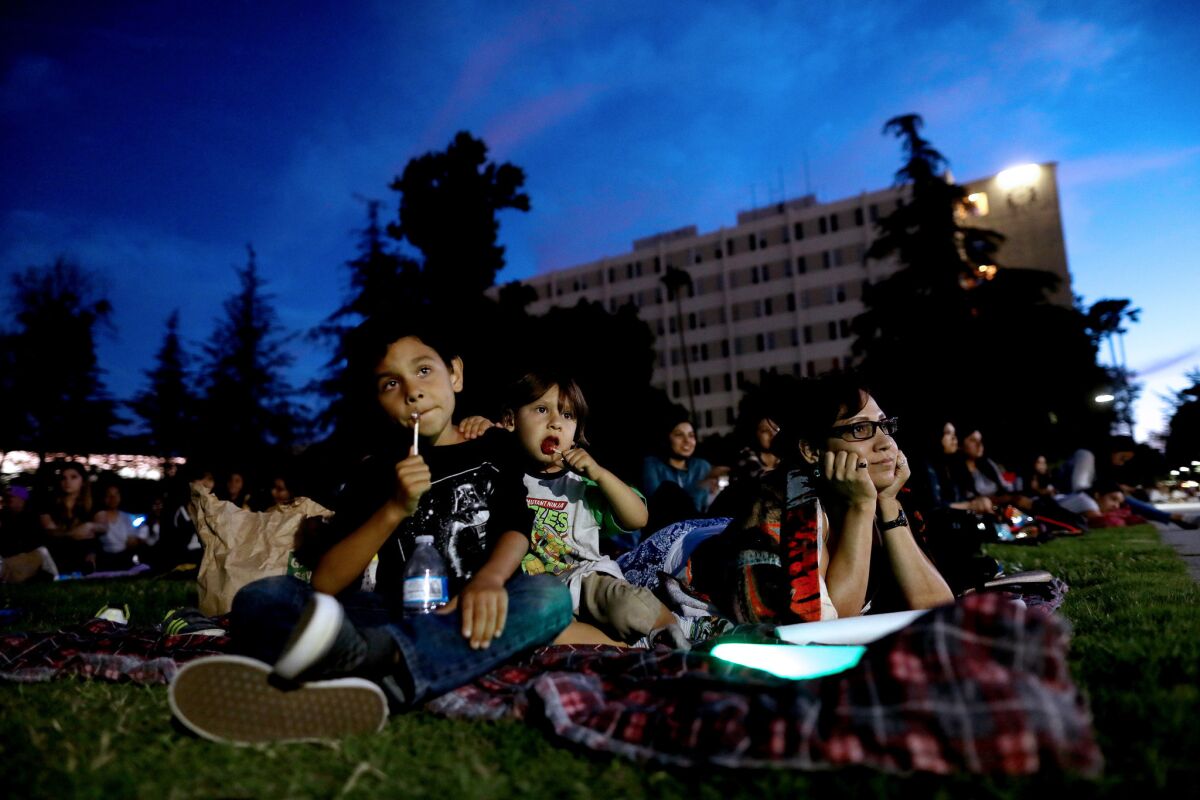 Outdoor movies are one of the best traditions of the summer — and Cal State Northridge has scheduled a series of free, family-oriented films to screen on the Oviatt Library Lawn, Thursdays nights at dusk. Movies include "The Princess and the Frog," "Wonder Woman," "Black Panther" and "Dirty Dancing." 18111 Nordhoff St., Northridge. (818) 677-2477. Lot parking is $8. csun.edu
Check with your municipality; many other communities have scheduled outdoor movies this summer too. The city of Torrance will screen "Paddington 2," "Despicable Me 3" and "Moana" on Saturday nights (about 8 p.m.) at various city parks. For more information, call (310) 328-5310. torranceca.gov/home
::
3. Panning for gold
The words "California gold rush" are usually associated with the well-known, mid-19th century discovery at Sutter's Mill, but the Autry Museum of the American West in Griffith Park has created a series of events that will allow for some 21st-century nugget therapy. Panning is scheduled for 11 a.m. to 3 p.m. Saturdays and Sundays and 10:30 a.m. to 2:30 p.m. Tuesdays through Fridays, through Aug. 3. (Panning can be canceled due to weather conditions, so it's best to call ahead before heading out.) 4700 Western Heritage Way, Griffith Park, (323) 667-2000. Adults, $14; students with current ID and seniors, $10; children 3-12, $6; children under 3, free. theautry.org
::
4. Farm tours
Do you worry that your children are clueless about where their food comes from? Underwood Family Farms in Moorpark offers regular tours for kids (and their families) — and a chance to buy some fresh produce. Is there a summer day camp program? Of course there is. 3370 Sunset Valley Road, Moorpark, (805) 529-3690. Farm tour prices start at $3. Farm camp, 9 a.m.-1 p.m., Mondays through Fridays, $250 per week. underwoodfamilyfarms.com
::
5. The call of the wild
For city folks, an "exotic animal" may be one of those feral parrots that has escaped from its home, generating the occasional headline. But if your family is in the mood to see a larger array of creatures, check out the Star Eco Station in Culver City, a rescue center that houses all sorts of animals, including Solomon Island skinks, bobcats and box turtles. 10101 Jefferson Blvd., Culver City, (310) 842-8060. Tours, 10 a.m.-4 p.m. Saturdays and Sundays. Adults, $8; seniors, $7; children, $6. The Star Eco Station also sponsors a series of summer camps at $385 a week. ecostation.org
::
6. Noah's Ark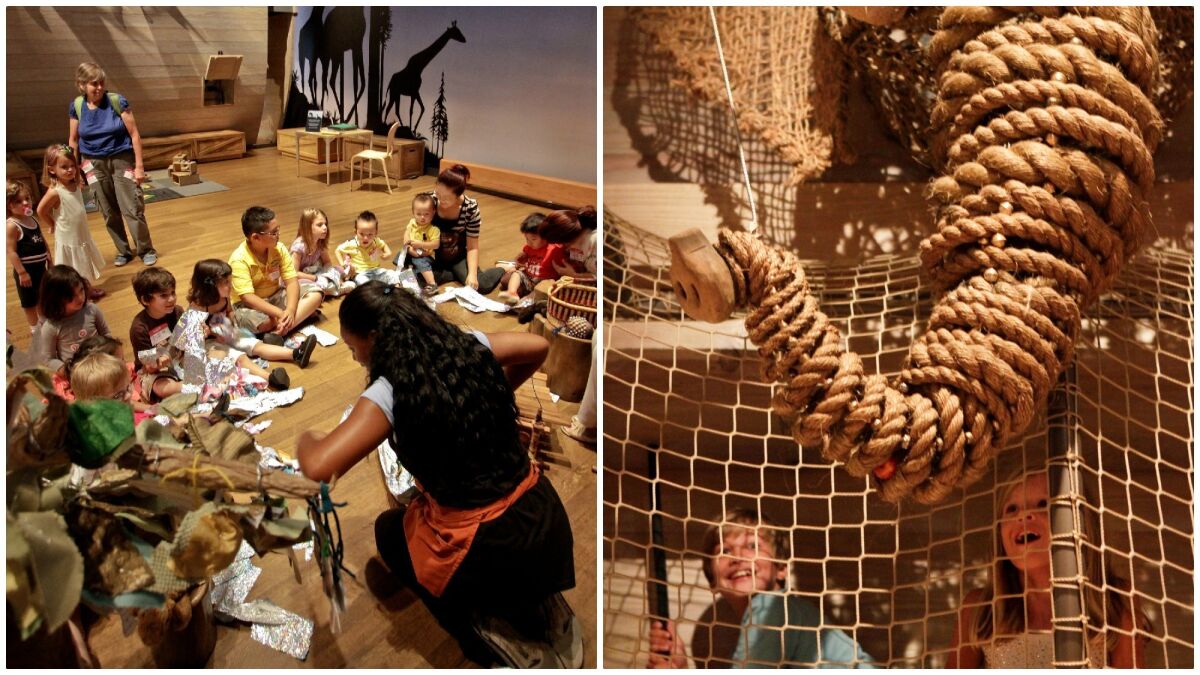 An afternoon at the Skirball Cultural Center's Noah's Ark, which includes hundreds of life-size animal reproductions (many of them interactive), offers an opportunity to indulge in some old-fashioned playtime. Just bring your imagination. 2701 Sepulveda Blvd., Los Angeles, (310) 440-4500. Open noon-5 p.m.Tuesdays through Fridays, 10 a.m.-5 p.m. Saturdays and Sundays, closed Mondays. Admission includes access to Noah's Ark, billed as a "floor-to-ceiling wooden ark, filled to the rafters with whimsical animals." General admission, $12; seniors, $9; full-time students with ID and children over 12, $9; children 2-12, $ 7. (Advance tickets and registration for Noah's Ark on weekends and school holidays are recommended.) skirball.org/noahs-ark
::
7. Concerts in the park
The city of Long Beach understands that sitting on a blanket and listening to live music might be the best thing that happens all summer. It sponsors a series of free (or cheap) concerts at a variety of city parks, featuring the Long Beach Municipal Band (scheduled to perform, among other dates, on June 26 and July 3 at Whaley Park), the Long Beach Community Band, tribute bands and other musical groups. Bring your blankets, chairs and food — and your kids. The good vibes are free. (Many other cities offer similar activities, so check around.) longbeach.gov
::
8. CicLAvia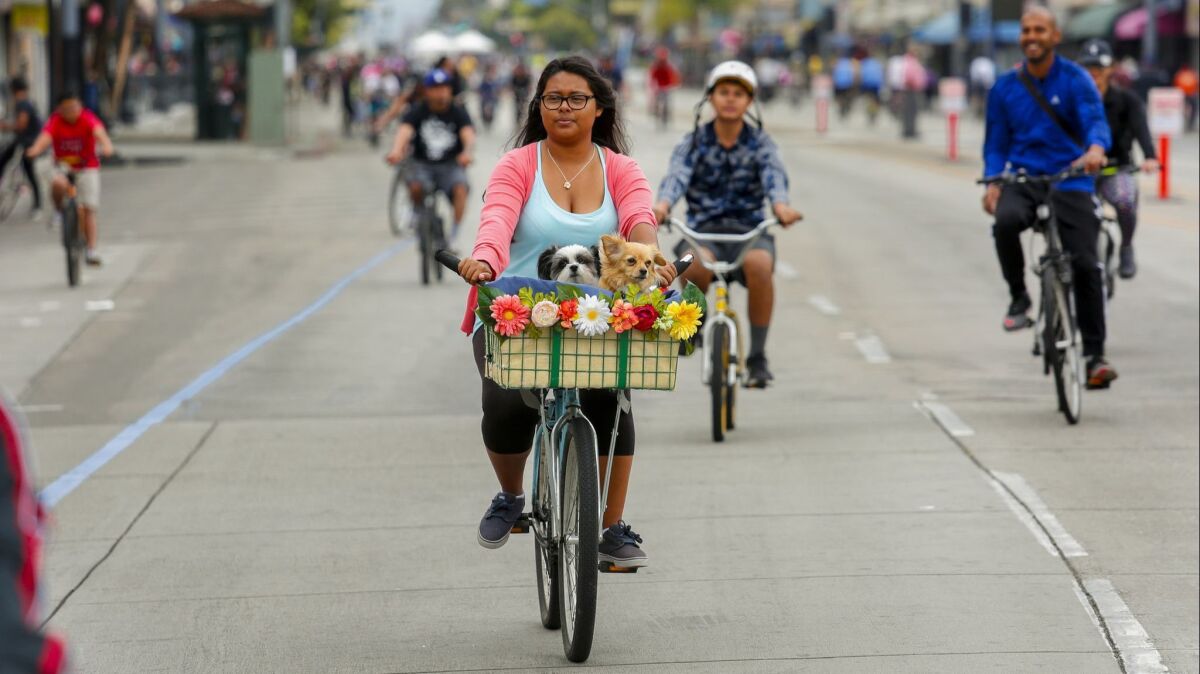 Sometimes a family needs to get physical. CicLAvia, modeled on weekly "open streets" festivals in Colombia and created to promote active transportation and good health, will return to the San Fernando Valley on June 24. You can explore Panorama City, Arleta and Pacoima, where many streets will be closed to cars and are wide open for cyclists, pedestrians, runners and skaters to use as a recreational space. (213) 355-8500. 9 a.m.-4 p.m. June 24. ciclavia.org
::
9. Dinosaur encounters
The Natural History Museum of Los Angeles County has so many activities for children, it can be challenging to commit to any one thing. The June and July NHM calendars are full of nature walks, "meet a live animal" events and "dinosaur encounters," among other activities. Or perhaps a stroll through the NHM Butterfly Pavilion (open through Sept. 3), home to hundreds of butterflies and the plants that surround them, is in order. Just hold out your hand and watch for wings. 900 Exposition Blvd., Los Angeles. (213) 763-DINO. Open 9:30-5 p.m. daily. Adults, $15; senior, students with school ID and youths 13-17, $12; children 3-12, $7. (There's an extra charge for the Butterfly Pavilion.) nhm.org
::
10. Penguins, sea squirts and more
Three words: Sea squirt camp. It's a real thing — a three-morning camp (for ages 5-6) taking place at the Aquarium of the Pacific in Long Beach, Aug. 7-9. Participants can count on lots of wiggly fish, furry animals and "boneless beauties." The aquarium also offers a junior biologist day camp, ocean adventure day camp and a fish fry camp. If day camp isn't your thing, there are educational classes and guest speakers and a penguin habitat where the residents have names like Admiral Fancy Pants and Paddles. Just try to resist. 100 Aquarium Way, Long Beach, (562) 590-3100. 9 a.m.-6 p.m., open daily. Adults, $29.95 for general admission; seniors, $26.95; and children 3-11, $17.95. Day camp prices vary. aquariumofpacific.org
::
11. Deep dive into history
When you hear the name Genghis Khan your first thoughts might be: "brutal warrior" or "genocidal ruler." It's less likely that you'll be thinking "Genghis the great civilizer and lawmaker." But the Ronald Reagan Presidential Library & Museum hopes its Genghis Khan exhibit, which runs through Aug. 19, will encourage visitors to get to know the "man behind the legend" and some of the things he introduced to Western civilization (think cannons, a pony express service, paper money and skis, among other items). The exhibition includes costumes, jewels, ornaments, instruments — and a series of rare weapons one might expect from one of history's greatest empire builders. 40 Presidential Drive, (805) 577-4066. 10 a.m.-5 p.m. daily. Adults, $25; seniors, $22; 11-17; $18; 3-10, $15. reaganfoundation.org
::
12. Hit the books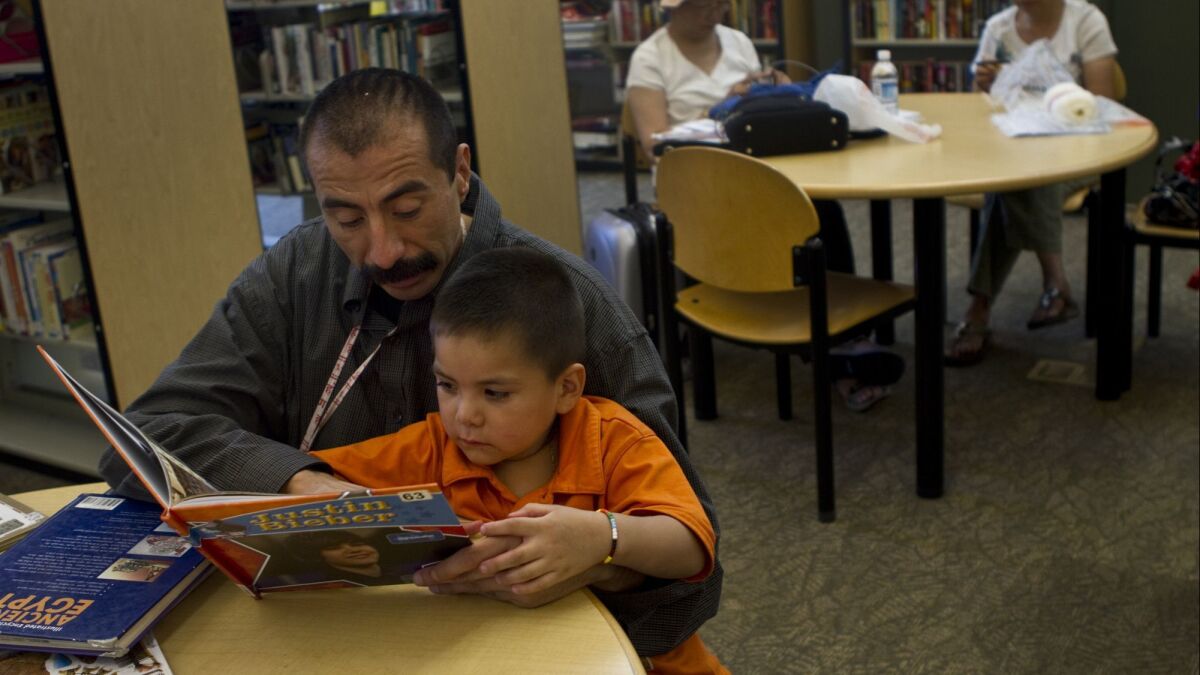 Contact your local library. You're sure to find something fun to do indoors (read: in air conditioning) on a hot summer's day. Here are just a few selections.The Los Angeles Public Library is hosting a summer reading series featuring authors talking about, reading from and giving away their books to lucky winners. On June 28, Brandy Colbert will introduce her award-winning book, "Little & Lion," which deals with family drama, love and mental illness, at the Echo Park Branch Library, 1410 W. Temple St., Los Angeles. More info at lapl.org/summerauthor. And the West Hollywood Public Library is hosting Drag Queen Story Hour from 11 a.m. to noon today (June 23) and again Aug. 25 at the library at 625 N. San Vicente Blvd., West Hollywood. lacountylibrary.org.
Did we miss one of your favorite summer-time events? If so, let us know at Home@latimes.com and we may include it an upcoming Saturday section.
---