Going 'Behind Closed Doors' with creative minds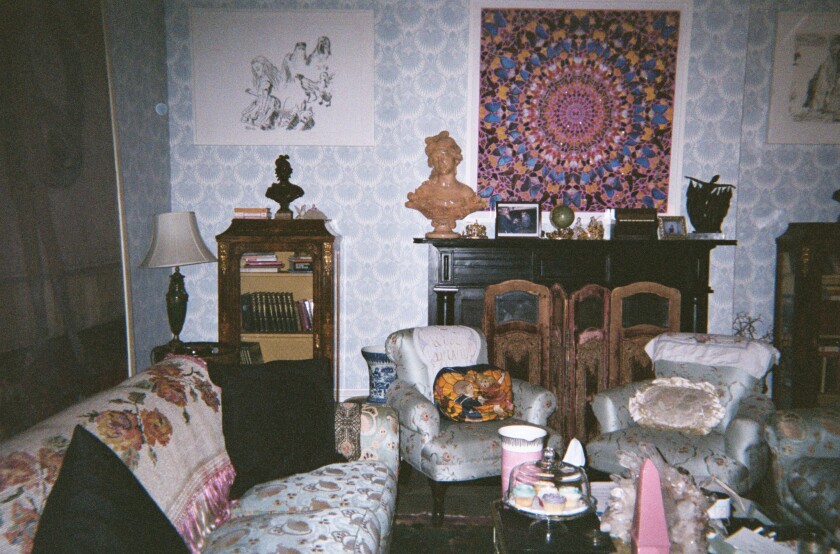 Courtney Love's antiques-filled New York home is featured in Rob Meyers' "Behind Closed Doors: The Private Homes of 25 of the World's Most Creative People." The space has the dainty air of a Victorian parlor -- with the exception of a Damien Hirst butterfly artwork, contemporary snapshots and a cake stand filled with cupcakes.
(Courtney Love)
Courtney Love's collectibles on a display shelf include gold-trimmed pottery and vintage wedding cake toppers.
(Courtney Love)
That's a good thing: In her gleaming Bedford, N.Y., kitchen, Martha Stewart keeps her spices in ramekins on a copper-trimmed tray.
(Martha Stewart)
In his New York home, Belgian fashion designer Olivier Theyskens, artistic director of Theory, has a Lego model of Frank Lloyd Wright's Fallingwater and a collection of seashells and Chanel perfume bottles. His icebox is stocked with essentials: yogurt, juice, condiments and Champagne.
(Olivier Theyskens)
Tavi Gevinson, the teen fashion blogger and editor of Rookie magazine, lives with her parents in Oak Park, Ill. Her room is the typical jumble of adolescent knickknacks and a wall that doubles as an easy-to-access jewelry and headband display case.
(Tavi Gevinson)
In "Behind Closed Doors: The Private Homes of 25 of the World's Most Creative People" (Hardie Grant, $29.95), London-based journalist Rob Meyers has assembled the interior-design version of those stars-without-their-makeup slide shows that never fail to fascinate.
The book revolves around a simple premise: Meyers sent disposable cameras to dozens of celebrities, designers and fellow journalists with one simple instruction: Whatever else you photograph, you must shoot the inside of your icebox. (Martha Stewart's stainless-steel and glass double-door refrigerator in her Bedford, N.Y., farmhouse, for instance, is predictably well-stocked and well-organized and includes — gasp — a jar of store-bought mayonnaise.)
Without stylists, lighting and fancy equipment, the resulting photographs aim to show us, unfiltered, how people really live.
Some homes, like the elegantly faded ancestral residence of England's Lord Peregrine and Lady Catherine St. Germans, feel moody and romantic with frayed rugs and dim afternoon light that are only highlighted by the graininess of the film.
Others seem to embody the personality of the homeowner — fashion designer Jeremy Scott's Midcentury Modern West Hollywood pad sports boldly colored 1980s Italian furniture from the Memphis group and kitschy Ronald McDonald figurines.
There are also surprises, such as the sweetly pastel-silk-and-floral Miss Haversham flavor of raucous rocker Courtney Love's Manhattan apartment, above.
And many of the photographs are achingly mundane, revealing the forlorn fridges, unmade beds and disarrayed bookshelves that seem to confirm the notion that creative souls are rarely tidy ones.
ALSO:
Rhea Perlman and designer meditate on an artful space
Interior designer Heather Ashton's playful spirit shows at home
'My Pet Chicken Handbook': Practical advice for raising backyard chickens
JOIN THE CONVERSATION: @latimeshome | pinterest.com/latimeshome | facebook.com/latimeshome | facebook.com/latimesgarden
---