5 Inglewood cops are off the force, adding to the mystery surrounding fatal shooting of couple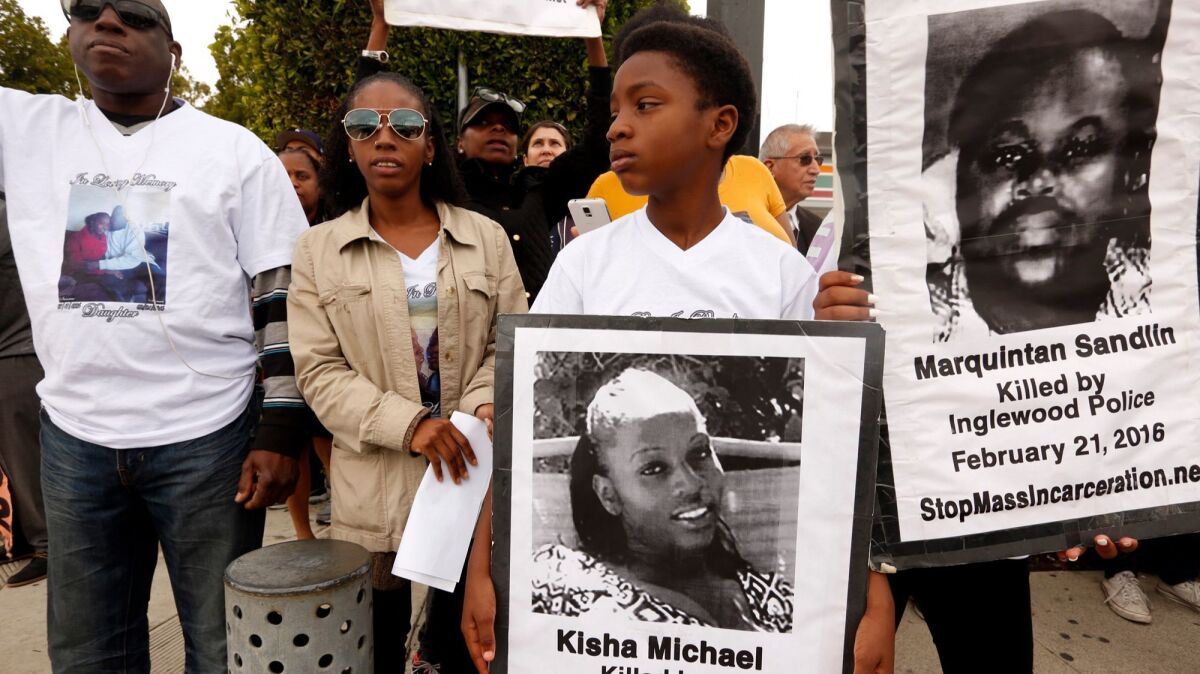 Five officers are out at the Inglewood Police Department after a controversial shooting that sparked protests last year, the city's mayor announced Tuesday.
But many questions remain unanswered about exactly what happened when police shot two people sitting inside a car multiple times.
Here's a breakdown of what we know, and what we still don't.
WHAT EXACTLY HAPPENED?
An early morning encounter, then police open fire
Ingelwood police fatally shot Marquintan Sandlin and Kisha Michael while they were inside a car on Feb. 21, 2016.
According to autopsy reports and a police statement, officers approached Michael and Sandlin in a car at Manchester Boulevard and Inglewood Avenue shortly after 3 a.m.
The couple appeared "unconscious" and Michael, who sat in the passenger seat, had a gun on her lap, authorities said.
An autopsy report reviewed by The Times said only that there was an "unknown exchange" between police and the couple before officers fired several rounds into the car.
Police have never said whether Michael or Sandlin pointed the handgun at them.
Days after the shooting, Inglewood Mayor James T. Butts Jr. told KNBC-TV Channel 4 in an interview that officers "retreated, isolated the vehicle and spent about 45 minutes attempting to rouse the occupants and to de-escalate the situation."
The autopsy report shows that Michael's blood-alcohol content was 0.185, more than twice the legal limit for driving. Traces of methamphetamine, which the coroner's report said can be used to treat attention deficit disorder and obesity, were found in her blood.
Sandlin's blood-alcohol content was 0.13, over the legal driving limit. No drugs were found in his system.
WHAT WE KNOW ABOUT THE OFFICERS
Five officers out at department, but details unclear
City spokeswoman Jasmyne Cannick said Tuesday that the five officers were "separated from service." Neither she nor Butts identified them, but they had been previously identified by the city, which initially refused, after a public records request. They are Michael Jaen, Richard Parcella, Jason Cantrell, Sean Reidy and Andrew Cohen.
All five held the rank of police officer, and four had been with the Inglewood Police Department for two years or less. One had been with the department for five years, Cannick said.
It's unclear whether they were fired or quit.
THE BIGGER PICTURE
Inglewood police have history of controversial shootings
Over the years, there have been calls to reform Inglewood's civilian oversight of the police. In 2008, after police in a span of four months fatally shot four men -- three of whom were unarmed — the U.S. Department of Justice launched a civil rights probe. Federal officials found significant flaws in the way Inglewood police oversaw use-of-force incidents and investigated complaints against officers.
One case involved the shooting of motorist Juan Jose Palma, whom the city paid $4.6 million to settle an excessive force lawsuit. Palma, now 46, was shot in the head by an officer during a 2012 traffic stop. The officer said he shot Palma because he refused commands to show his hands and appeared to be reaching behind his car seat for a weapon. No firearm was found in Palma's SUV, but a baseball bat was found in the vehicle. Palma survived but suffered lasting brain damage.
The Justice Department proposed a host of reforms to help ease fear and distrust among city residents, including strengthening the police oversight commission. One of the six recommendations called for the Police Department to "actively solicit citizen participation and input in the review of its policies and procedures," according to the report.
But The Times reported last year that the commission rarely meets.
The families of Michael and Sandlin complained about the lack of response from the commission to their questions about the shooting.
WHAT HAPPENS NEXT
Inglewood says its investigation over, but many questions remain
Inglewood police said its investigation is now complete but that the details are not being made public.
Mayor Butts said in a statement: "The department's report and any discipline that results from the report are confidential."
Ed Obayashi, a sheriff's deputy and legal advisor for Inyo County who is an expert on use-of-force incidents, said the outcome of the internal inquiry was extraordinary.
"It is very unusual for them to be gone so quickly," Obayashi said of the officers, adding that it is "unheard of" for a police department to not provide explanations about what the officers thought and what guided their decisions in the shooting.
The Los Angeles County district attorney is still investigating.
The family is also pursuing civil litigation against the city.
The stories shaping California
Get up to speed with our Essential California newsletter, sent six days a week.
You may occasionally receive promotional content from the Los Angeles Times.