Books: A futurist, a bestselling YA novel, Tolkien, Denis Johnson and more
Hello readers! I'm books editor Carolyn Kellogg, back after taking a newsletter break for Memorial Day Weekend.
THE BIG ESSAY
This week, critic at large Adriana E. Ramírez takes a look at "The Hate U Give." The young adult novel is something of a phenomenon, selling like gangbusters since its publication in February. Like other YA bestsellers like "The Hunger Games," it features a heroine fighting a powerful system — but in this case, the system is our contemporary reality. Read Ramírez's piece here.
SCIENCE FICTION FUN
Cory Doctorow often writes nonfiction and, as a co-editor of BoingBoing, is an essential voice in technology and envisioning our future. But he's also a novelist whose latest book, "Walkaway," is an unusual hybrid: a post-apocalyptic utopia. Scott Timberg talks to him about the book and the philosophical and political ideas that inform it.
On Thursday the world learned of a new J.R.R. Tolkien book, "Beren and Lúthien," published 100 years after it was first conceived, with the help of Tolkien's son Christopher. The book is set in Middle-earth and predates "The Lord of the Rings" by a few thousand years. It's currently the No. 3 seller on Amazon.com.
This week, we review "Radiate" by C.A Higgins, the conclusion of her "Lightless" trilogy. In this space opera, a ship becomes sentient, and the AI's emerging intellect is at odds with its massive power. Read Swapna Krishna's review.
Last week, writer Neil Gaiman ("American Gods," "Coraline") agreed to the silliest of requests: to read the entire menu of the Cheesecake Factory, which is many, many pages long. He'd do it, he said, if it raised money for a good cause: the United Nations Refugee Agency. The bar is high — he said it would take $500,000 — and so far, pledges of more than $86,000 have come in.
BESTSELLERS
Debuting at No. 5 on our nonfiction bestseller list this week is basketball legend Kareem Abdul-Jabbar with "Coach Wooden and Me: Our 50-Year Friendship On and Off the Court" about his coach at UCLA. The book reveals how important Wooden's lessons, mentorship and friendship have been to him. And crosstown rivalries continue: When Abdul-Jabbar came to the L.A. Times Festival of Books in April, which was held at USC, he was wearing a UCLA hat and socks.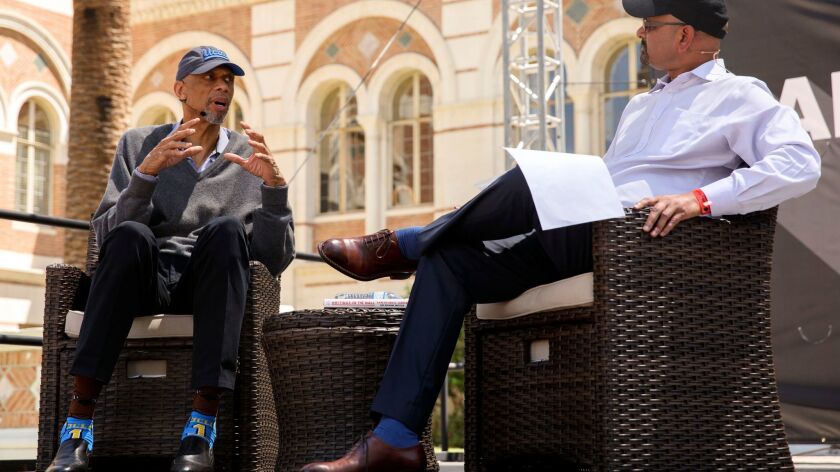 A LITERARY LOSS
I have to admit I wasn't actually ignoring my newsletter duties because of the three-day weekend; I was busy with the news of Denis Johnson's death. The author of "Jesus' Son" and winner of the National Book Award for "Tree of Smoke" died Thursday of liver cancer at age 67. David L. Ulin wrote a beautiful appreciation of his work.
And at Granta, L.A.-based writer J. Ryan Stradal, author of the bestselling novel "Kitchens of the Great Midwest," shares an his story of getting to know Johnson at the writer's property in Idaho. It's a lovely tale, both for the glimpse it provides into Johnson's life, about which he was fairly private, and for the uneasy way Stradal, like any of us might, negotiates being given access to a writer he greatly admired.
---