Recipe: Cranberry frozen yogurt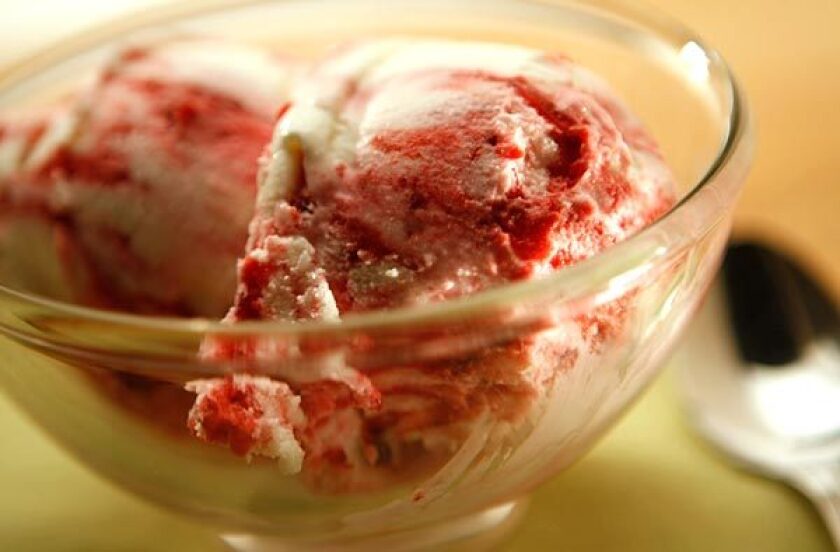 Total time: 30 minutes, plus cooling and freezing times
Servings: This makes a generous 3 cups frozen yogurt
Note: From Jenn Garbee. Plain yogurts vary by brand; look for one that has more tang to it. You may need to increase or reduce the sugar to taste. You can use leftover cranberry sauce, or the recipe given below. Make sure the cranberry sauce is completely cool (or chilled) before using. You can freeze the yogurt fully and thaw it for 10 minutes prior to serving, but the texture will not be as pillowy as yogurt you serve within an hour of making.
Cranberry sauce
---
Our recipes, your kitchen: If you try this or any other recipe from the L.A. Times Test Kitchen, please share it with us: Click here to upload pictures of the finished dish.
---
1 cup sugar
1 cup water
1 (12-ounce) package fresh cranberries
In a medium saucepan, combine the sugar with the water and bring to a boil. Add the cranberries and reduce the heat to a simmer. Cook until the cranberries have burst and the sauce thickens slightly, stirring frequently, about 10 minutes. Remove from heat and set aside to cool completely (the sauce will thicken more as it cools). This makes about 2 3/4 cups cranberry sauce, more than is needed for the final recipe.
Cranberry frozen yogurt and assembly
1 3/4 cups plain whole milk yogurt
3/4 cup (3 ounces) powdered sugar, sifted
1/2 cup heavy cream
1/2 teaspoon lemon zest
2 teaspoons lemon juice
1/2 cup leftover fresh cranberry sauce, chilled, plus additional for serving if desired
In a medium bowl, whisk together the yogurt, powdered sugar, cream, lemon zest and juice until smooth. Freeze in an ice cream maker according to the manufacturer's instructions.
2. Meanwhile, place the cranberry sauce in a bowl and mash the sauce to break up any large berries using a potato masher, a rubber spatula or the back of a large spoon (don't worry about over-mashing; there will still be small lumps).
3. Immediately transfer the frozen yogurt to a medium bowl and gently fold in the cranberry sauce with a large rubber spatula. Do not fully incorporate the sauce; it will look marbleized. Freeze for an additional 30 minutes to 1 hour, until slightly set but still light in texture.
4. Serve the frozen yogurt slightly softened, with a small dollop of extra cranberry sauce if desired.
Each one-half cup serving: 361 calories; 3 grams protein; 68 grams carbohydrates; 3 grams fiber; 10 grams fat; 6 grams saturated fat; 37 mg. cholesterol; 60 grams sugar; 47 mg. sodium.
---