California Journal: Yosemite's big switch to new place names? Park visitors would love a switchback
Reporting from Yosemite National Park —
As it has for many Californians, Yosemite National Park has played an outsized role in the lives of Joan and Ron Dodge. The couple first visited the park together in a VW van in 1974.
When Joan set eyes on the panorama of El Capitan, Half Dome and Bridalveil Fall that welcomes unsuspecting visitors as they emerge from a tunnel on Highway 41, she said, "I started to weep."
A few years later, the Dodges were married at Yosemite's world-famous Ahwahnee Hotel during the park's 50th anniversary celebration. For many years, when they returned, they would camp. Now they can afford to splurge on the hotel.
Join the conversation on Facebook >>
They believe that Ron, whose parents honeymooned as campers in the park in 1949, was conceived at Yosemite. "He was born nine months and one week after the wedding," Joan said. "You do the math."
I met the Dodges, who live in Encinitas, in the cathedral-like dining room of the Ahwahnee the other night. Technically, it's the Majestic Yosemite Hotel now. But no one calls it that. Even the front desk clerks kept slipping up: "Welcome to the Ahwa … I mean Majestic," said more than one when I checked in.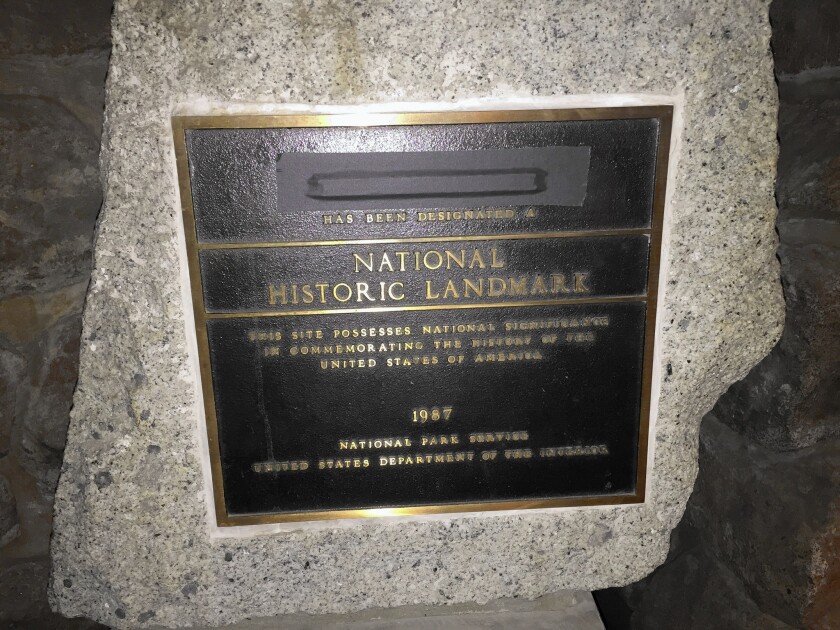 The Dodges are passionate about Yosemite (and really, who among us is not?). They can rattle off history, they are on a first-name basis with the hotel's general manager, and they informed me that they are staying in the "Queen's Room" — remodeled with a bidet for Queen Elizabeth II, who visited the park in 1983.
They arrived over the weekend, just before some of the park's most famous names were officially changed — collateral damage in a trademark dispute between the National Park Service and its previous concessionaire, Delaware North. The new concessionaire is Aramark, which won the lucrative 15-year contract.
Delaware North has sued the National Park Service, claiming that it is owed money for trademarks it owns — worth about $50 million, the company says. Au contraire, says the park service.
Not only are the trademarks worth a mere $3 million, they were fraudulently obtained. In my next column, I will delve into the legal case and the bizarre logic of changing the park's famous names while claiming they belong, eternally, to the American people.
But first, I wanted to find how park guests felt about the big switch.
In the wee hours Tuesday, park service employees had changed hundreds of road signs in the park. When visitors awoke, the Ahwahnee was suddenly the Majestic Yosemite Hotel. Curry Village became Half Dome Village. Badger Pass Ski Area is Yosemite Ski & Snowboard Area. The Wawona Hotel will be called the Big Trees Lodge.
The bland names were conceived by senior Yosemite officials and approved by Supt. Don Neubacher, according to park spokesman Scott Gediman. Neubacher is no stranger to public controversy; he was in charge of the Point Reyes National Seashore when the feds went to war against Drake's Bay Oyster Co. He doesn't speak to the media.
Here's how it went down at the Ahwahnee: On Monday, the word "Ahwahnee" was all over the hotel — on menus, receipts, "do not disturb" signs, toiletries, bathrobes.
On Tuesday, the name had been disappeared. Poof. Every item bearing the name "Ahwahnee" was gone. Items that were not physically removed, including garbage and recycling cans, were redacted in the most ham-fisted way. With tape.
Most distressing to guests, the historical bronze marker at the hotel entrance — "Ahwahnee has been designated a National Historic Landmark" — now reads "[Piece of black tape] has been designated a National Historic Landmark."
Someone also got busy with dozens of framed plaques hung in the corridors between rooms. "The [piece of white tape] first opened its doors to park visitors on July 14, 1927," says one.
The framed fragment of a Navajo rug is now described only as "[piece of white tape]."
Interested in the stories shaping California? Sign up for the free Essential California newsletter >>
As you can imagine, the Great Yosemite Name Spat has infuriated park lovers. But it has also turned law-abiding citizens into insurgents. Everywhere hotel staffers have covered up the name Ahwahnee with tape, guests have been ripping it off, a gesture of protest that is mild but pointed: You cannot erase our history.
Like many Yosemite lovers, the Dodges are not happy about the changes, or how the hotel has handled the changeover.
On Tuesday morning, they went downstairs for breakfast, putting the Ahwahnee's "Hibernating" sign on their room door. When they returned, the sign had been replaced. And so had a lot of other things.
"While we were out, they came in and removed the toiletries, the robes, the pens and the menu folder," Ron said. "There was no warning. It felt like somebody broke into your house and took stuff away."
Joan added: "But let me tell you what torqued our jaws the most. Taping over that historical marker at the front door."
On Wednesday afternoon, I met with Aramark spokesman Dave Freireich in front of Degnan's Deli (still Degnan's) in Yosemite Village (ditto). When I showed him photos of the rampant — and misguided — Ahwahnee taping, he sighed.
"In our rush to try to change things quickly," he said, "we did that in our overzealousness."
::
Over at Curry Village — excuse me, Half Dome Village — Aramark had draped a lame banner over the famous wooden "Camp Curry" welcome sign.
"Why did they cover a historic sign?" asked Dan Jensen, spokesman for Delaware North and the company's former Yosemite president. "I would submit it's because it's visible and right in your face."
I would submit that he is correct. "Camp Curry" is not in dispute. If the sign was meant to manipulate public sentiment against Delaware North, it's working.
In the parking lot, Kirk Lauterbach, 26, sat on his tailgate, getting ready to climb some boulders with friends. "We are always going to call it Curry Village," he said. "I will never call it … wait, what are they calling it now?"
It's hard to underestimate the pull that these names have on the psyches of Californians who have grown up feeling that Yosemite National Park (also trademarked by Delaware North but only for souvenirs), and its storied places, is their birthright.
Wednesday afternoon, first-time Yosemite campers Laurence Wardrup, 74, and his wife, Anita, 70, tended a fire in Upper Pines campground next to their comfy-looking RV.
"I don't think anyone should be able to trademark the name of a national park," Laurence said. "My God, that's ridiculous."
Twitter: @AbcarianLAT
ALSO
Obama says he plans to stay in Washington after presidency
GOP elites have a new strategy to stop Donald Trump, but it carries a big risk
Oscar Pistorius denied chance to appeal and now faces sentencing for murder conviction
---
The stories shaping California
Get up to speed with our Essential California newsletter, sent six days a week.
You may occasionally receive promotional content from the Los Angeles Times.