Column: Locked out of Mayor Garcetti's reelection wingding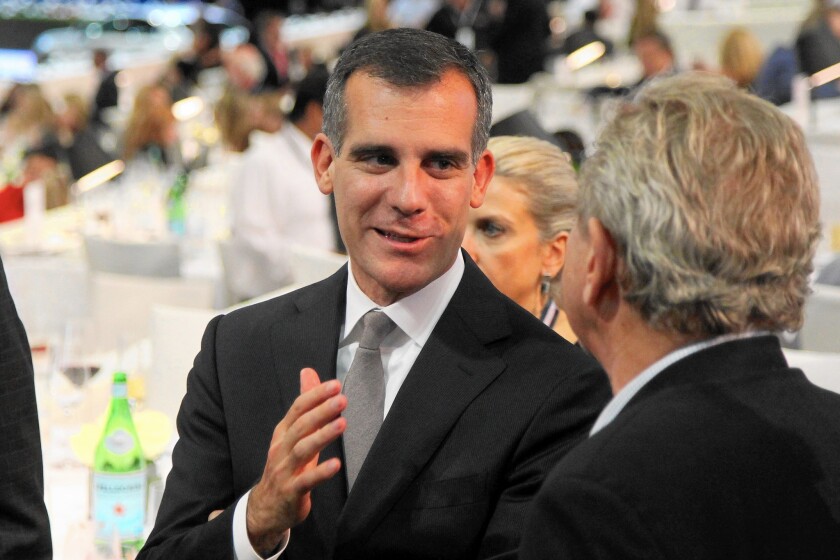 Los Angeles Mayor Eric Garcetti launched his reelection campaign Thursday night with a Hollywood bash headlined by Stevie Wonder.
But Little Stevie Lopez was not invited, nor was anyone who didn't pony up $1,400 for a ticket to the fundraiser.
In fact, as a member of the media, I was banned from attending. The morning of the event, KNX radio host Dick Helton asked what I thought about that.
Garcetti isn't the first politician to ban the media from a soiree, and the election is two years away. Still, I think the public ought to know who's paying for face time with the mayor. And if he's making any reelection promises, we should hear what they are.
The heck with the media blackout, I said on the radio, joking that I was going to crash the party using my Hollywood stage name: S.Lo.
A few hours later, my phone rang. The mayor's office was calling.
Garcetti spokesman Jeff Millman seemed to be concerned that I actually intended to crash the party.
No, I told him. Just spoofing.
But come on. Is that the kind of thing that concerns the mayor and his staff?
Yes. Very much so.
Garcetti, like most pols, is image-conscious and controlling when it comes to little things like that. But on bigger stuff, sometimes he's missing in action, so somebody's got to keep an eye on him.
For instance, residents across Los Angeles are screaming for City Hall to slow the hideous McMansion conversions that are ruining streetscapes and blocking views and natural light, but Garcetti has not come to the rescue. Were any developers at that Thursday night fundraiser?
Don't get me wrong. I'm not flunking Hizzoner halfway through his first term.
He gets high marks for leading the way on earthquake preparedness, and he's out to transform the L.A. River, even if neither the water nor the funding appear to be flowing. He has a progressive notion of a greener city with lots more affordable housing and transportation options, even if the details are more than a little squishy.
He's made some headway, but not enough, in chipping away at budget deficits and unsustainable retirement costs.
And he's taken a stand in support of a minimum-wage increase, although that doesn't begin to address the much broader needs of a city that has lost thousands of middle-class jobs in manufacturing and aerospace.
Jaime Regalado, professor emeritus of political science at Cal State L.A., said he thinks Garcetti is trying to be "the antithesis" of "bombastic" former Mayor Antonio Villaraigosa, who promised more than he could deliver.
Garcetti may be hesitant to take on challenges with no easy fixes, like public education, where his authority is nil but his political influence could be put to good use, if he were so inclined.
"I think he's careful by nature and in his political instincts, too," Regalado said of Garcetti.
"Careful." Isn't that synonymous with timid, meek and risk-averse?
A mayor doesn't hold all the power in Los Angeles — he shares it with City Council members. He does have far more visibility, though, and a greater imperative to lead the way.
So if he's got something to say, why should only rich donors hear it?
Who knows? Maybe Garcetti told fundraising revelers why he didn't take a stand on consolidating elections to increase voter turnout, or maybe he shared his opinion on whether the city should run the Greek Theatre.
And by the way, did the operators who want to run the Greek buy tickets to the party?
In the last two weeks, the mayor has been quieter than a muzzled hostage on major developments involving homelessness and the Los Angeles Department of Water and Power.
On homelessness, let's keep in mind that the center of the largest municipal settlement in the United States is but a few blocks from City Hall.
You'd think the mayor might have a lot to say about a report from his chief administrative officer that shows the city is getting very little in return for the $100 million it throws at homelessness annually, with "no consistent process across city departments."
But Garcetti was in New York accepting some kind of honor, according to Millman, who said in the mayor's absence:
"Most of the things in the report we are already doing."
Skid row is no better than it was 10 years ago, and nobody, including the mayor, is moving fast enough on more housing and services and less nuisance tickets and arrests.
As for everyone's favorite public agency, the DWP, two audits — one of them ordered by the mayor — found that two mysterious nonprofit trusts jointly run by the utility and the International Brotherhood of Electrical Workers have been spending ratepayer cash like it was Monopoly money.
Steak dinners, trips to Vegas, New Orleans and Hawaii.
Need I say more?
OK, I will.
The so-called training and safety trusts, bankrolled by $40 million from ratepayers, paid millions to vendors without conducting competitive bidding and let managers run up charges without filing expense reports.
One clown was hauling in about $220,000 a year and used his trust credit card for $30,000 worth of gas between 2010 and 2014.
The audit ordered by Garcetti said the trusts failed to provide "any real information on the outcomes or effectiveness" of their programs.
Pretty damning, if you ask me. But the mayor's brief prepared statement on Thursday had none of the outrage one would have hoped for, maybe because he was distracted by the Hollywood party. I got the distinct impression the mayor's office didn't think the audits were all that damning.
Excuse me?
The existence of those two nonprofits gave off a rotten stench from the beginning, particularly since the DWP separately spends more than $100 million a year on safety and training.
The mayor should have climbed the City Hall tower on Thursday afternoon, grabbed a megaphone and vowed to keep pounding away until those nonprofits are crushed. Instead, it was DWP General Manager Marcie Edwards who had something to say, but not what you might expect.
Edwards was Garcetti's handpicked choice to clean up the DWP in the midst of a colossal billing scandal and union obstinacy, so you're figuring she blasted the nonprofit trusts, right?
Nothing of the sort.
Edwards teamed with union boss Brian D'Arcy, of all people, to blast the findings, criticizing the city controller's audit for "accusatory innuendo peppered with contradictory statements."
Are you following this, folks?
The DWP "reformer" appointed by the mayor has teamed up with the union boss who told ratepayers to go stick their heads in a toilet when they asked for details on how their $40 million was being spent?
If Garcetti has a pair of big boy pants, Edwards will be out of a job by lunchtime Monday.
But the mayor didn't seem inclined to cut the cord when he called me Saturday. He said he didn't agree with Edwards' take, but he generally supports the job she's doing. He also defended his record on homelessness and other issues, and agreed to meet soon to discuss the challenges of narrowing the income gap.
He joked that I could have gotten into his fundraiser if I'd bought a ticket, and he might even have offered a discount.
Maybe I'll catch the next one. But S.Lo asks no favors and tells no lies, and the political advice is free.
---
The stories shaping California
Get up to speed with our Essential California newsletter, sent six days a week.
You may occasionally receive promotional content from the Los Angeles Times.