'The World's Fastest Stoner' wants to one day run a four-minute mile stoned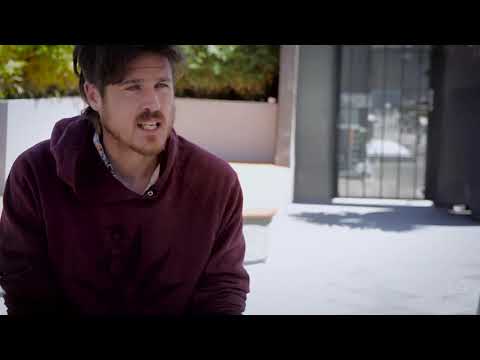 Chris Barnicle is tired of the "stoner" stereotype. With a decorated history as a runner, his new mission is to be an athlete advocate for cannabis use.
"The World's Fastest Stoner" slowed under the Santa Monica Pier, pondering where to run.
Just moments before, Chris Barnicle had a commanding lead in a 4.2-mile race that snaked along the beach and through Venice. Now, he had a sudden case of: Dude, where's my finish line?
Barnicle had sped so far ahead of the pack that there were no other runners or race officials in sight, no signs leading the way. Still, a casual observer might wonder whether his current predicament had less to do with signage than with the marijuana coursing through his body.
Barnicle wiped the sweat-matted hair out of his face — and diversion be damned — ran at a pace that challenged the image of the stoner as sloth-like and stationary. The former NCAA All-American burned through an extra quarter-mile, crossing the finish line from the wrong direction.
For the second time, Barnicle won a championship in the pot-themed 420 Games. If Red Auerbach celebrated a big Boston Celtics victory with a stogie, the 29-year-old Boston native celebrated his by smoking a joint in his van.
In his own way, Barnicle felt as if he notched another mark in his mission to show that habitual marijuana users can be peak physical performers and not just the slack-jawed, Netflix-transfixed, junk food-gobbling Lotus eaters they're often portrayed as in film and TV.
But he wasn't fooling himself: He knew that ingesting marijuana before the 420 Games and lighting up a joint afterward was pretty much par for the course. If he had done that two months before, when he ran in the U.S. Olympic marathon trials in Los Angeles, he would have been bounced from the race or his time would have been voided. And that would certainly be the case if he had done it openly and or admitted it.
"I don't want to be disqualified," he said, taking the Fifth when asked whether he used marijuana in any way, shape or form before the Olympic trials.
With Californians possibly voting to legalize recreational marijuana use later this year, pro-marijuana advocates are happy to be able to point to anyone who can soften the public's perception of pot users beyond the well-worn, anesthetized stoner stereotypes. Barnicle covered the grueling 26.2 mile Olympic trial course in three hours and 45 minutes, well ahead of the average finishing time in the 2016 L.A. Marathon.
Though he finished last in the trials, Barnicle's well-known embrace of marijuana brought attention to his campaign to quash the lazy stoner stereotype.
"There's a lot of people, even here in L.A., that are afraid to admit they use cannabis because there is that negative stigma against it still," said Barnicle, who moved to California in 2014. "I feel like there needs to be more people like me, God knows, there are tons of athletes … that are using cannabis. But because of their contracts they can't say anything."
Although individual states continue to relax their marijuana laws, the rules governing pot use are unlikely to change in professional sports unless cannabis is legalized across the country, experts say. Ingesting marijuana is grounds for suspension in the world of big-money pro sports.
"Leagues would argue that they want to stay in accordance with federal law, because they operate across the country and leagues generally don't want players in some states having different rules than players in other states," said Michael McCann, a professor at the University of New Hampshire's law school who has written about marijuana use in the NFL.
Pro-pot advocates are pushing for a November ballot measure that would make the Golden State the fifth in the U.S. to legalize recreational marijuana use. But Keith Stroup, founder of the National Organization for the Reform of Marijuana Laws, said that though many non-smokers favor legalizing marijuana use, negative opinions of those who use cannabis are also common.
"They really do believe a bit of the 'Cheech and Chong' stupid stoner stereotype," he said. "Anything that demonstrates that these are superior athletes and they smoke marijuana, that certainly helps."
And so Barnicle races, hoping that in his own way, he can chip away at those stigmas. Of course, his life also dovetails into the stoner image: He travels from point to point in a van with an excitable dog, his Scooby-Doo — the cartoon canine who fittingly belonged to Shaggy, a character whose insatiable munchies made many wonder whether he fancied the occasional — or very regular — toke.
Barnicle never thought of himself as an activist. With scraggly hair, emerald eyes and a voice so soft it's sometimes barely audible, Barnicle is disarmingly polite. He insists that smoking helps him as an athlete — and human being.
"I like to use cannabis to make me a better person, and I feel like it does. I feel like when I'm smoking before I work out, it does increase my workout level. When I smoke … I feel like I become a better chef, a better culinary visionary," he said. "I feel like it's just a flower that can make us better people really."
Barnicle smoked his first joint when he was 13. He competed at the University of Arkansas and the University of New Mexico, where he picked up All-American honors, then ran professionally for several years after college and trained in Kenya. In college he faced a dilemma: He was diagnosed with Crohn's disease when he was 19, and said cannabis helped him. But medical marijuana isn't legal in Arkansas, and the NCAA doesn't offer therapeutic exemptions for marijuana use. That didn't stop Barnicle from smoking though, or running track.
See more of our top stories on Facebook >>
In his junior year, he took home bronze medals in the 3,000- and 5,000-meter races at the 2008 NCAA Southeast Conference championships, helping the Razorbacks claim the league title. Then he went home and "smoked 10 joints that night."
Barnicle panicked after he found out he'd been selected for a random drug test the next day. He said he spent the next 24 hours sitting in saunas, overhydrating, devouring fruits and chugging coffee in a desperate bid to flush the marijuana out of his system.
"I passed," he said. "But I can't believe how I passed."
In 2014, several of his former training partners and college teammates joined him in Humboldt County and started a company that produced edible marijuana products. The business folded and Barnicle relocated to L.A., where he worked until recently as a delivery man bringing marijuana samples to dispensaries.
While vacationing at Joshua Tree around Thanksgiving last year, he watched a video of the 1982 Boston Marathon and was inspired by the infamous "Duel in the Sun" between Dick Beardsley and Alberto Salazar. He remembered he was eligible to run in the U.S. Olympic marathon trials based on a fast finish in a 2013 half-marathon, and decided to run in the trials in L.A. earlier this year.
Barnicle began training with local runners groups and put in several hourslong runs on his own, mixing in customary tokes with training.
He coasted through the first 10 miles of the race, but a nagging calf injury began to bother him around the halfway point. Both calves knotted up around mile 22, and at one point he collapsed. Stricken by cramps, "The World's Fastest Stoner," walked and jogged his way over the last four miles, finishing last.
But completing the race gave Barnicle a new goal: He wants to do something he said he almost accomplished in college — run a mile in four minutes.
While stoned.
Twitter: @JamesQueallyLAT

MORE LOCAL NEWS
6 paid sick days for workers in L.A.? City Council says yes
Major earthquake overdue in California's Eastern Sierra, study finds
Santa Monica, awaiting the Expo Line's launch, re-imagines itself as a model of mobility
Sign up for Essential California for news, features and recommendations from the L.A. Times and beyond in your inbox six days a week.
You may occasionally receive promotional content from the Los Angeles Times.