California Retrospective: Times cartoons show Christmas through the years
As we check our iPhones to track Santa's journey from the North Pole and feast on our grain-fed, heritage Christmas hams, it's easy to feel that we live in a time far removed from the generations of Californians before us. But a sampling of Los Angeles Times cartoons from Chrismases past shows that for all that has changed, some things remain the same.
1909
Today, our holiday reunions come courtesy of Los Angeles International Airport. Uber, Lyft and Super Shuttle. Back in 1909, your visitors from the cold East would take the train into downtown Los Angeles, then a stagecoach of some kind to your home. And they may well have shown up with a fancy walking stick and wearing an ornate hat.
1919
In a time before Cyber Monday and Amazon Prime, the day after Christmas at department stores could feel like mortal combat. Try finding a department store now that sells fountain pens, nut-picks and "Christmas cigars."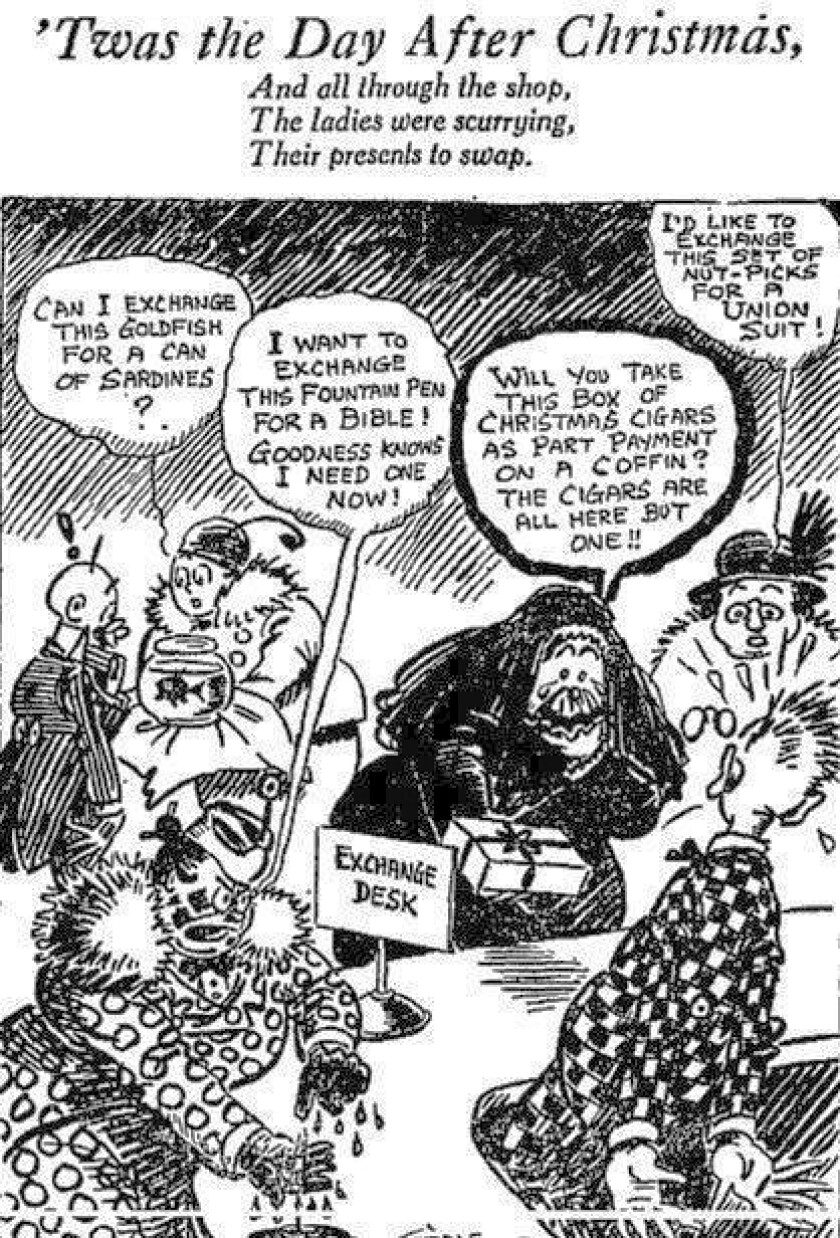 1928
It's one thing to wish readers Happy Holidays. But it's entirely possible that this Los Angeles Times ad, featuring the paper's trademark eagle, frightened young children on Christmas Day.
1929
California ends 2015 hoping that El Niño storms will ease the four-year drought. But the state has a history of being plagued by dry years. This cartoon was published during a previous major drought.
1930
This Christmas, it's going to be colder in California than in some parts of the East Coast. But L.A. traditionally loves to rub its perfect holiday weather in the faces of those shoveling snow.
1966
The term "little old ladies in tennis shoes" has fallen out of favor these days. Decades ago, it was used to describe feisty, blunt older women — often those who got involved in local politics. Times stories referred to one particular gadfly in Pasadena, and some say the term helped inspire the song "The Little Old Lady From Pasadena."
1978
This was an era of oil shortages and long lines at the gas station. So it is no surprise that an easing of the energy crisis prompted images of oil wells as Christmas trees and storage facilities as gifts.
MORE ON CHRISTMAS
Reindeer name games: Is it Donder or Donner?
First full moon on Christmas since 1977! How to see it
---
The stories shaping California
Get up to speed with our Essential California newsletter, sent six days a week.
You may occasionally receive promotional content from the Los Angeles Times.