Doctors and drug abuse: Why addictions can be so difficult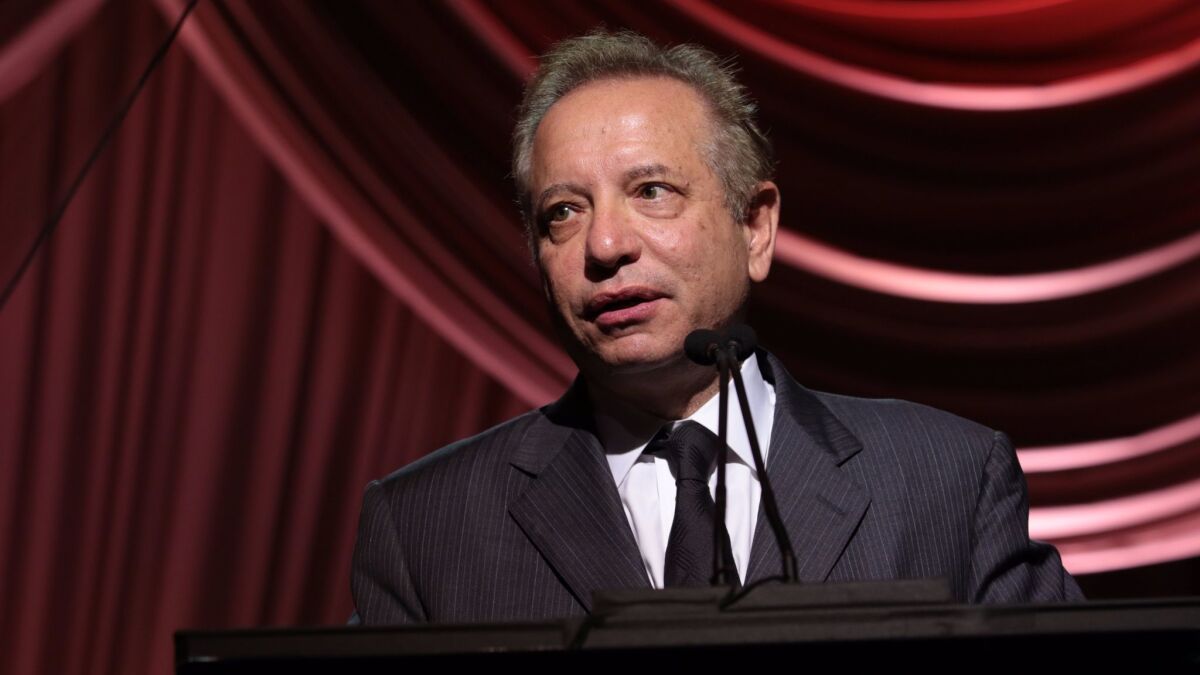 Allegations that Dr. Carmen A. Puliafito used methamphetamine and ecstasy while he was dean of USC's medical school have opened a window into the pervasiveness of drug use and addiction among physicians and the challenges they face when confronting it.
Experts say physicians become substance abusers at about the same rate as the general population. But they are often reluctant to seek treatment out of fear of losing their medical licenses and livelihoods.
They also know the signs of drug use — and how to hide them — better than others, allowing them to evade notice and their addiction to escalate, experts say.
"There's an invulnerability: 'Well, I'll just do this the right way, and it'll never be a problem. I'll just do this the right way and I'll never overdose,' " said Dr. Marvin Seppala, addiction expert and chief medical officer at the Hazelden Betty Ford Foundation. "Somehow they believe their knowledge is going to be more powerful than addiction."
USC received more than a year of questions about former medical school dean's conduct before scandal broke »
Some experts say physicians in California are less likely to address their addictions than those elsewhere. A decade ago the state ended its rehab program that allowed them to seek treatment without putting their licenses at risk. The vast majority of states still offer such programs.
The Times reported Monday that Puliafito, a renowned eye surgeon, had used drugs extensively while serving as dean of the USC Keck School of Medicine. He stepped down in March 2016, three weeks after a 21-year-old woman with whom he had been partying overdosed in a Pasadena hotel room, but had still been seeing patients as of earlier this month.
USC officials have not said how much they knew about Puliafito's situation before the story ran. On Monday, they said he was no longer seeing patients.
"We are concerned about Dr. Puliafito and his family and hope that, if the article's assertions are true, he receives the help and treatment he may need for a full recovery," USC president C.L. Max Nikias said in a statement released Tuesday. "Reports of high-powered executives, doctors, and others with substance abuse issues have become all too common — individuals who function in their workplace but have serious issues affecting their private lives."
By Friday, the university was taking a decidedly harder line, announcing it had hired a former federal prosecutor to investigate.
"We are outraged and disgusted by this individual's behavior," Nikias wrote Friday in a letter to the university.
Officials said they had begun the process to strip Puliafito of his faculty tenure and terminate him. Moveover, Puliafito was now "barred from our campuses and any association with USC, including attending or participating in university events."
Many questions remain about the dean's conduct and how USC responded to it.
How doctors hide their addictions
Between 8% and 12% of people — whether they are doctors or not — will develop a substance abuse problem at some point in their lives, said Dr. Lisa Merlo, a psychiatry professor at the University of Florida College of Medicine who studies addiction among healthcare professionals.
As with most addicts, doctors are most commonly addicted to alcohol, followed by opiates.
The physicians with the most addiction problems tend to be anesthesiologists, emergency room doctors and psychiatrists; men are more likely to be referred for treatment than women, she said.
Physicians who are stressed and working long hours may turn to drugs as a coping strategy, experts say.
"You're on a pedestal as a physician, and you've got all these societal expectations ... in some ways it's harder to ask for help because nobody expects you to want or need help," said Dr. Peter Grinspoon, a physician in Boston who was addicted to Vicodin for years.
Seppala, with the Hazelden Betty Ford Foundation, said a doctor's marriage might fall apart, his personal life in shambles, but signs of distress won't always appear at work.
If doctors are injecting drugs, they remember to wear long-sleeved shirts in the operating room, he said. They know which eye drops will make their pupils appear normal. Seppala said an emergency room physician from California who became addicted to methamphetamine worked up to the day he was admitted to rehab.
"That's where the risk lies, because these people are really bright, and because they know illnesses and do all these things to try and hide it ... the obvious things are always really late," Seppala said.
Money also comes into play.
Nurses who work for alcoholic doctors might not report them out of fear of losing their job. Hospitals could lose revenue if their star doctors go on leave for treatment or lose their licenses, he said.
"A neurosurgeon or something that's a big income producer for the hospital, they may be really resistant to putting that person in treatment," Seppala said. "You've got some perverse incentives."
The challenge of getting doctors into treatment
Many state medical boards run special rehab programs for physicians. If doctors are reported because of a drug problem and they complete the state program, the medical board won't go after their license.
The philosophy behind these so-called physician health programs is that doctors will come forward earlier for help if they know it won't endanger their career. Many programs are also confidential, so patients can't find out if their doctors were treated for abuse.
California ran such a program until 2008, but several state audits found it was failing. Physicians weren't always forced to temporarily stop practicing after testing positive for a drug and entering into rehab, and one audit found one-quarter of scheduled drug tests were not administered.
"It was all just very inefficient and frankly, a fraud," said Julianne D'Angelo Fellmeth with the Center for Public Interest Law, who closely evaluated the program before it was scrapped.
Only a small fraction of the state's doctors participated. The program had an average of 250 doctors enrolled out of the 125,000 doctors licensed in California in 2008, according to state data.
Still, advocates for physician health programs say California's closure has led to fewer physicians seeking treatment. The state enacted a law last year to create a new physician health program, but the details are still being worked out.
Do you have information about USC's former med school dean? We want to hear from you »
Without the program, employers and hospitals might be more reluctant to report doctors they suspect of having a problem, some say. Before, they could push them into treatment without endangering their medical license, but now, reporting them to the board could result in disciplinary action.
"Now people are more inclined to say, 'I don't want this guy to lose his license, and I think ignore it or underplay it," said Francine Farrell, who founded the Pacific Assistance Group, a rehabilitation program for healthcare professionals, after the state shut down its program in 2008.
The medical board took action against 43 physicians for drug or alcohol abuse in the 2015-16 fiscal year, including some whose licenses were revoked or suspended, according to the board's latest annual report.
Merlo said doctors typically benefit from being in a treatment program with other health professionals so they don't assume a doctor role and start treating other participants like their patients.
Studies have found that recovery rates among doctors are higher than in the general population. Many physicians are highly motivated to return to their careers, experts say. The five-year recovery rate for addicts who participate in physician health programs is 80%, said Merlo, compared with 40% after one year in the general population.
Grinspoon, the primary care doctor in Boston, completed rehab through his state's physician health program and now sees patients at Massachusetts General Hospital. But he said taboos around addiction still keep people from seeking treatment, and many are fearful they'll lose patients if they find out about a substance abuse problem.
"What we end up doing is pretending these problems don't exist," he said. "But what's really unsafe is a physician that nobody knows is addicted … it's the untreated physician who's really dangerous."
Want more local investigative journalism like this? Support L.A. Times reporters. If you're not already subscriber, join today. »
soumya.karlamangla@latimes.com
Twitter: @skarlamangla
ALSO
An overdose, a young companion, drug-fueled parties: The secret life of USC med school dean
Alleged conduct by former USC dean 'horrible and despicable,' med school head tells angry students
One child, a $21-million medical bill: How a tiny number of patients poses a huge challenge for Medi-Cal
---
Life is stressful. Our weekly mental wellness newsletter can help.
You may occasionally receive promotional content from the Los Angeles Times.