Koala mauling is an uneasy reminder of mountain lions' place in Southern California
Mountain lions roaming in and around Malibu and the Santa Monica Mountains National Recreational Area have acquired a taste for hobby animals and livestock.
Natalie Riggs was sickened by the sight of the carcasses of cherished pets ravaged by a mountain lion.
Blood streaked the ground in the pen where her two sheep, Blanca and Blackie, had their throats slashed. Blanca's hindquarters had been eaten. Blackie was killed for no apparent reason.
"It was a scene of almost incomprehensible violence," said Riggs, 41, a real estate agent and yoga teacher, shivering at the memory of the mid-January attack at her 5-acre ranch in the Santa Monica Mountains.
It was one in the growing number of attacks over the last year that is changing the relationship between humans and mountain lions in Southern California.
Dakota Semier, ranch manager at Malibu Family Wines, feeds an alpaca inside its pen at the ranch in Malibu on March 10. At left are a pair of llamas. Since last November, mountain lions have killed two llamas and an alpaca while inside the pen.
(Mel Melcon / Los Angeles Times)
Dakota Semier, ranch manager at Malibu Family Wines, stands next to Stanley, a 15-foot-tall giraffe, at the ranch in Malibu on March 10.
(Mel Melcon / Los Angeles Times)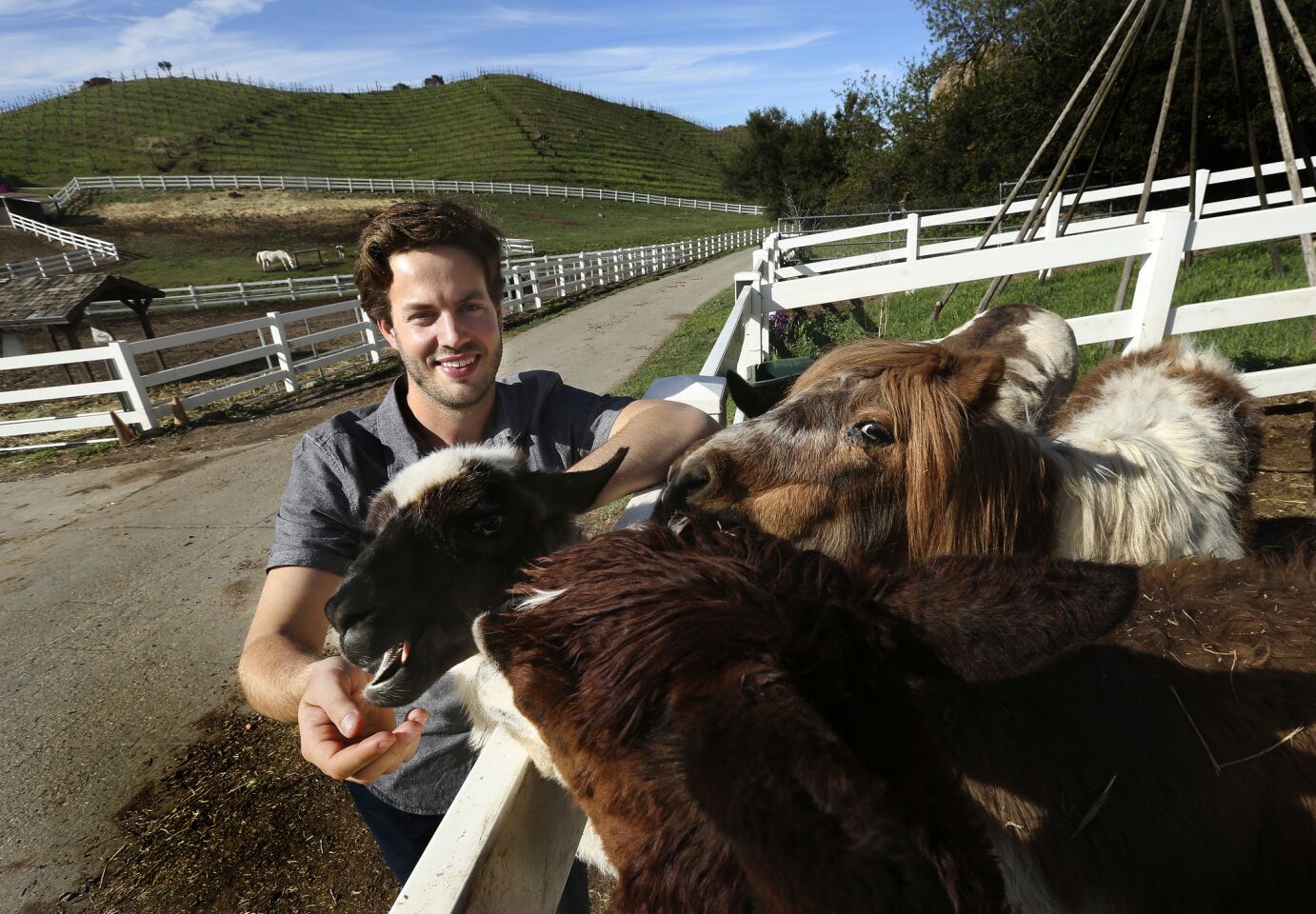 Dakota Semier, ranch manager at Malibu Family Wines, poses next to a llama, a miniature horse and an alpaca at the ranch in Malibu on March 10.
(Mel Melcon / Los Angeles Times)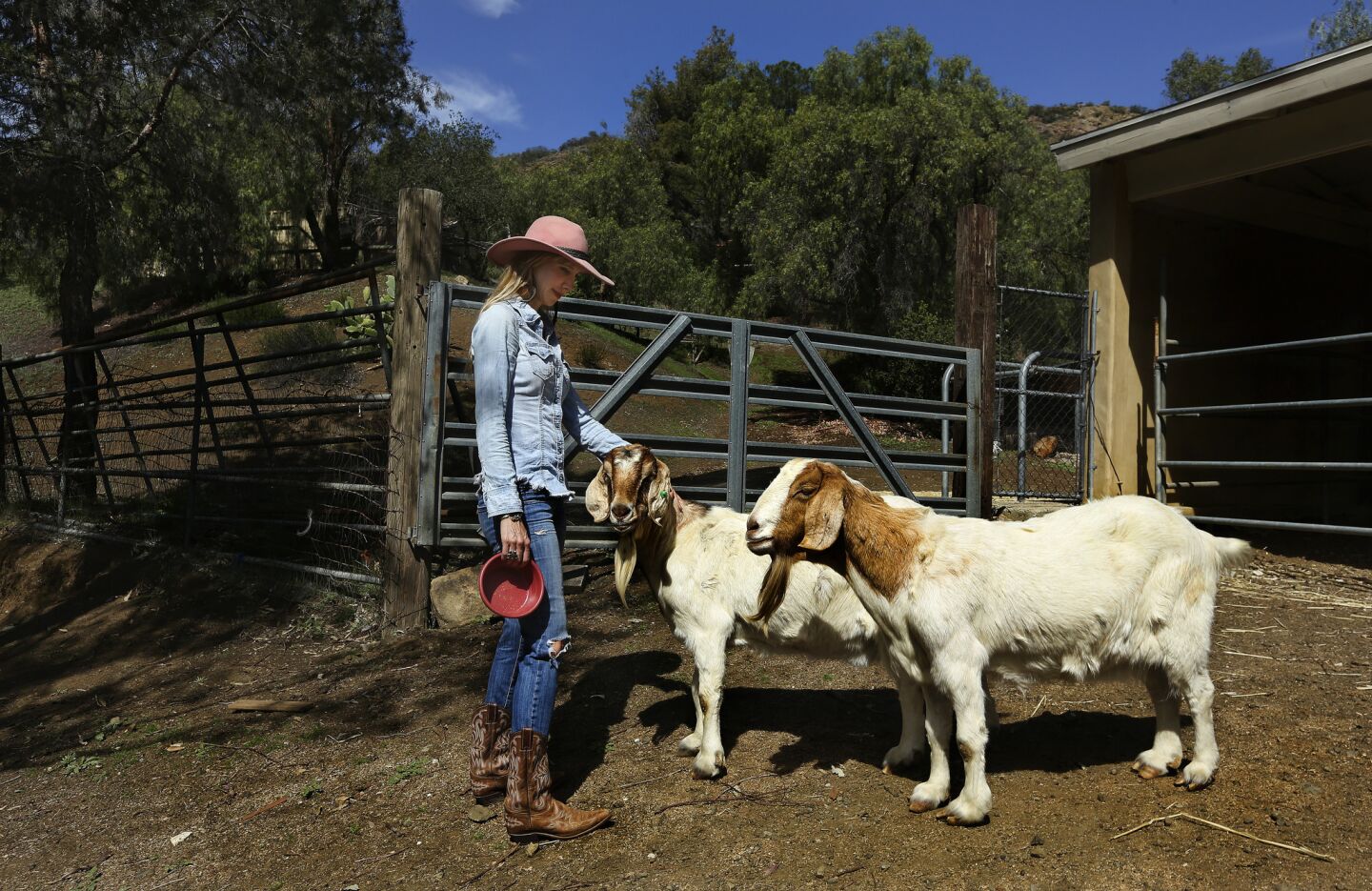 Natalie Riggs stands with two female South African goats inside their pen at her ranch in Malibu on March 10. In January, a mountain lion killed two in the same pen. The goats were not harmed.
(Mel Melcon / Los Angeles Times)
Natalie Riggs is photographed with two South African goats at her ranch in Malibu on March 10.
(Mel Melcon / Los Angeles Times)
On Thursday, the Los Angeles Zoo and Botanical Gardens announced that one of its endangered koalas was apparently killed by a mountain lion known as P22, who was born in the Santa Monica Mountains and crossed the 405 and 101 freeways to make Griffith Park his home in 2012.
Jeff Sikich, a biologist with the Santa Monica Mountains National Recreational Area and an expert on local mountain lion populations, said the agency does not keep records of lion attacks on animals. "But we have had more calls about such incidents in the past year," he said. "Perhaps that's because more people moving into the area have these hobby animals now. We're not sure."
Sikich said biologists believe the problem isn't an increase in the mountain lion population, which he said is self-regulating.
"The landscape will support only about 10 to 15 of them at a time," he said. "The males will fight and kill others in their territory, which is limited."
Mountain lions are not threatened or endangered in California, but they are legally classified as a "specially protected species" by the California Department of Fish and Wildlife. The statewide population of about 6,000 is relatively stable.
But repercussions are mounting as more people move into mountain lion habitat, along with their pets and livestock.
See more of our top stories on Facebook >>
Last year, the state issued 265 permits to kill individual lions that posed a threat to humans or livestock, resulting in 107 of the predators being taken.
Killing a mountain lion without a depredation permit is a misdemeanor punishable by up to one year's imprisonment in the county jail or a fine of up to $10,000 or both.
If a mountain lion kills domesticated animals, it is up to the owner to decide whether to seek a permit to have the big cat exterminated, usually by a rifle shot.
"But if a mountain lion attacks a person, we go find it and kill it," said Andrew Hughan, a spokesman for the state wildlife management agency.
Mountain lion attacks on humans are extremely rare.
In September, wildlife authorities shot and killed a lion that had attacked a 6-year-old boy in Cupertino and began dragging him away before his parents fought the animal off.
In 2005, the location and condition of a child's skull and bones found near a Big Bear-area campground where 9-year-old David Gonzalez disappeared that summer indicated he may have been killed by a mountain lion, authorities said.
Tension between communities and wild predators has become common across the West in recent decades as wildlife conservationists and government agencies have sought to coexist with the animals instead of having them exterminated.
In Gardiner, Mont., at the northwestern boundary of Yellowstone National Park, "When a bear or a mountain lion comes to town, our first response is to have state officials shoo it away," said Barbara Shesky, executive director of the town's Chamber of Commerce. "That's because encounters between humans and predatory animals always end badly — the human is injured and the beast gets euthanized."
Encounters between humans and predatory animals always end badly -- the human is injured and the beast gets euthanized.
— Barbara Shesky, executive director of the Gardiner Chamber of Commerce
Dennis Heikes, former chief ranger of Alaska State Parks, agrees.
"Wildlife managers walk a very precarious tightrope after someone gets mauled or killed by a predator," Heikes said. "They don't want to see anyone or anything get hurt, but they also listen to those who say, 'Leave the predators alone. They belong here.'
'It's hard to find a balance that is sustainable," he said. "In my experience, the predators usually lose."
In 2011, a male mountain lion known as P15 was killed in the western Santa Monica Mountains by unidentified poachers who decapitated his carcass and cut off his paws.
One of the largest mountain lion populations in Southern California is confined within 275 square miles in and around the Santa Monica Mountains National Recreation Area, which is bordered by the Pacific Ocean, major freeways, housing and commercial developments and agricultural fields.
Studies begun in 2002 suggest that landscape may have reached its carrying capacity with two or three adult male lions, four to six females and some kittens. Inbreeding is a serious problem among these big cats, which have extremely low genetic diversity.
Sikich said he has alerted the L.A. Zoo and other landowners that they are responsible for protecting animals with enclosures and fencing. "Otherwise, these mountain lions are being rewarded with free meals by getting into pens where domesticated animals can't run or hide," he said.
Local mountain lions have been known to kill up to 10 domesticated animals at a time — but eat only one of them.
The rise in attacks has brought growing concern about public safety. These days, when people move around in the darkness of the Santa Monica Mountains — which include some of Southern California's most scenic habitat and pricey real estate — they watch over their shoulders.
"We don't go hiking in the moonlight anymore," Riggs said.
In late November, ranch managers at Malibu Family Wines discovered that a mountain lion had dined on one of several llamas in a pen shaded by oak trees on the 1,000-acre spread.
A few days later, the lion returned and killed an alpaca. When the ranch owners decided not to seek a permit to have the lion exterminated, a state game warden referred the case to Sikich, who subsequently captured the offending young adult male known as P45.
P45 was released back into the surrounding wild lands, and the winery promised to build new enclosures for its llamas and alpacas.
But the lion returned in January — before the enclosures had been erected — and killed another llama.
Since then, the ranch, which features a menagerie of exotic animals, has installed lion-proof fencing around the holding pens of its llamas, alpacas, donkeys, goats and chickens.
Larger animals such as water buffaloes, zebras and camels continue to spend their days and nights roaming spacious corrals.
"A lion wouldn't mess with the zebras — they're too mean," said ranch manager Dakota Semler.
In any case, the effort to live with mountain lions remains a work in progress, Semler said.
"The lions were here first, and we plan to stay," he said. "We realize the risks involved, but we also appreciate that lions are wild animals that also live here. So, we're going to learn to live and work with them around."
Riggs tried to convey a similar notion to her 4-year-old daughter, Giselle, after the attack that killed the family's two sheep in January.
"I just told her the truth," Riggs recalled. "I said, 'Something sad happened today, honey. Blanca and Blackie were killed by a mountain lion.'"
"Why did the lion kill them?" Giselle asked.
"Because he is a lion and he thought they would make a good meal," Riggs said.
Twitter: @LouisSahagun
ALSO
Beverly Hills put a spotlight on its celebrity water wasters -- and it worked
Developer should lose building permits over illegally chopped trees, L.A. officials say
Lawsuit says L.A. endangered homeless people by seizing their tents and shopping carts
---
The stories shaping California
Get up to speed with our Essential California newsletter, sent six days a week.
You may occasionally receive promotional content from the Los Angeles Times.