L.A. County health officials say 42 people have been infected with mumps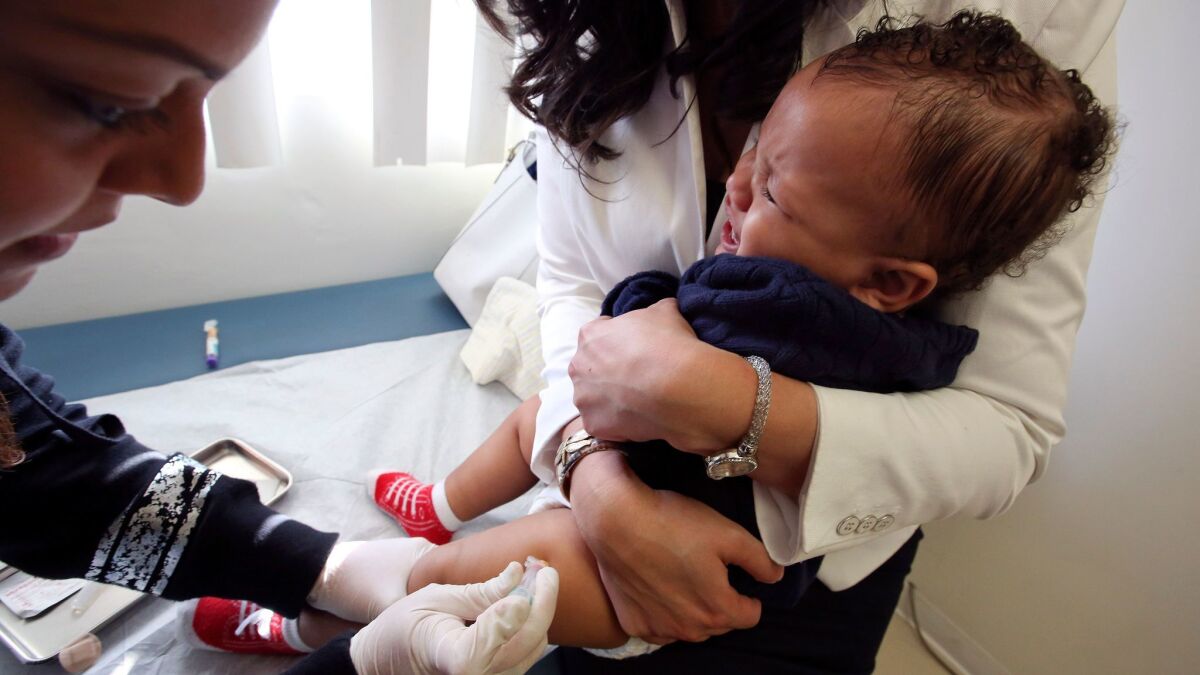 A mumps outbreak in Los Angeles County this year has infected 42 people, most of whom live on the Westside, health officials said this week.
There have been several mumps outbreaks nationwide in recent years, including some that are ongoing in parts of Texas, Arkansas and Washington state. Last year there were 5,833 cases of mumps nationwide, the highest number in a decade, according to the U.S. Centers for Disease Control and Prevention.
As of May, there had been 3,176 cases nationwide this year, according to the CDC.
Most people who contract mumps have no symptoms, or have flu-like symptoms along with swelling of their salivary glands, which is characteristic of the disease. But in rare cases, mumps can cause deafness or brain swelling that can be life-threatening.
Dr. Franklin Pratt, medical director of the immunization program at the county's Department of Public Health, said that some of those infected in the outbreak had been vaccinated. Many outbreaks in other parts of the country, which often hit college campuses especially hard, also have included people who'd been inoculated against the virus.
Children get the first dose of the MMR vaccine — which protects against mumps, measles and rubella — between 12 and 15 months of age and the second dose between ages 4 and 6. The introduction of the vaccine in 1967 has reduced mumps cases by more than 99%, according to federal health officials.
Public health officials are unsure what has caused the recent outbreaks. Theories include that the vaccination's immunity wanes over time or that the current circulating strains of mumps are particularly strong, Pratt said.
"Across the country, we're seeing mumps kind of get strength again," Pratt said, adding that L.A. County typically sees about 13 cases per year.
"This is clearly a blip," he said.
Most of the local cases have been among gay or bisexual men, although some women have been infected as well, Pratt said. Public health workers have determined that most transmissions occurred at bars, theaters and nightclubs. Those infected often seem to share a social network, he said.
The L.A. County outbreak, Pratt said, isn't related to one at Chapman University in Orange during the spring in which more than a dozen people were infected.
Mumps can be transmitted through kissing, sharing drinks and utensils, or touching surfaces that have also been touched by someone who's infected with the virus.
Pratt advised that people remember to wash their hands and avoid sharing drinks. If someone is sick, he or she should avoid contact with other people as much as possible. And if the symptoms line up with mumps, they should see a doctor immediately.
"We appreciate that you have to live your life, but do your best to limit contact with other folks until you're past your infectious period," Pratt said. "Getting the diagnosis is important for both advising that patient what they need to do, and also doing our very best to limit the spread."
soumya.karlamangla@latimes.com
Twitter: @skarlamangla
ALSO
L.A. County reports 2017's first case of West Nile virus
Health officials urge meningitis vaccination amid L.A. Pride festival
A simple test is helping thousands of diabetics in L.A. County who face an increased risk of going blind
The stories shaping California
Get up to speed with our Essential California newsletter, sent six days a week.
You may occasionally receive promotional content from the Los Angeles Times.