Column: A two-bedroom apartment in Southern California for $650? Go east, old man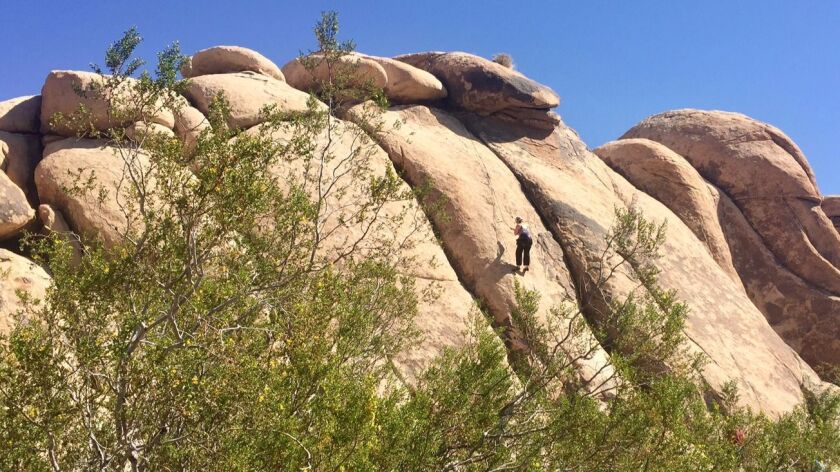 Reporting from YUCCA VALLEY, Calif. —
Brace yourself, all you suffering renters and over-extended homeowners.
I can get you into a clean and airy two-bedroom apartment for $650 a month, close to shopping and great outdoor adventures.
I can line you up with a comfy three-bedroom, two-bath ranch with a half-acre yard for a mere $200,000.
But you have be willing to forget this whole idea of going west, young man.
The great California housing crisis may never leave us, but you can. Turn out the lights, load up the truck and go east, old man.
A reader who lives in Joshua Tree had seen my columns about people living in cars and getting knocked into poverty by bumps in the rent. I hear from lots of readers who suggest the answer is to move inland, or even out of state. It seems that for every 50 miles you travel away from the coast, rental prices drop by $1,000. The guy in Joshua Tree went so far as to send me a page of real estate listings from the Hi-Desert Star. Featured in an ad for "Affordable Rentals" were a one-bedroom apartment for $575 a month and a two-bedroom for $650.
On a day when my colleague Andrew Khouri reported that Southern California apartment rents are expected to jump to an average of $2,304 next year and $2,373 in 2019, curiosity got the best of me. So I drove out to see what can be had for less than one-third the price.
To get to Yucca Valley from Interstate 10, you go left when you see the windmills on the approach to Palm Springs and proceed through the Morongo Valley. Up and over the next mountain is Yucca Valley, a high desert town of 21,000, followed by Joshua Tree and then Twentynine Palms.
It took me two hours to get there, so this is not a place for anyone who'd still have to make a daily commute to Los Angeles. But the area has attracted retirees and those who can work from home, as well as commuters who work in the Palm Springs area but got squeezed out by rising rents.
Whatever your politics or taste, the area seems to offer something for everyone. When I got to the home of the guy who had sent me the real estate listings, a Confederate flag was flying out front and his pit bulls raged at the gate.
I decided I'd rather not lose a leg on a Confederate battlefield, but as I began my retreat, the 75-year-old owner stepped outside. He told me he's a white nationalist who escaped the madness of L.A., and he enjoys everything about his adopted home, including the fact that it has relatively few minorities.
I cut the visit short.
Just down the hill from where he lives, the small outpost of Joshua Tree — gateway to the otherworldly national park — has a gluten-free funk. Locals have spent months fighting a proposed Dollar General Store because the chain doesn't fit the organic local vibe.
Yucca Valley, on the other hand, has a Walmart, a Starbucks and all the rest. It also has lots of home-grown joints, and before I could think of ever living there, I had to conduct a test.
Las Palmas makes a good margarita and the enchilada suizas are first-rate. So the town makes the grade.
You have to be OK with blowing dust and sand, by the way, because they seem to have plenty of both. On the high side, there's no grass to mow. Sunrise and sunset are glorious events, and they say snow will soon paint the tops of the peaks.
The first place Rochel Whiting of Affordable Rentals showed me was a three-bedroom, two-bath house with a two-car garage and fenced yard. It's listed at $1,200 a month, which, in Los Angeles, might get you a cramped studio overlooking an alley dumpster.
"The market goes so fast up here," Whiting said, predicting that the house would be rented as soon as new carpet was laid and some other upgrades were completed.
I also saw a three-bedroom with a living room, family room, eat-in kitchen, two-car garage, guest house and half-acre lot. That one, also listed at $1,200, has already been claimed.
The $575-a-month apartment is no palace. But it's decent, and sits on a quiet street not far from stores and restaurants. The two-bedroom apartment next door had a sweet front porch and good-size yard for just $650. I saw it on Wednesday. A day later, it had been rented.
A $575 one-bedroom, in a complex with a swimming pool, also just got taken. But there's one more left.
Jennifer Shaumyan, the office manager at Affordable Rentals, said she and her husband, a truck driver, lost their Glendale house in the sub-prime crash. They couldn't afford to rent in greater Los Angeles, so they rented in Palm Springs and then bought a three-bedroom, two-bath house in Yucca Valley last year.
For $147,000.
"It's a rural town and there's not a lot going on here," Shaumyan said, so it's not for everyone.
But it works for her, and for Leslie Shaw, an editorial assistant at the Hi-Desert Star.
"I couldn't stand in one more line or be in one more traffic jam," said Shaw, who moved here in 2003 from Woodland Hills. She and her acupuncturist husband ditched Woodland Hills and bought a Yucca Valley spread with a big sun room for $129,000.
"When cities get overpriced, people tend to go further out," said Madelaine LaVoie of the Cherie Miller real estate agency, which has homes for sale from just over $100,000 all the way up to $950,000. "I was expecting it to happen sooner, but we are basically a suburb of Los Angeles now."
She sold a home to Jeff Lane of the band Burningdown. Lane told me he lived in a one-bedroom apartment in Long Beach for $2,300 a month. Then he and his new wife went to Joshua Tree on their honeymoon three years ago.
"We fell in love with it," he said.
They bought a 1,500-square-foot house in Yucca Valley with a big yard for $169,000.
Just around the corner from Lane, a house recently sold for $230,000 to Brenda Underwood, one of the Manchester Square residents being forced out of their homes near LAX because of the airport expansion project.
"The universe directed me one morning and I said, 'Joshua Tree,'" said Underwood, who had friends in the high desert and knew there was an active music and arts scene.
If you want to check out the offerings, I suggest you hurry. The agents who showed me around said prices have gone up by a third or so in the last few years as more people arrive, fleeing higher rents elsewhere. Some of the newbies are turning their homes into short-term rentals, which takes units off the market, driving prices up and forcing people out.
Following a trend, they are going east.
Get more of Steve Lopez's work and follow him on Twitter @LATstevelopez
ALSO
This couple put art before income. But creativity doesn't pay the rent in today's L.A.
Hear about the tract house that went for $800,000 above asking? Welcome to California 2017
A Westside apartment with all the amenities for less than $500 — but you had to win the lottery
---
The stories shaping California
Get up to speed with our Essential California newsletter, sent six days a week.
You may occasionally receive promotional content from the Los Angeles Times.