Column: We know L.A.'s new recycling program is a fiasco, but how'd it get so screwed up?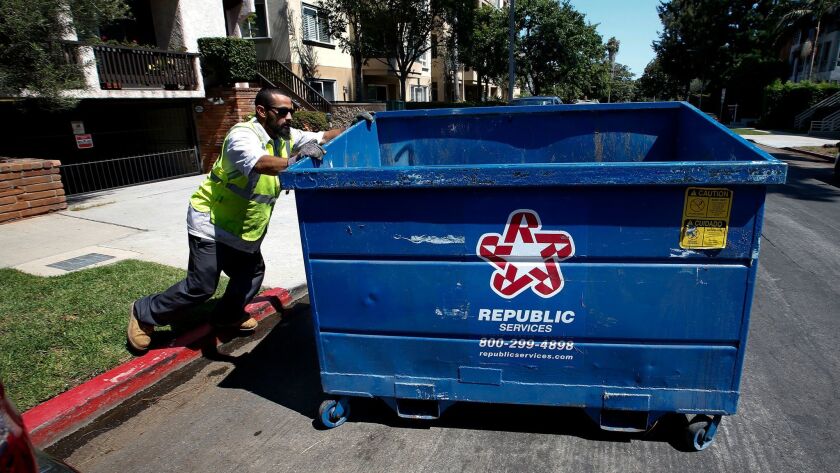 When it comes to bureaucratic bungling by school districts, utility companies and City Hall, Los Angeles has always been an Olympic contender.
I can't complain, given all the columns I've gotten out of the computerized payroll screw-ups and student-tracking debacles at L.A. Unified, along with the Los Angeles Department of Water and Power's customer billing fiasco, among many other disasters.
And now it's City Hall that's delivering a gold-medal performance with a recycling program.
Commercial customers have been hit with bills two, three, four and even five times what they had paid before the new and improved system kicked in, even though service for some has been ridiculously bad.
I get angry messages every day from apartment residents and business owners who don't know whether to tear their hair out, start a recall petition or both.
Jeff Root, for instance, says the charges on his 137-unit building in Hollywood have gone from $799 to $4,450 a month, and he's charged even when scheduled trash pickups are missed. My colleague David Zahniser has been all over the story, and he tells us there have been an astounding 28,000 reports of missed collections since July.
A few start-up glitches would be understandable, given the 70,000 businesses and apartment and condo properties served by RecycLA. But 28,000 complaints about missed collections, and reams of disputed bills?
Horse-drawn buggies, dog sled teams and clowns on unicycles could have done better.
RecycLA is staffed by experienced haulers, so how could they screw it up so badly?
"It's that old thing — follow the money if you want to know what's going on," said Dan Faller, president of the Apartment Owners Assn.
As he noted, the city's organized labor forces promoted a system in which seven hauling companies got monopolies in 11 sectors of Los Angeles. That eliminated competitive pricing, which City Hall's own administrative officer had argued for. Faller says customers have gotten clobbered because of that.
But as he sees it, a politician running for reelection might say, "I've got the unions and I've got the trash companies to back me up."
It's true that labor and business have a lot of clout at City Hall and played a role in this. But that's not the whole story. For one thing, environmentalists helped design this plan, which has the potential to greatly increase recycling, decrease truck pollution, clean up what was an unregulated industry and meet demands to divert waste from landfills.
So an expanded recycling program appealed to a lot of different people for various reasons, and the trash haulers will contribute $35 million to the city for the right to hold those very lucrative rights.
But let's get back to what went wrong.
When I asked for someone at City Hall to speak to me about all of this, the communications folks for the Sanitation Department and Mayor Eric Garcetti pointed me to Kevin James. This brought a smile to my face because James, you may recall, was once a fierce critic of the City Hall sausage factory.
"City Hall is broken," James said at a debate in 2012, when he was running for mayor and shared a panel with Garcetti and other longtime city officials seeking the same office. "And they broke it," James said of his opponents, arguing that Los Angeles had "a national reputation for corruption."
James' spirited campaign went nowhere, though, and when he was out of the running, he suddenly fell under Garcetti's spell and offered an endorsement. Once mayor, Garcetti handed James a six-figure job at the Public Works Commission, and the lion's roar was silenced.
So there I was on Tuesday morning, talking on the phone to James, and I couldn't help but suggest that back when he was a radio talk show host, he would have had a field day with a disaster like RecycLA. This thing was in the discussion phase for years, but looks like it was drawn up on a cocktail napkin the night before the trucks rolled, with shockingly little anticipation of the nightmare it would cause customers.
"Any time you have a transition," James began in his defense, reminding me right away how much more fun he was as a talk show host.
"In fact, the missed collections are unacceptable," said the president of the Public Works Commission, but the city is "making progress month to month," and Feb. 1 will be a turning point.
That's when RecycLA moves beyond the transition phase and the city can assess fines against the seven contracted hauling companies — and even terminate them — if they don't get the job done.
We'll see about that.
The hauling companies have said the city didn't know or didn't tell them the full extent of the workload. Doug Corcoran, a spokesman for Waste Management, told me his company didn't have enough trucks or drivers in place and is still playing catch-up.
The city, meanwhile, says the haulers have worked in the city for years and should already have known what they were signing up for.
And the two sides are disputing details of a sloppy contract that should have been better vetted, and more detailed, to avoid conflicting interpretation.
The city has examined 1,500 bills in which 40% or more of the total cost was for added fees for things like having to move recycling bins a certain distance or having to program a remote device to open gates for access to the bins. According to the city, 1,000 of those bills — two-thirds — had incorrect charges.
According to Corcoran, his company is trying to make things right, but doesn't see eye to eye with the city on every aspect of the contract.
The contracts, by the way, are good for 10 years.
That might be enough time for everyone to get it right.
But even if I were a betting man, I'd lay off that one.
Get more of Steve Lopez's work and follow him on Twitter @LATstevelopez
---
The stories shaping California
Get up to speed with our Essential California newsletter, sent six days a week.
You may occasionally receive promotional content from the Los Angeles Times.