Business partner held in killing of McStay family
Charles Merritt is led out of the courtroom after his arraignment, where he pleaded not guilty in the slayings of the McStay family.
(Gina Ferazzi / Los Angeles Times)
A San Bernardino County sheriff's deputy escorts defendant Charles Merritt into court for his arraignment in the alleged murder of Joseph McStay and McStay's wife and two boys in Victorville, Calif.
(Gina Ferazzi / Los Angeles Times)
Susan Blake, center, mother of Joseph McStay, with family and friends as she addresses the media outside the courthouse where defendant Charles Merritt was arraigned.
(Gina Ferazzi / Los Angeles Times)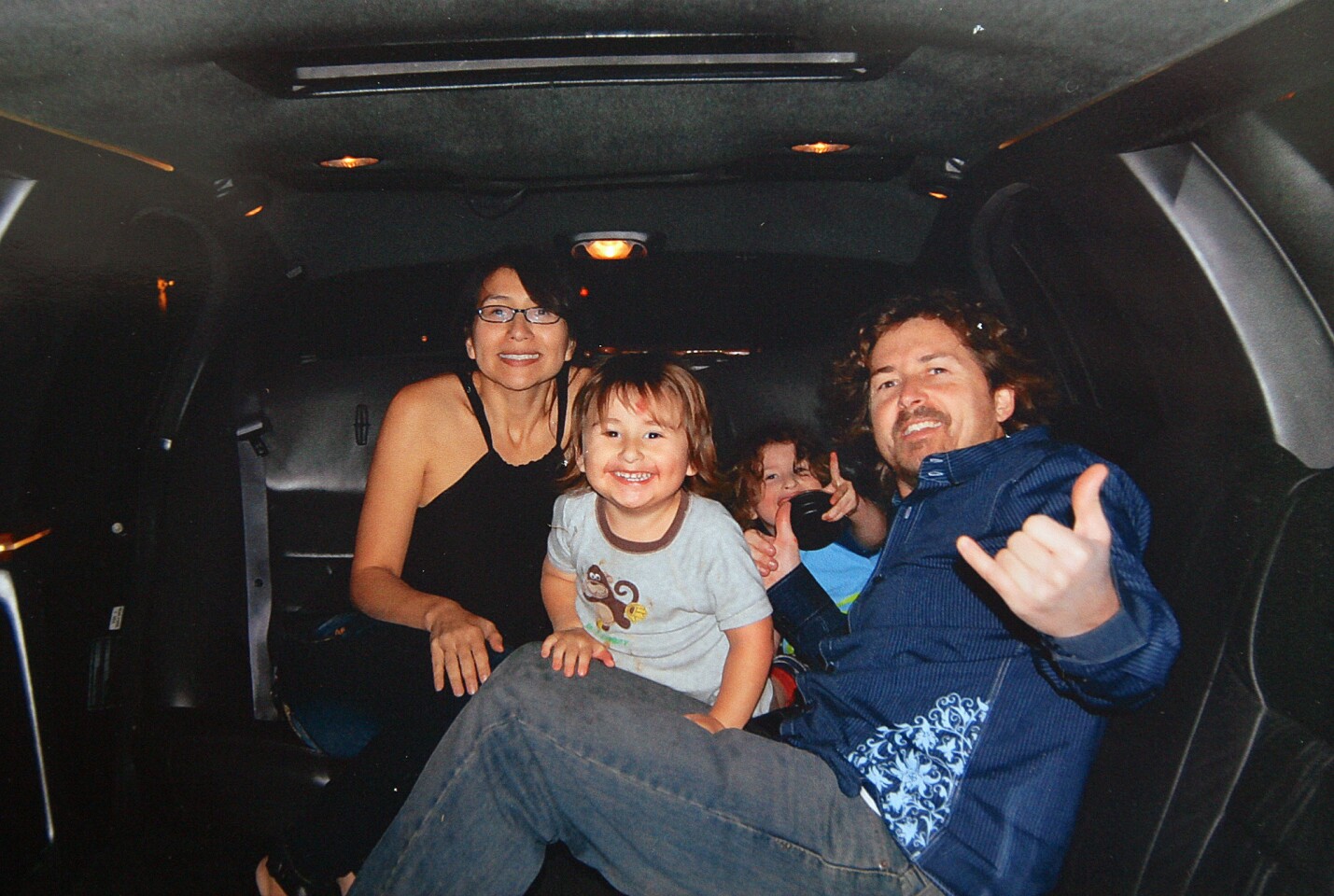 Joseph and Summer McStay with their two children, Joseph Jr. 3, front, and Gianni, 4. The family was reported missing from their Fallbrook, Calif., home in February 2010. Their remains were found in shallow graves near Victorville almost four years later.
(Family photo)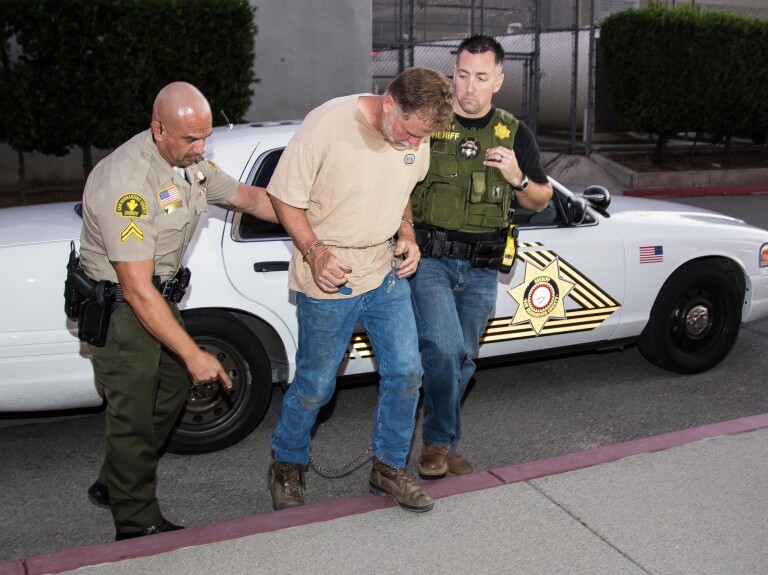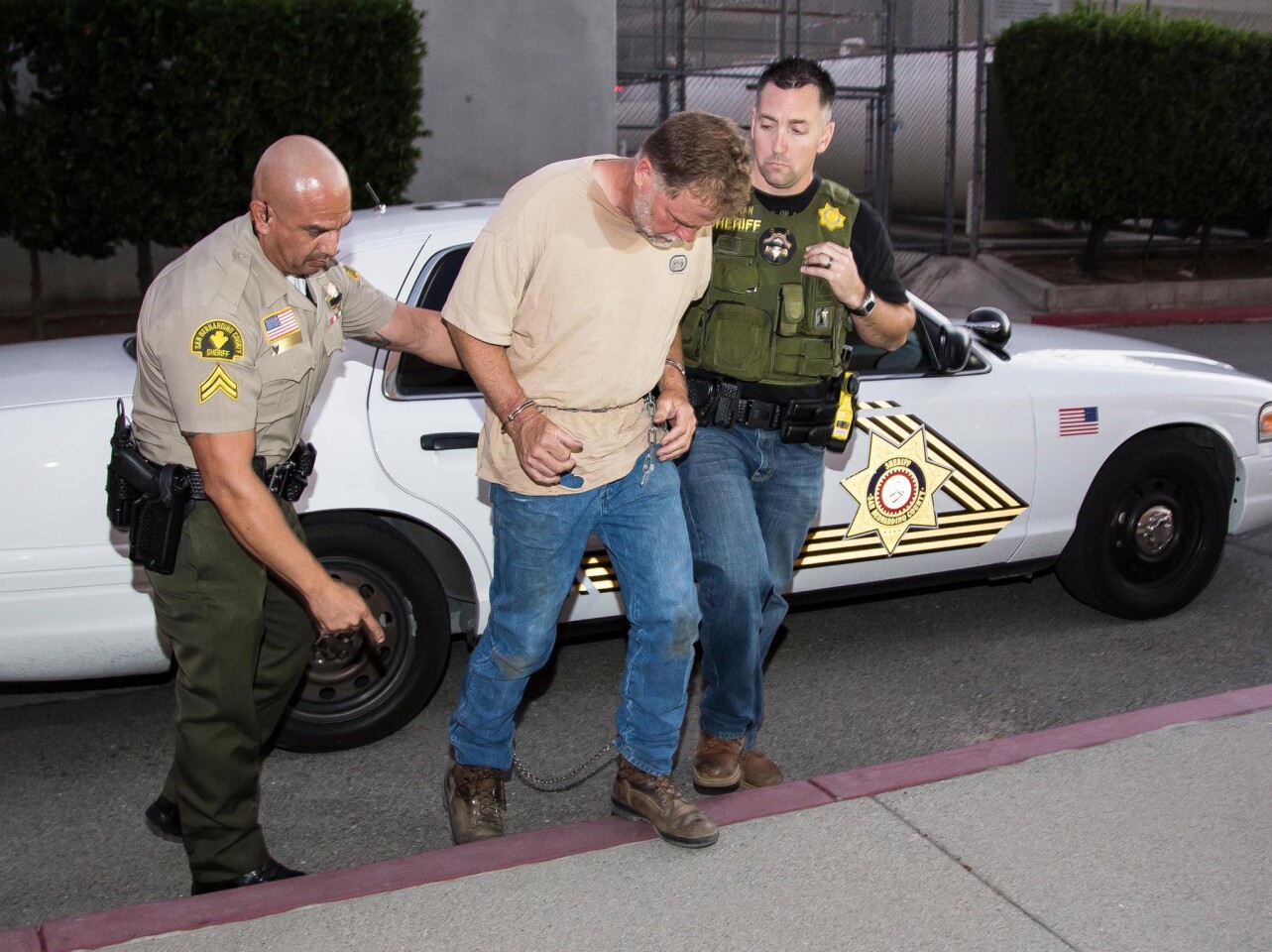 Charles "Chase" Merritt was arrested Nov. 5 on suspicion of killing the McStay family -- Joseph, Summer, Gianni and Joseph Jr.
(San Bernardino County Sheriff's Department)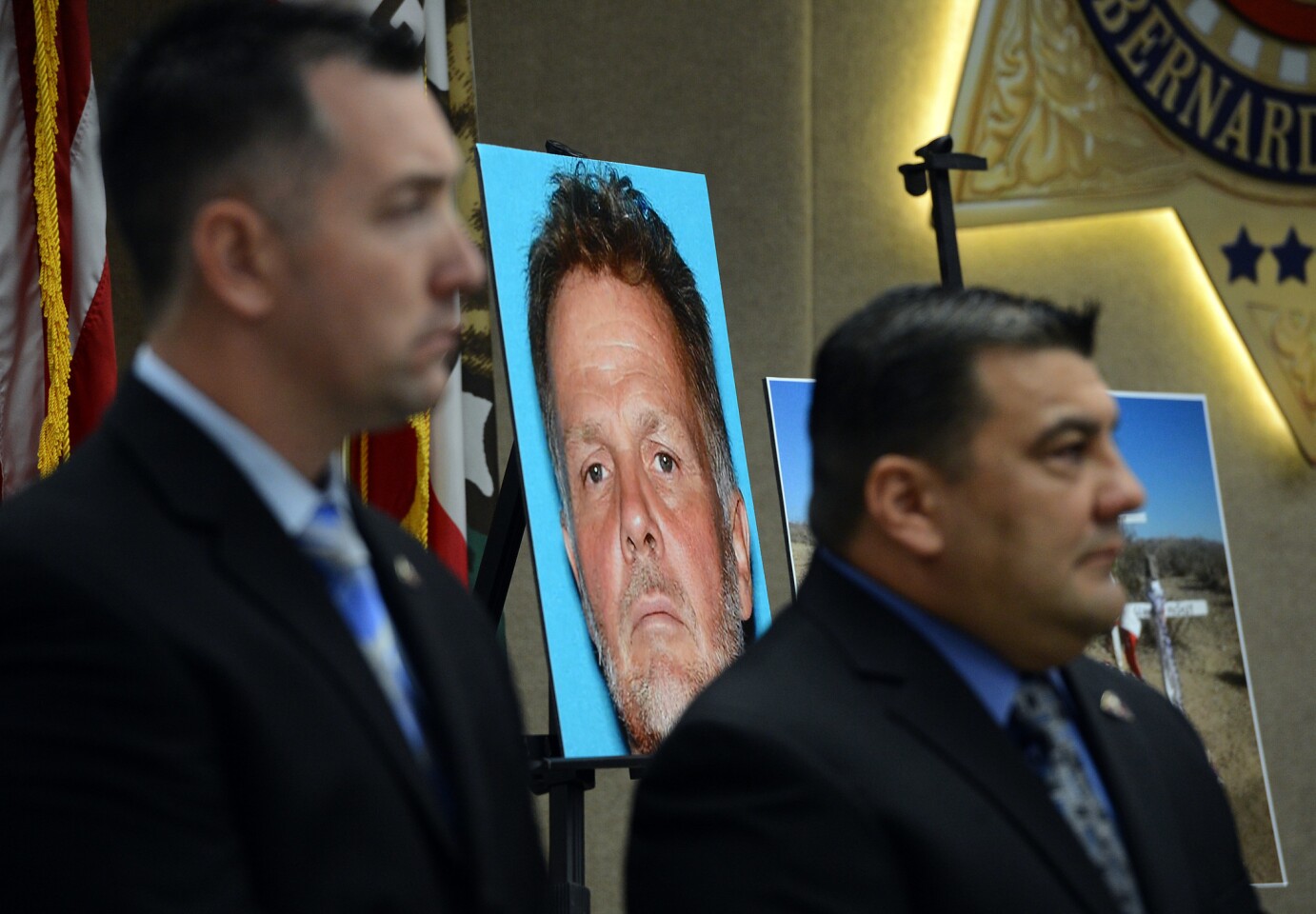 Detectives who worked on the McStay case, with a booking photo of Charles "Chase" Merritt during a news conference at the San Bernardino County Sheriff's Department headquarters.
(Jennifer Cappuccio Maher / Inland Valley Daily Bulletin)
San Bernardino County Sheriff John McMahon consoles Blanche Aranda, mother of Summer McStay, at a news conference where authorities announced a suspect had been arrested in the deaths of Summer McStay and her husband and sons.
(Jennifer Cappuccio Maher / Inland Valley Daily Bulletin)
Photographs of the McStay family displayed at a November 2013 news conference, where San Bernardino County authorities announced that remains found in desert graves had been identified as the McStays'.
(Don Bartletti / Los Angeles Times)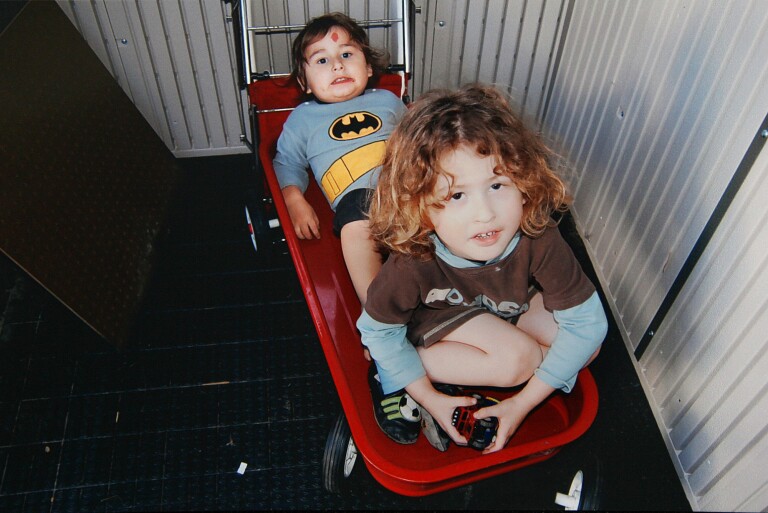 The McStays' two sons, Gianni, front, who was 4 when the family disappeared, and Joseph Jr., who was 3.
(Family photo)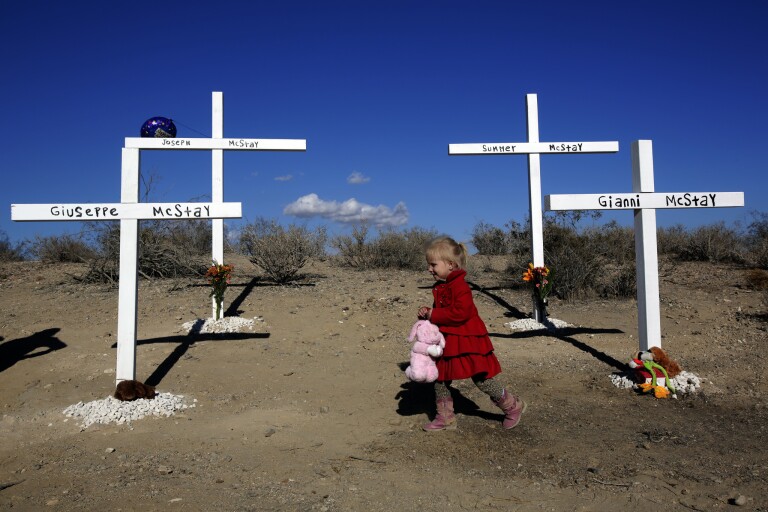 Kyla Cummins, daughter of a McStay family friend, plays with a stuffed toy left at a memorial for the McStays, whose bodies were found buried in shallow desert graves.
(Irfan Khan / Los Angeles Times)
Family members and friends gather at the site where four crosses were installed in memory of the McStay family, found buried in shallow graves in Victorville.
(Irfan Khan / Los Angeles Times)
Workers from Victor Valley News Group install four crosses at a memorial for Joseph and Summer McStay and their two children, whose remains were found in shallow graves near Victorville.
(Irfan Khan / Los Angeles Times)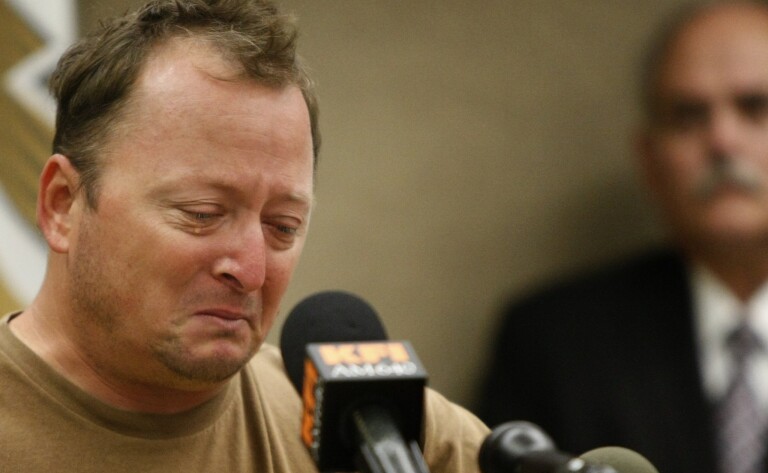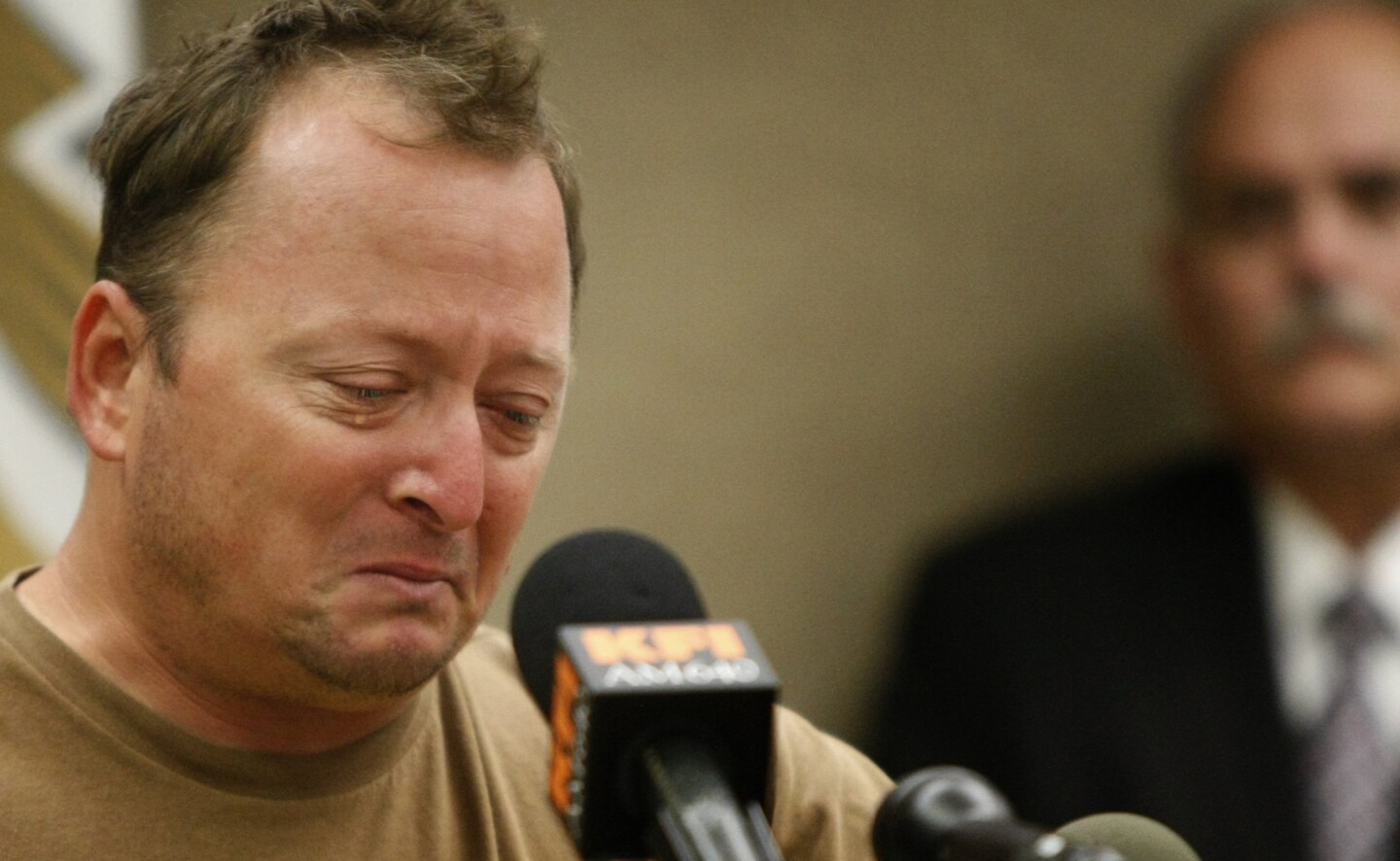 "It's not really the outcome we were looking for," Michael McStay said during a news conference in November 2013 after the remains of his brother, sister-in-law and nephews were identified. "But it gives us courage to know they're together and they're in a better place."
(Don Bartletti / Los Angeles Times)
Erin McStay, left, and Susan Blake at a news conference in November 2013 at the San Bernardino County Sheriff's Department headquarters, where authorities announced the remains of Blake's son, Joseph McStay, and his family had been identified. Erin McStay is Joseph McStay's sister-in-law.
(Don Bartletti / Los Angeles Times)
San Bernardino County Sheriff's Department investigators excavate a grave on the outskirts of Victorville in November 2013. Human remains found in two graves at the site were determined to be those of the McStay family, who went missing in 2010.
(Irfan Khan / Los Angeles Times)
The McStays' former house on Avocado Vista Lane in Fallbrook.
(Don Bartletti / Los Angeles Times)
The family of four appeared to have left their Fallbrook home in a hurry, vanishing into the chill of a February night. A carton of spoiled eggs and a rotten banana sat on their kitchen counter. Neighbors began to feed the family's dogs.
Their SUV turned up four days later parked at a strip mall near the border with Mexico, a country that friends said the McStays would never think of visiting.
For nearly four years, it was a mystery that confounded investigators.
But on Friday — a year after the family's skeletal remains were found in shallow graves near Victorville — authorities finally declared that the vexing case had been solved.
Charles "Chase" Merritt, 57, was arrested on suspicion of killing former business associate Joseph McStay, along with his wife and two young sons, San Bernardino County Dist. Atty. Mike Ramos said.
All four died from blunt force trauma.
"I don't need to tell you this is a cold and callous murder," Ramos said. He said he may seek the death penalty if Merritt is convicted.
Since Joseph, 40, and Summer McStay, 43, disappeared Feb. 4, 2010, along with their sons Gianni, 4, and Joseph Jr., 3, authorities fielded hundreds of tips from callers with purported sightings phoned in across the country.
Someone thought they spotted Summer at an Ikea in Burbank. Another placed the family at a restaurant in Baja. A detective investigated a sighting in Indiana.
A check of the family's computers showed a search on necessary documents for traveling with children to Mexico as well as a possible interest in learning Spanish. However, those close to the McStays insisted that the couple were wary of the drug wars in Mexico and that Summer McStay was excited about remodeling the house and planting a garden.
Authorities compiled thick binders of evidence, but had no real leads.
The intrigue attracted national media, while the lack of answers frustrated family members. Joseph McStay's father, Patrick, long complained about the "lousy" and "inept" work of San Diego County sheriff's investigators.
Eventually handed off to the FBI, the case took a dramatic turn when an off-road motorcyclist discovered bones in a desert patch near Interstate 15 in San Bernardino County last November. Dental records confirmed that they belonged to the McStays.
A week later, Merritt was quoted in a British tabloid as saying that he had been the last person Joseph McStay phoned before he disappeared and that the two, who worked together in the water fountain business, had spent more than an hour together that day.
According to the Daily Mail article, Merritt said that sales had been flourishing at the time and that they had landed a lucrative foreign contract: "I was manufacturing all the waterfalls he was selling and I lost my entire business. Without his sales, I had nothing. I went bankrupt very soon after he disappeared."
Merritt added that he had taken a polygraph test and wanted to do anything he could to help find the killers.
"He was my best friend and we told each other everything," he said.
The Riverside County resident has a long history of petty crime, violating court orders and drifting between blue-collar jobs.
In 2001, he pleaded no contest to second-degree burglary and grand theft after he was accused of stealing from a San Gabriel Valley ironworks company. He was sentenced to 180 days in county jail and ordered to serve three years' probation, but it took him nearly 10 years to complete his probation after he routinely failed to attend court-ordered programs or pay fines. He eventually completed his probation seven months after the time when prosecutors say the McStays were murdered.
At the time of the McStays' disappearance, detectives believed that the family left on their own accord and planned to return. There were no signs of struggle or forced entry. A neighbor's surveillance camera showed the McStays' Isuzu Trooper driving away about 7:45 p.m.
But authorities now say the McStays were killed at their home, on a cul-de-sac beneath a hillside lush with avocado trees.
San Bernardino County Sheriff's Cpl. Randy Naquin said investigators combed through 4,500 pages of material, served 60 search warrants and conducted more than 200 interviews. Evidence from the McStays' grave site led them to Merritt, Sgt. Chris Fisher said.
Escorted into a packed Victorville courtroom Friday, Merritt wore a green jumpsuit and kept his eyes away from the throng of reporters and the benches filled with relatives of the McStays. His own supporters stood nearby, clinging to one another while sobbing. His arraignment was postponed until next week.
Merritt's brother, Bennett, said the allegations were false. "My brother's not guilty and we don't want to talk to you reporters anymore, period," he told The Times.
But Susan Blake said she had long suspected that Merritt killed her son and his family, calling it "mother's intuition." She said that her son had often given money to Merritt.
Michael McStay said his brother, who owned Earth Inspired Products, had given Merritt work to help him. "And this is how he was repaid?" he asked.
Still, the arrest offered the family a chance at laying some of their questions to rest.
"I know it's trite, but this gives our family a little more closure, an opportunity to heal and move forward," Michael McStay said.
For years, he operated a website that posted updates on the case and encouraged readers to share tips on the family's whereabouts. "Let's bring them home safe!!!!!" it read when it first went up in 2010.
The last post was in July, a week after the funeral of all four McStays.
"One of the hardest [things] I've ever had to do was to watch my mom see her son, daughter-in-law, and grandsons' ashes be lowered into the small shallow plot," he wrote.
Times staff writers Scott Kraft and Veronica Rocha contributed to this report.
---
For reporting and exclusive analysis from bureau chief John Myers, get our California Politics newsletter.
You may occasionally receive promotional content from the Los Angeles Times.