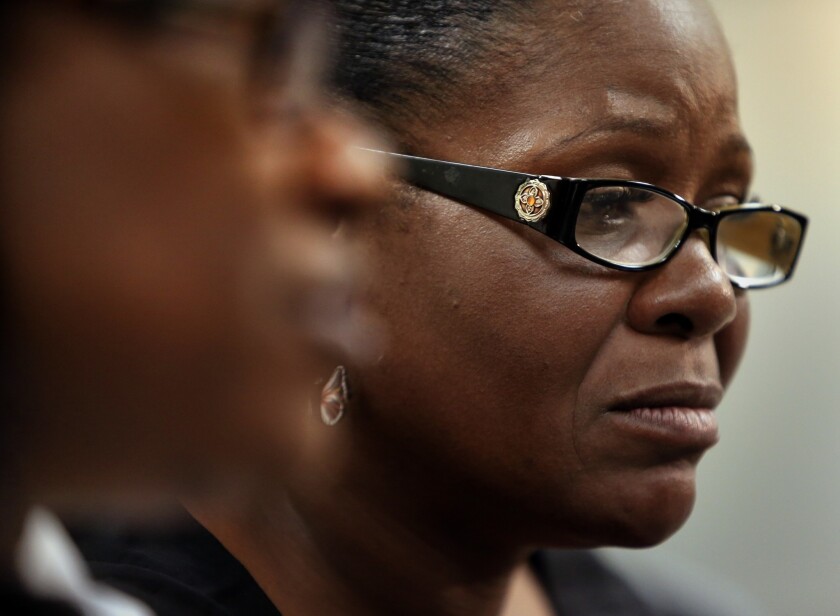 A settlement requiring a California Highway Patrol officer to step down after he was videotaped punching a woman along the 10 Freeway is highly unusual and could lead to similar demands in future police misconduct lawsuits, lawyers said Thursday.
An attorney for the woman, Marlene Pinnock, said Officer Daniel Andrew's resignation was a crucial element of the $1.5-million deal reached Wednesday, which CHP officials said was the largest excessive force award they could recall in recent years. The agreement said Andrew would leave the agency "voluntarily for personal reasons."
Experts said the move could have broader repercussions. Officers have significant employment rights and union representation, and an officer's job is usually not up for negotiation in civil rights lawsuits, said Glen Jonas, an attorney who last year secured a $4.2-million settlement for two women shot at by LAPD officers during the manhunt for ex-Officer Christopher Dorner.
"It sets a new bar for us," Jonas said. "It's usually not open to discussion.... When the public is behind you, it changes the dynamics."
The bulk of the settlement will go toward a special-needs trust to support Pinnock's long-term care. The 51-year-old said she was happy the lawsuit had brought at least a partial resolution following her July 1 encounter with Andrew on the freeway.
"I was glad he lost his job because I didn't want him to hurt no one else," Pinnock told reporters.
Wednesday's legal settlement ends Andrew's employment with the CHP on Dec. 1, and prohibits him from reapplying to the agency. He joined the department as a cadet in April 2012 and became an officer six months later.
Pinnock's attorney, Caree Harper, said that although she was pleased with the settlement — which came after about 10 hours of negotiations Wednesday — she still wants to see criminal charges filed.
"We want him in prison," Harper said. "I'm not done."
Harper said Los Angeles County prosecutors have contacted her about interviewing Pinnock in coming weeks. Andrew and his attorneys did not return calls seeking comment. Officials with the union representing CHP officers could not be reached for comment.
The district attorney's office is reviewing the CHP's criminal probe of Andrew. The investigation began after video of the encounter shot by a passing motorist was posted online. The uniformed CHP officer can be seen punching Pinnock at least nine times as she was pinned to the ground.
The CHP initially said Andrew was trying to keep Pinnock from walking into traffic, but that she ignored his commands and became "physically combative." Pinnock has said she did nothing to provoke the officer. She said she was walking to a place to sleep when Andrew came up behind her and threw her on the ground.
At a news conference Thursday at the site of the incident, several civil rights advocates again called on the district attorney's office to file charges against the officer.
"The CHP did their job. Now it is D.A. Jackie Lacey's turn," said Earl Ofari Hutchinson, president of the Los Angeles Urban Policy Roundtable.
Despite the settlement and the public outrage over the video evidence, legal experts were divided on whether the officer's actions amounted to criminal conduct.
Police have the legal authority to use force, and the standard for what is reasonable depends on the circumstances of each encounter, said attorney John Barnett, who represented officers accused of assaulting Rodney King in Los Angeles and, more recently, Kelly Thomas in Fullerton.
A defense attorney, he said, could successfully argue that the force was necessary to keep Pinnock from continuing to put her own life and that of others at risk by walking on the freeway.
"Every video they show always looks horrible on TV. … It is very easy to be outraged and horrified," Barnett said. "That doesn't tell you what the officer's perception is. Right or wrong, it is the perception that counts."
Attorney Howard Price, who successfully sued the CHP on behalf of a pregnant woman who was hogtied by officers in 2011, disagreed. He said Andrew could have restrained Pinnock without delivering nine punches, which Price said amounted to excessive force.
"He just apparently lost control," the attorney said.
Price said he was surprised that the officer's resignation was tied to the resolution of Pinnock's civil rights lawsuit.
"The next case that comes down the pipe — and there will be another one — the outcry will be to have the officer step down," he said.
Another lawyer, Carl Douglas, praised the decision to require Andrew to resign, saying the public outrage sparked by the video likely had an effect. But he said he believed the outcome is unlikely to be repeated in many other civil rights lawsuits against police.
---