In prosecutions of street racing, penalties aren't as stiff as some would like
Natalie Volkoff and her son were driving home from a church youth event when they saw two cars approaching fast in the opposite direction.
One of the cars lost control, sending the other spinning over the center divider and into the driver's side of Volkoff's gray Honda.
After the crash, Volkoff's son, Alex, then 11, looked at the driver's seat. His mother was motionless. Blood dripped from her mouth.
Authorities said the cars involved in the December 2016 crash that killed Volkoff, 41, had been racing at speeds of up to 113 mph.
The two men arrested in Volkoff's death initially were charged with murder. Nearly two years later, Corey Kiefer and Jacob Zamora, both 24, pleaded no contest to felony vehicular manslaughter and were sentenced to six years in prison, the maximum term.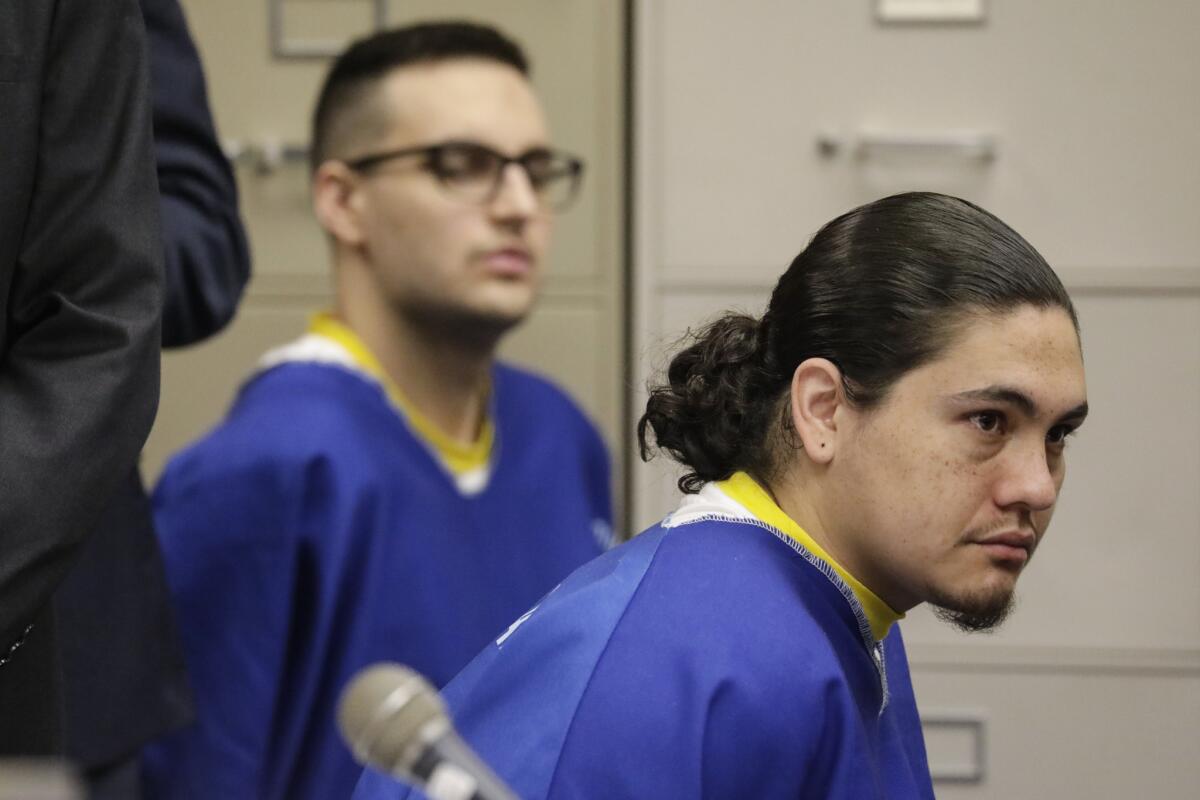 Since 2009, authorities in Los Angeles County have made arrests in more than half the cases where street racing was suspected in a fatal car crash. But those rarely have led to significant jail time, according to a Times analysis of law enforcement and court records.
The Times examined 45 incidents that led to 20 prosecutions. In 15 of those, the defendants were sentenced to less than five years in jail. In one case, a driver involved in a crash that killed a teacher was sentenced to probation. Only three prosecutions saw sentences of more than 10 years.
Those findings underscore the difficulty of investigating and prosecuting incidents where street racing is involved, law enforcement authorities said. It is hard to prove the intent required for a murder charge, and many defendants have no previous criminal history.
"Our court system isn't going to care until more people start to die," said an LAPD police investigator who requested anonymity in order to speak candidly about the issue.
In Los Angeles County, where authorities say that street racing is on the rise, at least 179 people died in suspected incidents from 2000 to 2017, according to the Times analysis.
Late last year, street racing was suspected in a crash in Northridge that killed four people when a 20-year-old lost control of a BMW and crashed into a tree. The death toll has extended to 2018, including an incident in which a man was killed and a woman seriously injured when their sport utility vehicle was struck by a car involved in a street race near downtown in July, police said.
Some families that have lost relatives feel robbed that criminal cases started out with a murder charge and ended with what they see as a slap on the wrist.
A 2010 collision between two vehicles racing through Long Beach left four people dead, including 32-year-old Candace Ann Bustamante.
The driver of the vehicle that smashed into Bustamante, Denis Alberto Reyes, was sentenced to 17 years and eight months in state prison after pleading no contest to four counts of gross vehicular manslaughter while intoxicated. He was 18 at the time.
Josephine Bustamante said her grandson was just 4 years old when he lost his mother. Another victim in the wreck had given birth just months before the crash, Bustamante said.
"That's all, for four deaths?" she said when discussing the plea deal.
The Los Angeles County district attorney's office said in a statement that each case is "factually unique" and that the outcomes depend on the evidence. A criminal record can impact the outcome of a case, the office said.
"Street racing is a dangerous activity that often leads to deadly consequences," the office said. "It's a tough lesson for those who endanger their own lives and others' for the sake of racing recklessly."
But Ken Peak, a former criminal justice professor at the University of Nevada, Reno who wrote a Department of Justice guide on street racing, said it's nearly impossible to prosecute someone for murder in such incidents.
"It's an unintentional killing," Peak said.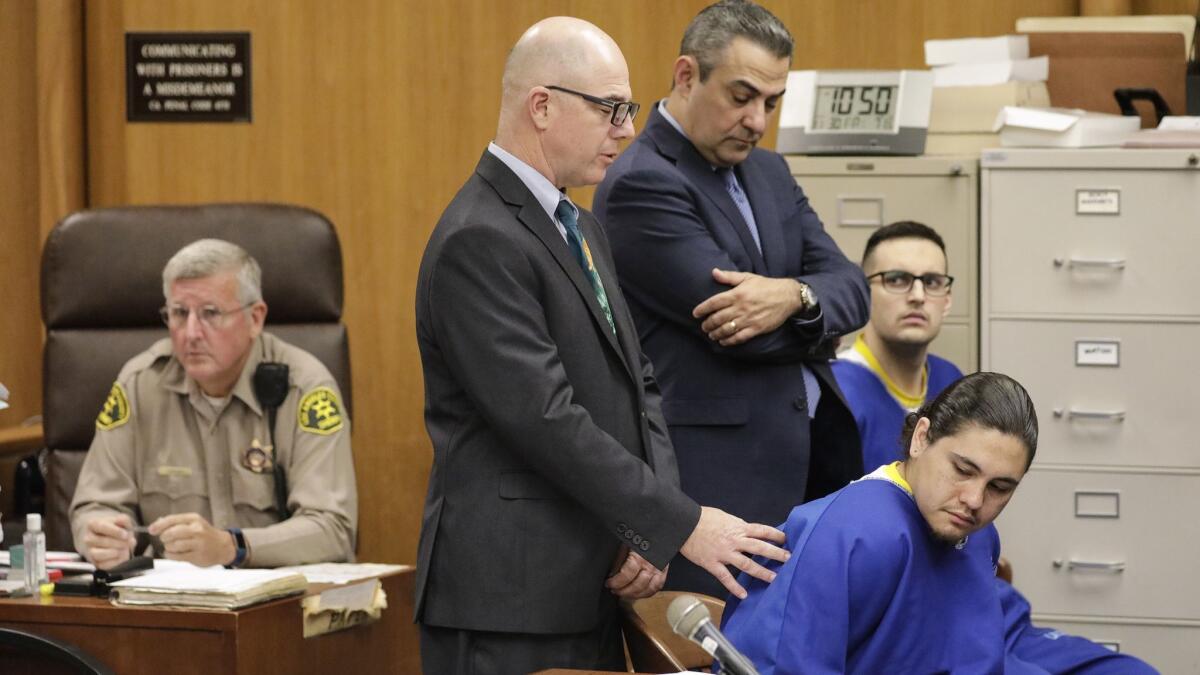 Josh Ritter, a former L.A. County prosecutor, said street racing incidents usually involve defendants who have never been in trouble with the law. The cases are among the saddest to deal with, he said, explaining: "On both sides, you've got families that have been torn apart."
On June 3, 2017, at 11:45 p.m., Brody Burnam was driving home from the gym when he came across the aftermath of a crash.
He pulled over and found a man convulsing in a silver car. "Hey, are you with us?" he asked.
"I felt his pulse," he said in court. "He didn't really seem to have one. It was very slow and we just — he seemed like he passed away there, right in front of us."
The victim, Maximillian "Alexis" Rojas, 19, had been on his way home from working at a Torrance restaurant.
Two men, Luis Samaniego Barajas and Zachary Frank Leets, were alleged to have been racing on Pacific Coast Highway when the vehicle Samaniego Barajas was driving crashed against a center divider. The car flew into oncoming traffic, hitting Rojas' vehicle.
Recently, the two defendants — who were originally facing a murder charge — pleaded no contest to vehicular manslaughter. Samaniego Barajas and Leets will be sentenced to four years in state prison in January.
In 2017, the Los Angeles County district attorney's office handled 415 cases involving street racing, data show. That same year, the Los Angeles Police Department submitted 115 cases to the city attorney's office — a sharp decline from the nearly 200 submitted the year before. In both years, roughly 90% of the cases were filed for prosecution. The California Highway Patrol meanwhile, documented 984 street racing incidents in Los Angeles County in 2017, records show.
Los Angeles is the hub of street racing activity in the county, and several investigators said they believed the cases submitted by the LAPD represent just a fraction of the illegal activity taking place on city streets.
Much of that — driven by popular culture and social media— is in the form of organized "takeover" events, where people use their cars to block off streets or intersections to stage races or stunts that can attract hundreds of onlookers.
Three people, including a 15-year-old, were killed in Commerce in 2015 after a car doing doughnuts in the street collided with another vehicle, striking spectators.
The low number of racing cases filed by the LAPD is a point of frustration for some investigators tasked with tackling the city's burgeoning street takeover scene.
Arresting and prosecuting participants is hampered by the chaotic nature of the events, according to Capt. Andy Neiman, who oversees traffic operations at the LAPD's Valley Bureau.
"It's very challenging, tactically, to try to control a crowd that is engaged in street racing. Typically, if they are mid-block, you've got two intersections you've got to block off so that you can contain them, cite them, run them for warrants, inspect their cars."
Many racers are emboldened by their advantage in numbers and do not fear a large police presence when they block intersections or perform vehicle stunts.
"There might be 200 to 400 people at one location," said Sgt. Munish Bharadwaja, who investigates street racing for the LAPD's South Traffic Bureau. "The odds are not in our favor."
Earlier this year, the Los Angeles County district attorney's office filed assault charges against seven men who allegedly threw bottles at an LAPD cruiser and tried to stop officers from making arrests at the scene of a South L.A. street takeover. Officers were able to record part of the incident on a dashboard camera, and a Lyft driver who was the victim of a hit-and-run when she drove into the area agreed to testify against the defendants.
Still, during a preliminary hearing, defense attorneys found several avenues from which to attack the charges, records show.
Two LAPD officers testified that dozens of people involved in the takeover surrounded their cruiser when they tried to move in. Liquor bottles and rocks were smashed against the car, and at least one person lay down in front of the LAPD vehicle so it could not move forward.
But when defense attorneys pressured the officers to identify a specific defendant who committed a specific act, they struggled to do so. The dashboard camera captured activity taking place only in front of the cruiser, and there was no footage showing defendants throwing items, according to court records.
Defense attorney Leonard Friedman argued that the LAPD had arrested his client merely on "a theory of guilt by association, hanging out with people that are engaging in these street takeovers," records show. The men reached plea deals with prosecutors last month. Two of them were sentenced to 90 days in jail, and three others were sentenced to 45 days in jail. The remaining two received probation.
Attorneys also tout their clients' good character or lack of criminal record.
In February 2016, Dealio Lockhart was suspected of racing down Interstate 5 and causing a chain-reaction collision that killed two teenagers and a UPS driver. Four other people were seriously injured. Lockhart has been charged with three counts of second-degree murder. The other suspected racer is still at large.
In a motion to have Lockhart's $6.2-million bail reduced to $250,000, his lawyers argued that there was "no evidence that Mr. Lockhart intended to hurt anyone," adding that he did not have a prior criminal record and worked as a field producer for the TV show "Dancing with the Stars." Numerous friends and family wrote letters in support of Lockhart's bail reduction, which the judge did not grant. Lockhart is awaiting trial.
Recently, when the defendants were sentenced in Volkoff's death, tears were shed not only by her family, but by the families of the defendants.
Corey Kiefer's mother, Tuffy Kiefer, said her son didn't know the other racer and that she was "totally shocked" when she heard about the incident. Her son was in the military and had dreams of becoming a law enforcement officer, she said.
Volkoff's mother said she felt for the two men as well, but that the accident had changed her family forever.
In an interview prior to the sentencing, Volkoff's husband, Peter, talked of missing his wife and the hugs she would give him when she got home from work.
"These guys had fun." he said. "And wrecked how many lives? For 30 seconds of fun."
Peter Volkoff didn't get a chance to speak at the sentencing hearing. He was killed in a Thanksgiving Day car accident.
For more crime news, follow @nicolesantacruz on Twitter.
Sign up for Essential California for news, features and recommendations from the L.A. Times and beyond in your inbox six days a week.
You may occasionally receive promotional content from the Los Angeles Times.