L.A. Unified school board approves another charter against district recommendations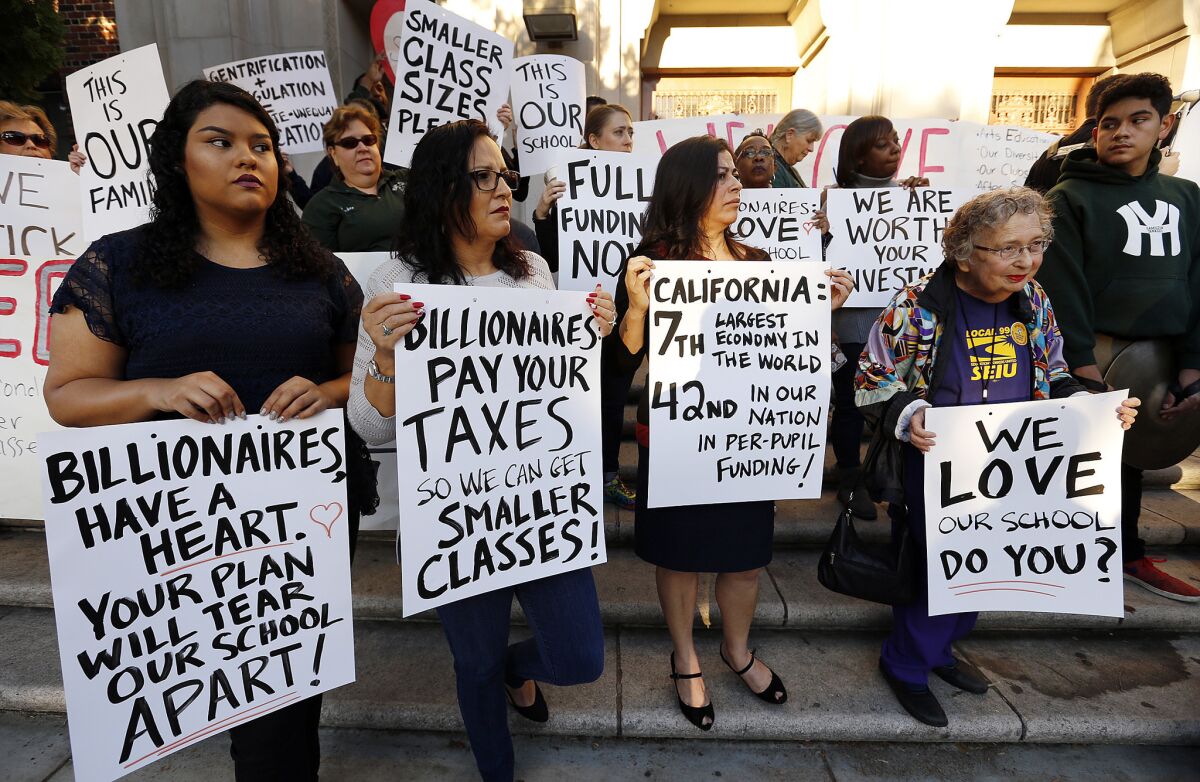 The L.A. Unified school board approved a new charter high school, despite the district charter school division's recommendation that the board deny the application.
Charter schools are publicly funded but can be privately operated, and Westside Innovative School House Inc. (WISH) runs two of them in Westchester — an elementary and a middle school.
In a 4-2 vote Tuesday (board President Steve Zimmer abstained), the school board decided to let the group open Wish Academy High School under a three-year charter.
The move comes one month after 21 organizations that run charter schools in Los Angeles sent a letter to the board accusing the district of unfair treatment in its approval process. The school district is battling declining enrollment in the face of well-funded plans to dramatically increase charter presence in Los Angeles.
Supt. Michelle King wants to take a collaborative approach with charters to improve students' school experiences, she said in a town hall last week in Pacoima.
Thirty charter operators sent the district another letter on Sunday to support WISH, citing the school's ethnic diversity, its concentration of students with disabilities and its test scores, which were higher than the district average. WISH parents, staff and supporters wearing red T-shirts filled the front half of the board meeting room Tuesday afternoon.
The board has approved eight out of 15 new charter petitions this academic year. That's just over half, compared with a 76.9% approval rate in 2014-15 and 89.5% the year before that, according to the California Charter School Assn.
Interested in the stories shaping California? Sign up for the free Essential California newsletter >>
WISH has had dwindling funds since 2011-12 and is financially unprepared to open a high school, the district's charter division denial recommendation to the school board states.
Shawna Draxton, WISH's executive director, disputed that in a letter to the board and superintendent. "Since submitting our Petition, WISH has received written confirmation from California Department of Education (CDE) that our application for a $575,000 Public Charter Schools Grant Program start-up grant has qualified for funding, pending charter approval and CDE staff approval of the grant application budget," the letter reads.
WISH asserts that the L.A. Unified Charter Schools Division said it would recommend a denial of its high school petition if it was not withdrawn. Last month, four charter operators withdrew their petitions rather than have them denied.
The board report also accuses one of the WISH schools — both share campuses with district schools — of taking up space for its 6th graders where it wasn't supposed to. The letter from Draxton calls this claim "preposterous."
During the Tuesday meeting the board also approved two charter renewals and one charter amendment that allows KIPP Comienza Community Preparatory to add middle school grades to its Huntington Park dual-language school.
Editor's Note: The Times receives funding for its Education Matters digital initiative from one or more of the groups mentioned in this article. The California Community Foundation and United Way of Greater Los Angeles administer grants from the Baxter Family Foundation, the Broad Foundation, the California Endowment and the Wasserman Foundation to support this effort. Under terms of the grants, The Times retains complete control over editorial content.
MORE ON EDUCATION
Oil and gas firm reactivates long-idle wells near L.A. school after residents seek to plug them
'It appears that no one cares': Report slams Juvenile Hall for filthy conditions and poor leadership
Cal State faculty, students expected to press trustees on pay raises, tuition at Long Beach meeting
The stories shaping California
Get up to speed with our Essential California newsletter, sent six days a week.
You may occasionally receive promotional content from the Los Angeles Times.