Charter school groups complain to LAUSD, then score some new schools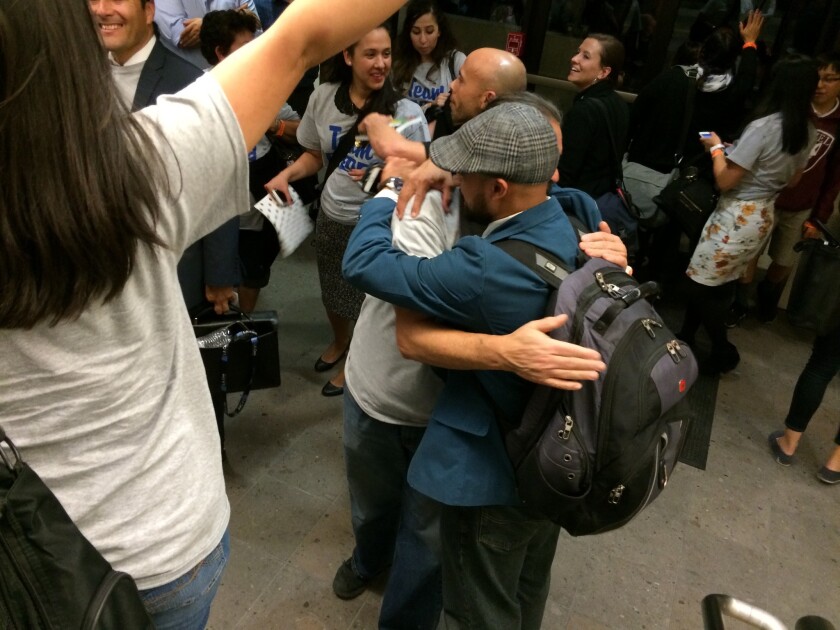 After formally complaining that the Los Angeles Unified School District is treating them with increasing unfairness, charter school operators caught a few breaks at Tuesday's school board meeting.
The Board of Education did reject one proposal for a new charter, but members approved two others. Backers withdrew four other start-up petitions rather than face an anticipated thumbs-down.
In addition, one current charter won its bid for another five-year operating agreement even though the L.A. Unified charter division had called for it to be closed.

See more of our top stories on Facebook >>
Twenty-one charters groups, which enroll about 56,000 students, had complained in a letter sent Monday to district officials. Among the figures they cited: The district approved about 9 in 10 charter petitions two years ago, compared with under half this year.
The decisions on Tuesday followed long discussions among board members about the specific issues before them and the handling of charters in general.
"It was encouraging to see the board seriously and openly examine whether it has been inconsistent in its review of charter school petitions," said Malka Borrego, founder of Equitas Academy and one of the charter directors who signed the letter.
She added that charter leaders want to meet with the district "to press for clear, consistent guidelines for charter petition reviews. All we want is a transparent and consistent process that supports schools and students."
The issue weighed on board member Monica Ratliff, who said during the meeting that she would like to see a review going back five years. She would like to know whether the charter division is handling evaluation and oversight differently than before.
"I believe we should take all allegations seriously," Ratliff said, adding that she does not assume that any change is necessarily for the worse.
The head of the division, Jose Cole-Gutierrez, said the approach has been consistent, based "on the merits" of charter school proposals and reviews of existing schools.
L.A. Unified has the power to authorize and oversee charters for set periods of time, typically five years. And, in rare cases, the district can close a charter for misconduct, mismanagement or violating its contract.
But on a day-to-day basis, charters are managed by their own governing boards and receive money directly from state, federal and private sources.
There are more charters in Los Angeles than in any other district, and an independent panel of experts recently warned that charter growth could threaten the solvency of L.A. Unified.
Most charters are non-union, and charter critics include unions. They say that charters serve fewer students who are more challenging and expensive to educate.
Charter advocates include well-heeled foundations and donors, who say continued, rapid charter expansion will improve the education system.
The big charter winner on Tuesday was Partnerships to Uplift Communities, more commonly known as PUC Schools.
PUC overcame the opposition of the charter division, which said its standard review showed that, based on academic performance, PUC's Excel Charter Academy fell far short of deserving a five-year extension.
Excel supporters — about 140 packed the board room and waited until well after dark to be heard — put forward other statistics that painted a better picture of the middle school in Lincoln Heights.
They also presented testimonials from students, parents, teachers and administrators. Such presentations have become a regular and lengthy ritual when the fate of a charter comes before the school board.
Follow the Times' education initiative to inform parents, educators and students across California >>
One board member, Ref Rodriguez, recused himself because he is PUC's cofounder. Four of the six remaining members had to oppose the charter to nullify its automatic renewal.
In the end, board members George McKenna, Richard Vladovic and Scott Schmerelson voted against Excel, saying they had no reasonable basis to fault the recommendation of the charter division.
Board member Monica Garcia, who represents Lincoln Heights, argued forcefully in favor of Excel, saying that the school offered parents a valuable choice, a small school in a neighborhood where the district operates much larger campuses.
"We have large schools, and we know when kids need smaller settings that's a real plus for some kids and some parents," said Garcia, who is regarded as a strong charter supporter. "If PUC goes away, there is not that option for families."
She added: "There's so much data on both sides, and I absolutely understand that staff does what it does. And it is our prerogative to disagree."
Ratliff sided with Garcia, persuaded in part, she said, by the quality of PUC schools in her board district. PUC operates 15 schools.
The deciding vote was cast last by board President Steve Zimmer, who's been a target of charter advocates. He said the bar had to be high for closing an existing school with a satisfied clientele. He said he was willing to give PUC a chance to make Excel better. His voted resulted in a 3-3 tie, and a five-year renewal.
However, Zimmer then opposed PUC's bid for a new charter. He said the organization needs to focus on making its existing schools better, including Excel.
Zimmer also alluded to other management issues that he said the organization should resolve. PUC is still dealing with a district review of whether it improperly handled food services contracts, according to district sources.
But after 10 hours of meeting in closed and open session, other board members were unwilling to engage in another extended debate about PUC. They voted 5-1, with Zimmer dissenting, to give PUC a new charter for an elementary school that will offer language-immersion programs in Spanish and Mandarin.
PUC co-founder Jacqueline Elliot said supporters made sure that "the school board heard them loud and clear: They want PUC schools in their communities."
Less fortunate was El Camino Real Alliance, which is seeking to take charge of the long-closed Highlander Road Elementary campus in West Hills. That group currently manages El Camino Real Charter High School and wants to add a kindergarten-through-8th grade feeder program.
The district opted instead for much less developed district option, an arts-themed academy that would enroll students starting in 6th grade and provide the students the option of obtaining a two-year, community college-level degree.
Zimmer said the project was in line with district efforts to reverse declining enrollment.
Twitter: @howardblume
Editor's Note: The Times receives funding for its Education Matters digital initiative from one or more of the groups alluded to in this article. The California Community Foundation and United Way of Greater Los Angeles administer grants from the Baxter Family Foundation, the Broad Foundation, the California Endowment and the Wasserman Foundation to support this effort. Under terms of the grants, The Times retains complete control over editorial content.
MORE EDUCATION NEWS
ICE agents won't be going onto Los Angeles public school campuses
The race between El Niño, and getting the roof fixed at your kid's school
Supt. Michelle King on frog dissection, STEM and the future of charters at LAUSD
---
The stories shaping California
Get up to speed with our Essential California newsletter, sent six days a week.
You may occasionally receive promotional content from the Los Angeles Times.