Q&A: Sexually active? You should probably get tested
Sexually transmitted diseases are becoming increasingly common throughout the country, and thousands of people in Los Angeles County have been infected. Many of them don't know it.
Regular testing for STDs can help prevent their spread and stop them from causing irreparable harm. It can be difficult to navigate your way through testing in Los Angeles. Here's everything you need to know:
How do I know if I have an STD?
You're at risk of having an STD even if you've only ever had sex with one person. And you can get them from any kind of sex — vaginal, oral or anal.
You can read about the symptoms of different STDs, including herpes and HIV, on the TeenSource website. Some of the most common ones — chlamydia and gonorrhea — often don't have symptoms, but can still be extremely harmful. Untreated, both can cause pelvic inflammatory disease and even infertility in women.
The only way to really know is to get tested. If you think you might have an STD, you can call a county hotline at (800) 758-0880 to figure out what to do next.
When should I get tested?
The U.S. Centers for Disease Control and Prevention recommends the following:
Sexually active women should be tested for chlamydia and gonorrhea once a year at least until they're 25. Older women should continue getting tested annually if they have risk factors, such as new or multiple sexual partners.
Women should visit a gynecologist to get Pap tests, which check for HPV -- an STD that can cause cancer -- every three years between the ages of 21 and 65.
All men who have sex with men should be tested for syphilis, and probably also chlamydia and gonorrhea, at least once a year.
All pregnant women should be screened for syphilis, HIV, chlamydia and hepatitis B.
Everyone should talk to their doctor about whether they need an HIV screening test.
The CDC generally doesn't recommend testing for other STDs unless you have symptoms, ask for a test, or live in an area with high rates of STDs.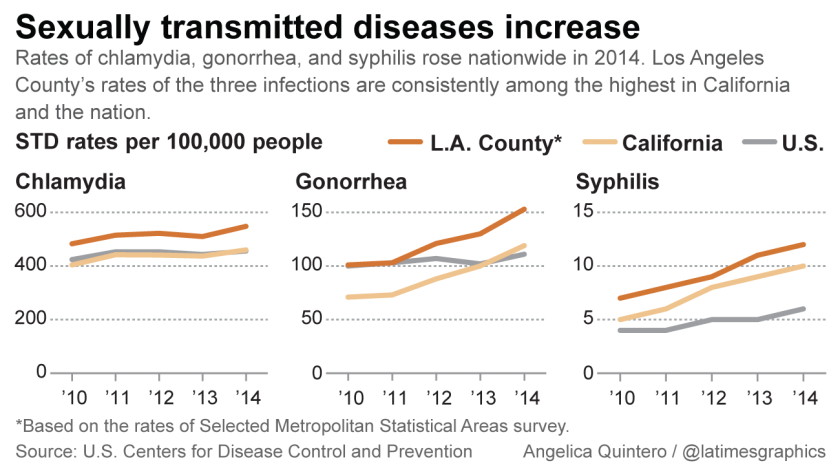 Sexually active people should get tested at least once a year just to be safe, said Michelle Cantu, director of community-based STD prevention initiatives at the California Family Health Council. Los Angeles County has some of the highest rates of chlamydia, syphilis and gonorrhea in California.
A healthcare provider can tell you if you should be getting tested more often.
If you're thinking about sleeping with someone new, and you've both been sexually active with other people, it's a good idea to get tested before you start having sex.
Which diseases should I get tested for?
If you go into a clinic and ask for STD tests as a sexually active person younger than 25, you will most likely be tested for chlamydia and gonorrhea, because those are the most common.
The healthcare provider will ask about your sexual history, and it's important to be honest. This is how they will determine whether to test for other STDs, like syphilis or herpes. HIV testing is also recommended routinely — the provider will talk to you about how often you should get tested.
You can also ask for specific tests. Most STD tests are covered by Family Pact, Medi-Cal and private insurance providers. You can check with the healthcare or your insurance provider to see if you need to pay additional costs.
Where can I get tested?
There are clinics all over L.A. County. TeenSource has a comprehensive list of clinics that offer STD testing and treatment in California, and you can search by ZIP Code. Planned Parenthood Clinics also offer testing, for both men and women.
L.A. County offers free STD testing and treatment at a number of clinics and at men's wellness centers, which serve gay, straight and transgender men.
There are also wellness centers at Los Angeles Unified School District schools that offer STD testing, treatment and family planning. They treat the students of those schools as well as community members.
Can I do it online?
Yes, for some STDs. L.A. County offers free chlamydia and gonorrhea home test kits for women under 25. To order a kit, call (800) 758-0880.
Planned Parenthood also offers an at-home chlamydia and gonorrhea kit for $120, which you can order by downloading their app.
For more extensive home testing, MyLab Box is one option.
Can I get free STD testing and treatment?
Yes.
All STD clinics run by L.A. County's Public Health Department provide free services.
California also has the Family Pact program, available through many of the clinics already listed, that offers free STD prevention, testing and treatment services for uninsured people.
To qualify for Family Pact, you need to be uninsured and have a family income at or below 200% of the federal poverty level. For minors, that doesn't include your parents' income, so if you are a teenager or a student under 18 without a full-time job, chances are you qualify, said Michelle Horejs, associate director of youth education and community engagement at Planned Parenthood Los Angeles.
If you are on a parent's or spouse's insurance and do not want them to know that you're receiving STD testing or treatment, you can ask for confidential services through Family Pact as long as you meet the income eligibility, said Christina Moreno, chief of the California Department of Health Care Services Office of Family Planning. However, your family's income might be taken into account if you're over 18.
You may also qualify for Medi-Cal, which covers most STD testing and treatment, but it might be easier to sign up for Family Pact because you can do so at the clinic.
It's a good idea to call the clinic you're planning to visit beforehand and find out if you're eligible for Family Pact, or to learn the costs of the services you need, Horejs said.
What happens if I get an STD?
It depends on the disease. A number of STDs can be treated with antibiotics, but you can contract them again. Some STDs, like herpes and HIV, have no cure, but doctors can help you manage the symptoms.
Some STD treatments will probably be covered by free clinics or insurance, but it's a good idea to check.
How do I prevent STDs?
The most effective way to prevent an STD is to not have sex.
You can lower your risk of STDs by limiting your number of sexual partners and having sex with only one person, who is also having sex with only you.
Aside from that, it's important to use always use dental dams or condoms, and to be careful with them — that means learning to put them on right, and not ripping them open with nails or teeth.
Health officials recommend that preteens who've never had sex before get the vaccine that protects against HPV, an STD that can cause cancer. The shot can be administered effectively to women through age 26 and men through age 21, according to the CDC.
Where can I get condoms?
L.A. County residents can visit lacondom.com and request 10 free condoms via mail.
There are also hundreds of barber shops, bars, clinics and other businesses that stock free condoms, which they receive from the county. Since the program began in 2013, more than 5.6 million condoms have been distributed, said Harlan Rotblatt, who coordinates STD prevention projects for the county. They come in two sizes — normal and extra large.
"The price and access should not be barriers to getting a condom — no pun intended," he said.
The county also provides condoms to all LAUSD high schools and some of the school wellness centers have condoms.
Does birth control protect against STDs?
Condoms can protect against STDs, but hormonal forms of birth control like the pill, IUDs, patches and shots do not.
Will anyone find out about my STD testing and treatment?
Minors over age 12 in California have the right to confidential treatment, so parents won't be notified if you sign up for Family Pact or go to a free clinic, Cantu said. Health professionals encourage young people to discuss STDs with trusted adults.
Many clinics are open during business or school hours. Schools are required to excuse students older than 12 for "confidential minor consent health services," which includes STD testing and treatment, without asking your parents for permission or notifying them.
If you're using your family member's or spouse's insurance, you can submit a Confidential Communication Request to your healthcare provider, and they will send the details of your STD treatment and care directly to an address you provide.
There are exceptions. If there is evidence that you are being harmed, that you are harming yourself, or that you are a minor and are having sex with someone who is old enough so that it qualifies as statutory rape, the healthcare provider is obligated to inform the appropriate authorities.
Reach Sonali Kohli on Twitter @Sonali_Kohli or email her at Sonali.Kohli@latimes.com. Reach Soumya Karlamangla on Twitter @skarlamangla or email her at soumya.karlamangla@latimes.com
---
The stories shaping California
Get up to speed with our Essential California newsletter, sent six days a week.
You may occasionally receive promotional content from the Los Angeles Times.