What's causing the rise in STDs in L.A. County and how can technology help?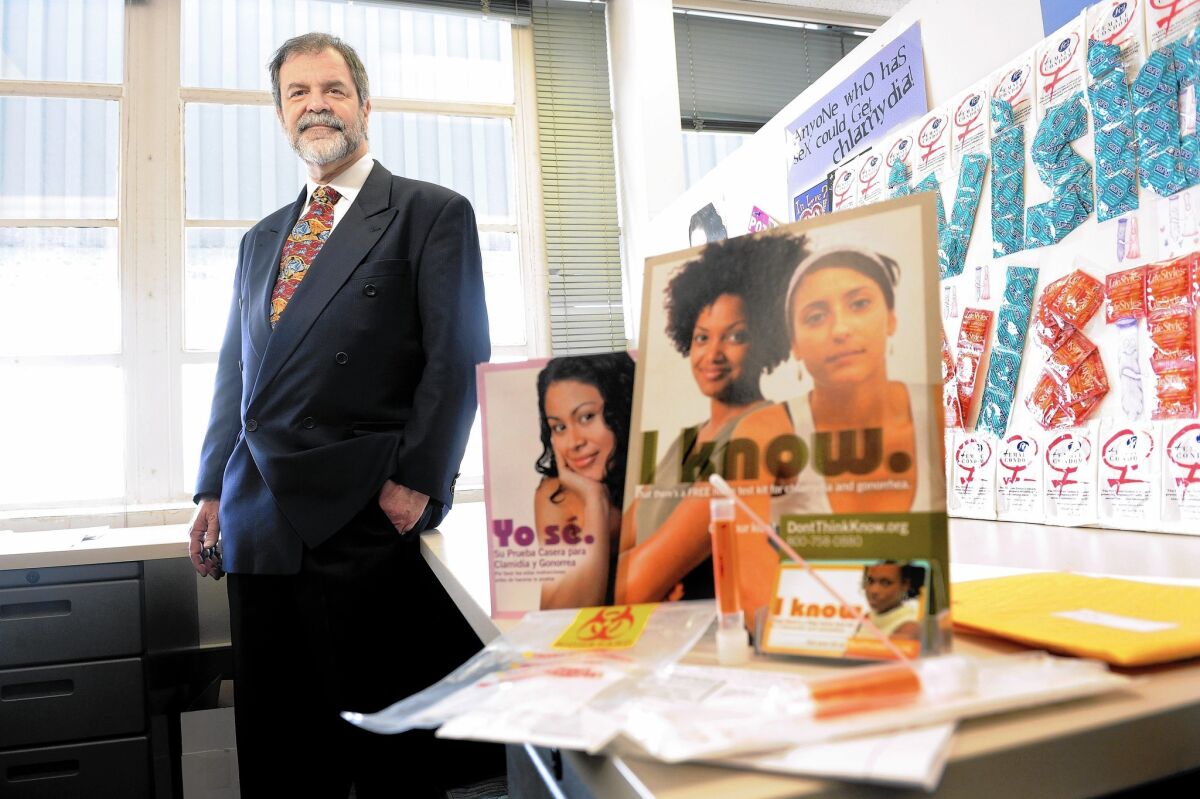 Sexually transmitted diseases are on the rise across the nation, but the problem is particularly acute in Los Angeles County.
Not only does the county have the most cases, it also has some of the highest rates of chlamydia, gonorrhea and syphilis in California and the nation.
Some public health experts have blamed the heavy use of online dating apps, arguing that they lead to more casual sex among people 25 and younger, who are the most likely to be infected and also the least inclined to seek testing.
Though the precise cause of the increase is not clear, some entrepreneurs and public health officials are trying to tackle the problem with technology.
Dozens of organizations now offer STD tests that can be ordered online and mailed to homes. The customer provides a sample, sends it back to a lab and receives results within a few days.
But as these tests become more popular, experts warn that they may not always be accurate.
"We don't know — they could be doing [the testing] in their garage, they could be doing this on their kitchen table," said Dr. Charlotte Gaydos, an STD expert and professor at Johns Hopkins University School of Medicine.
Gaydos was one of the first to offer these kits in 2004 to high schoolers in the Baltimore region. She collects data on how well the tests work, with the hope that a company will eventually cite the research to receive approval from the U.S. Food and Drug Administration to sell similar tests in stores. As it is now, the tests do not need to be cleared by the FDA to be sold online.
See more of our top stories on Facebook >>
Still, Gaydos thinks there's a public health opportunity in the tests' ability to target young people, many of whom do almost everything on their smartphones.
"People do want this kind of thing," she said.
STDs spread in large part because people don't get tested enough, so undiagnosed infections are unknowingly transmitted from one person to another.
As technology improves, Gaydos thinks people will eventually be able to pick up an STD test from a drugstore and get results immediately, much like a pregnancy test. "But in the meantime, they need to be tested."
Several years ago, a testing campaign launched by the L.A. County Department of Public Health showed how difficult it was to get people to go to one of the county's 12 STD clinics, said project coordinator Harlan Rotblatt.
Many STDs don't have any symptoms at first, so people must first decide to get tested, and then find the time and a way to get to a clinic. "You're not being driven by a physical issue," he said, so all the logistical barriers become "an extra thing on top of 'you don't really want to do this anyway.'"
So in 2009, L.A. County started offering kits online that test for chlamydia and gonorrhea for free to women under 25.
NEWSLETTER: Get the day's top headlines from Times Editor Davan Maharaj >>
Sexually active women under 25 are supposed to have annual screenings for the two infections, because they're considered high risk and bear the brunt of the consequences of most STDs. Each year, at least 24,000 women become infertile because of complications of STDs, according to the U.S. Centers for Disease Control and Prevention.
"Just exhorting people to get tested, as we had been doing, wasn't going to be effective for everyone, so we thought this was a really good way to take advantage of the new technology of testing," Rotblatt said.
Using Gaydos' program as a model, the county began providing testing kits and have since mailed about 9,000, he said.
Across the country, the number of companies selling similar tests is growing. Last year, Planned Parenthood launched an app in California through which men and women can order chlamydia and gonorrhea tests. A paper found that in 2009 there were already 27 such services, and a Google search now yields hundreds of results.
One such start-up, based in Hollywood, began as a way to try to make sex safer, especially for people who might be using apps to find new partners.
Three years ago, Lora Ivanova and her friend Ursula Hessenflow were sitting at a coffee shop in L.A., swapping stories about dating. Soon, they started discussing the best way to broach the topic of sexual health with a new partner, Ivanova recalled.
"We were just kind of thinking, 'Why is it so difficult to have these conversations?'" Ivanova said. "And then it shifted very quickly to, 'It would be so much easier to have that conversation if people actually got tested.'"
Rates of chlamydia, gonorrhea and syphilis in the U.S. had been fluctuating for several years, but all surged in 2014. A particularly staggering statistic, the 1.4 million chlamydia cases reported that year, marked the highest number of annual cases of any condition ever reported to the Centers for Disease Control and Prevention.
In California, the per-capita incidence of the three diseases is higher and has been climbing since 2010.
Ivanova and Hessenflow, both entrepreneurs, researched available STD testing options and decided to add one to the market.
In 2013, they launched myLAB Box, which sells test kits online for chlamydia and gonorrhea, HIV, trichomoniasis and hepatitis C. The kits — which cost $79 to $189 — require a urine sample, a vaginal swab or blood from a finger prick to send to the lab.
Dr. Ateev Mehrotra, a Harvard Medical School professor, said the at-home testing kits are part of a "convenience revolution" that's sweeping the healthcare industry.
"You can buy anything online all the time. Almost everything we can do instantaneously," said Mehrotra, who studies innovations in healthcare delivery. "There's an expectation in our society for things to happen more quickly."
Catering to this 24/7 demand, many pharmacies have opened in-store clinics where people can drop in for a checkup or a flu shot. Telemedicine, in which patients can video chat with a physician or a nurse, is also an option for many.
At-home testing offers similar convenience, Mehrotra said. Plus, it saves patients a conversation with their doctor about STDs that they might find embarrassing. "The anonymity of this is a really important factor," he said.
But AIDS Healthcare Foundation President Michael Weinstein worries that as these tests become more popular, it will be difficult to make sure people are getting treated once they're diagnosed.
Already, there are problems following up with patients who order tests online. In the program run by L.A. County's Health Department, only about half of the 9,000 kits mailed out were returned for testing, which is in line with other programs' results.
Weinstein said that at the foundation's testing sites, people often don't come back after their results show they're infected.
"You have to figure out a better way to ensure that people are linked to care," he said.
soumya.karlamangla@latimes.com
Twitter: @skarlamangla
ALSO
Authorities search Southern California for 3 inmates who escaped O.C. jail
Suspect in Arcadia slayings tells Hong Kong court he wants to return to U.S.
South L.A. residents want city to act on Jefferson Boulevard oil drilling site
The stories shaping California
Get up to speed with our Essential California newsletter, sent six days a week.
You may occasionally receive promotional content from the Los Angeles Times.