Goalball, a sport invented for blind WWII vets, catches on at Cal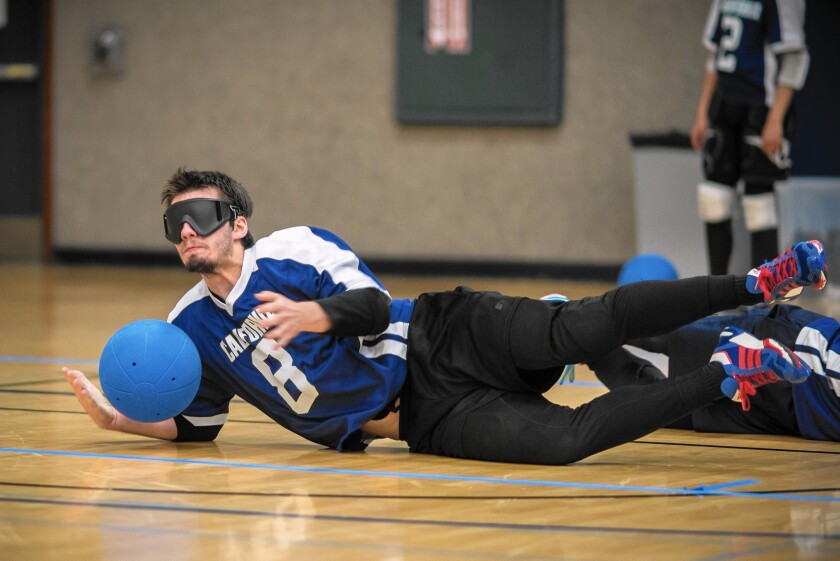 Reporting from BERKELEY —
The athletes wear plastic black-out goggles and throw or block a ball filled with bells. Just outside the boundaries of the playing court in UC Berkeley's recreational gym, two guide dogs rest on the floor, and several sets of canes are propped against the wall.
This is a practice session for goalball, a little-known sport that was invented as rehabilitation for blinded military veterans in Europe after World War II. This year, UC Berkeley launched what is thought to be the nation's first competitive collegiate goalball team; a handful of other campuses joined in hopes that the sport will spread and receive NCAA recognition.
After playing recently in their first inter-collegiate tournament, the Berkeley team members say they are convinced that goalball is more than a fun and demanding game. It's also a political statement that the visually impaired and those with other disabilities should not be marginalized at school or in society.
"With blindness, parents and teachers tell you just sit still and do your work and do the best you can," said Julie Cabrera, a sophomore who has been visually impaired since infancy. "It's really hard to dream you can stretch out your arms, that you can run, that you can actually be active. Not just to play a sport but to play a sport at this level against competitors is really amazing."
Teammate William Slason, a freshman, was a high school wrestler who also played competitive goalball. He said he appreciates that the game does not coddle visually impaired athletes like him or shield them from getting bruised by the hard-skinned, three-pound sphere about the size of a basketball. He also likes the rules that require both blind and fully sighted players to wear eye shades and to rely on hearing the bells and opponents' movements.
"Goalball forces you to be aware of the other senses than vision. It makes you appreciate hearing and what else our bodies have going to play goalball and to survive," said Slason, an American Studies major.
UC Berkeley's team of five women and two men includes one fully sighted athlete in a somewhat controversial effort to integrate the group. The other six all have visual disabilities, ranging up to total blindness, and some rely on canes and voice GPS to navigate the hilly and crowded campus.
Judith Lung, a senior, depends on a yellow Labrador named Van Dyke, who lounges on the sidelines during practices and nuzzles other service dogs visiting with friends. "I never imagined myself playing college sports," said Lung, an English major.
Though goalball became an event in the international Paralympics for disabled athletes in 1976, it is obscure to wider audiences.
The game came to UC Berkeley mainly at the instigation of Matt Grigorieff, an education graduate student whose congenital leg disorder makes it difficult to play most sports.
With fellow members of the Disabled Students Assn., he helped establish a for-credit class that combined lectures about disability civil rights law and health issues with goalball sessions. Campus funding then brought in coaches from Bay Area Outreach and Recreation Program, a group that specializes in sports for the handicapped. Head coach Jonathan Newman, who is sighted, is assisted by two Paralympics veterans.
Part of goalball's attraction is that "it flips the usual power relationship," said Grigorieff, who is fully sighted. Instead of accommodating the disabled, it makes adjustments for the non-disabled, he said.
For both sighted and blind, goalball can be a tough and unusual game.
Court perimeters are lined with masking tape over twine to let the three players on each side feel the slightly bumpy boundaries. Sometimes spinning first, players throw and bounce the ball underhand toward the opposing net to make a goal. Playing defense, team members lie on their sides, arms stretched to block the ball whipping as fast as 40 mph.
The audience and those on the benches must remain silent during action in the 45-minute game because much depends on the athletes hearing the bells inside the ball and shouting directions to each other. Referees can penalize players who adjust their goggles without first asking.
Matt Simpson, an official at the U.S. Assn. of Blind Athletes, said he likes to play goalball because "it's not a watered down version of any other sport. It's entirely its own sport."
Blind track runners are accompanied by guides, but "in goalball, you sink or swim on your own abilities," he said.
Simpson said it may be a difficult for goalball to spread widely and gain NCAA approval for scholarships and championships because the number of visually impaired college students who want to compete in sports is not large, and the game isn't well known.
Jessica Adams, a fully sighted classmate of Grigorieff who had played varsity volleyball, said she joined goalball to stay active and to help boost sports for the disabled. At first, she said, it was difficult to wear eye shades. Now, besides listening for the ball, she is alert to steps, breathing and even, she said, "players on the other team touching the tape to know where they are."
Elsewhere in the country, there is disagreement over who should play goalball. No fully sighted person is allowed to compete at the international Paralympics. For non-collegiate national competition in the U.S., teams are limited to one fully sighted player on the court. But there are no restrictions at colleges.
"We want the visually impaired and the sighted to play the same game at the same level together," said Brandon Young, an assistant coach.
A few days before the recent tournament near Portland, the team practiced and strategized at home in their blue-and-white Cal uniforms.
UC Berkeley chancellor Nicholas Dirks came by to wish them well. "We are so proud of you and the fact that you are engaged in this level of competition," said Dirks, ending his chat with "Go Bears!"
The tournament — the first of its kind in the nation — included a team from Portland State and two squads from Slippery Rock University in Pennsylvania. The Cal players, described by coaches as nervous and wobbly at the start, lost their first two games.
Then, after pep talks about communicating better by slapping the floor and calling out to teammates, they beat a Slippery Rock team, 9-4.
Cal finished third, and the team is looking forward to a rematch against Portland State this weekend in Berkeley.
---
The stories shaping California
Get up to speed with our Essential California newsletter, sent six days a week.
You may occasionally receive promotional content from the Los Angeles Times.