Do charter schools harm traditional public schools? Gov. Newsom wants to find out
In the wake of the Los Angeles teachers' strike, California Gov. Gavin Newsom has joined a push for a review of how charter schools could be causing financial problems for traditional school systems.
He has asked state Supt. of Public Instruction Tony Thurmond to convene an expert panel, with a report due by July 1.
"As Governor Newsom stated in his first budget proposal, rising charter school enrollments in some urban districts are having real impacts on those districts' ability to provide essential support and services for their students," spokesman Brian Ferguson said in a statement.
The statement did not allude to the L.A. teachers' strike, but the governor's directive followed a resolution passed last week by the L.A. Board of Education, which called for such a study.
The L.A. board took up its charter resolution as one commitment the district made to end a teachers' strike that began Jan. 14 and extended over six school days. The resolution passed 5-1, even winning the votes of two members who were elected with substantial support from charter school advocates.
The L.A. board resolution also asked for an eight- to 10-month moratorium on new charter schools in the L.A. Unified School District while such a study would take place.
Outside that meeting, more than 1,000 charter school students, parents and other supporters rallied to oppose the board's action. They said a moratorium would deny choices to families in search of better or different schools.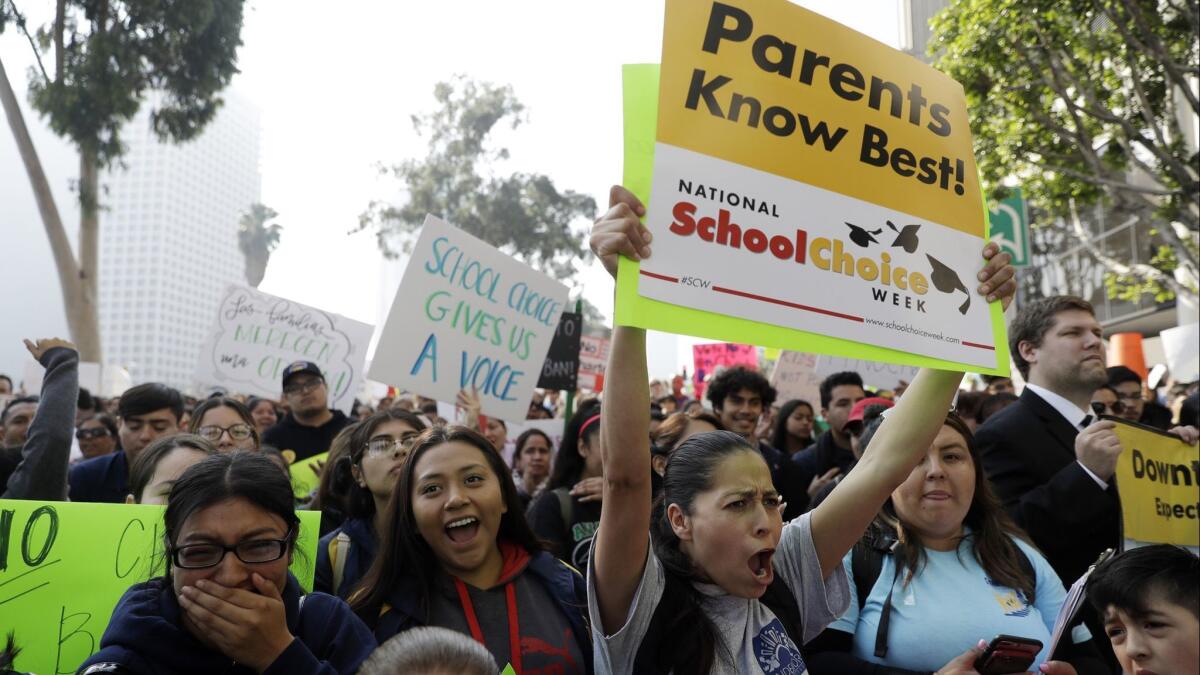 So far, Newsom has not announced support for a moratorium.
L.A. Unified has no authority to enforce a moratorium, which would require a change to state law. The L.A. school board, like others in the state, is required to approve any valid petition to start a charter school that comes before it.
Nearly 1 in 5 public school students in L.A. Unified attends a charter. The nation's second-largest school system has 225 charters — more than in any other district in the country — enrolling about 112,000 students.
Charter schools are privately operated public schools that compete for students with traditional, district-run schools and with one another. Most are nonunion.
The head of the state charter association, Myrna Castrejón, said she hoped that any panel also would examine the positive impact of charters and would be "focused on what's best for students overall, particularly our most vulnerable."
"Financing and outcomes do go hand in hand, and we look forward to a sober conversation about the interplay of these issues," Castrejón said.
The L.A. teachers union, United Teachers Los Angeles, made the growth of charters a major issue leading up to the strike, even though union members could not walk out over the issue. On Wednesday, union President Alex Caputo-Pearl applauded Newsom's action "for seemingly recognizing that public school districts across the state, including Los Angeles Unified, are being financially strangled by the unmitigated growth of charter schools, but we don't believe a task force is needed to reach this obvious conclusion.
"Large urban school districts, the primary targets of the corporate charter industry, are well past the saturation point … and an immediate cap on charter schools is urgently necessary," he said.
L.A. Unified teachers have long been concerned about the rapid growth of charters — even as district enrollment is declining overall because of population trends. The decline has created financial pressure on L.A. Unified, which has had trouble cutting costs and faces increasing burdens from underfunded programs to provide retirees with pensions and health benefits.
Both teachers unions and charter supporters are powerful lobbying interests in Sacramento, and, in the past, they've fought to nearly a draw when it comes to major changes in charter school law.
Charter supporters spent millions of dollars in an unsuccessful primary campaign to defeat Newsom, and millions more in an attempt to defeat Thurmond, who benefited from millions in support from teachers unions. But Newsom was not notably anti-charter in years past, and Thurmond has little direct authority over charters.
Both Thurmond and Newsom were involved in efforts to end the L.A. teachers' strike.
On Monday, the Oakland teachers union announced overwhelming support for a strike by its members. Charter growth has been an issue, too, in that school system. And the board of West Contra Costa County Unified, also in the Bay Area, was scheduled Wednesday to discuss a resolution calling for a statewide charter moratorium.
Twitter: @howardblume
Sign up for Essential California for news, features and recommendations from the L.A. Times and beyond in your inbox six days a week.
You may occasionally receive promotional content from the Los Angeles Times.