USC helps students graduate on time by pinpointing what's holding them back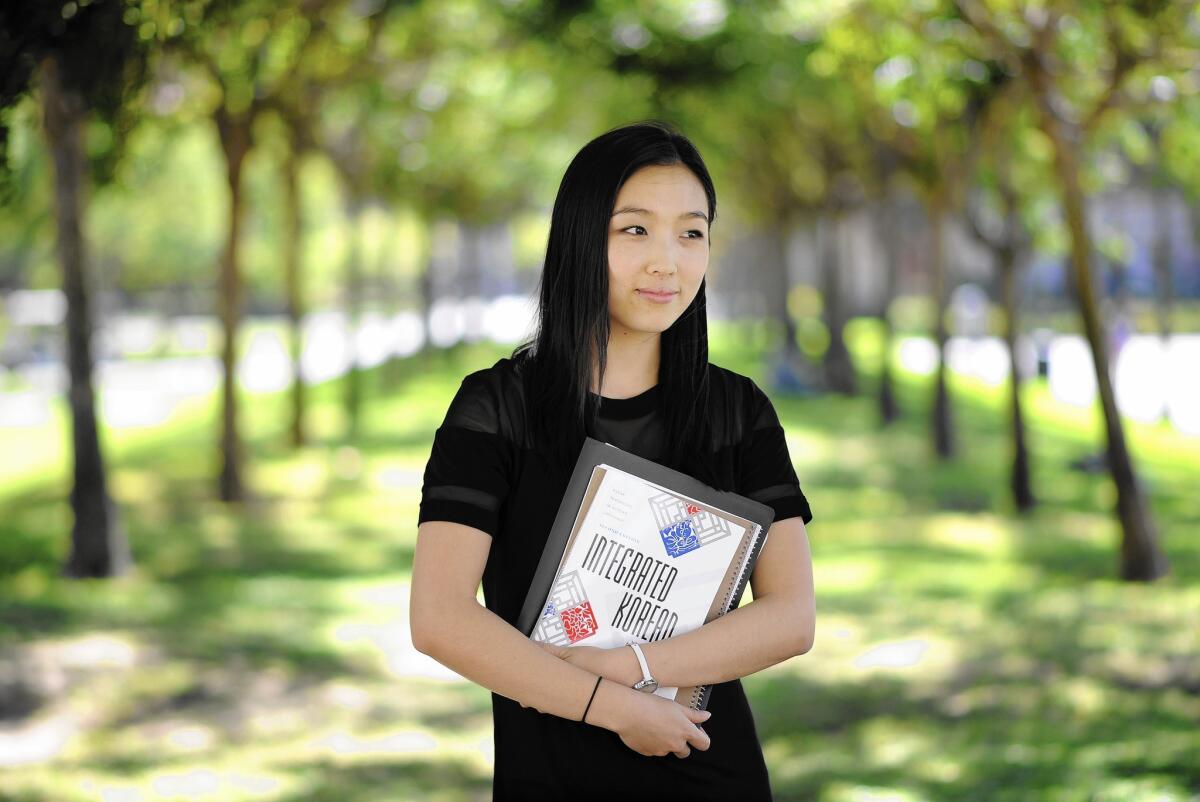 When Sharon Sin enrolled at USC three years ago, she didn't sign up for a foreign language course because it wasn't a requirement for her engineering major.
But her sophomore year, Sin switched her focus to social sciences, which has a mandatory three-semester language component. She put off the requirement, thinking that maybe she could pass a placement test that would get her out of taking the classes. Then she received an email notice from USC administrators telling her she had to meet with an academic advisor to discuss the foreign language mandate.
After the meeting, Sin decided to take an introductory Korean course last spring and is enrolled in two more Korean classes this year, putting her on pace to graduate this spring.
"Four years is enough for undergraduate school," she said.
Sin is part of a small cohort of USC students flagged by administrators who have spent the last several years scrutinizing academic data to see whether students who don't graduate on time share any similar traits.
Interested in the stories shaping California? Sign up for the free Essential California newsletter >>
After crunching the data, USC administrators realized that students who weren't on pace to graduate on time failed to complete their language requirements. They began watching for students who had not finished those courses by the end of their sophomore year. Those undergraduates, like Sin, then had to meet with an advisor to come up with a plan to complete the requirement within two years. If they don't begin their language requirement by the spring of their junior year, they are required to register for one.
Since the program went into effect, USC's graduation rate has crept up four points to 92%.
"It's something we would've never seen without really looking at the details," said Gene Bickers, USC's vice provost for undergraduate programs.
USC isn't the only school to take a "Moneyball" approach to student data — community college administrators have for years tracked success rates for students who take remedial math and English courses. But as tuition has increased, more colleges have been under pressure to find ways to help students graduate on time.
Arizona State University administrators tightened major requirements after eight years of tracking student data; the graduation rate increased by 19% during that time. And Georgia State University began analyzing student records three years ago and discovered 800 potential warning signs that students were falling behind.
"Higher education is an institution that is deep in tradition; we're modeling after things that were done back in Oxford and Cambridge," said Timothy Renick, Georgia State's vice president for enrollment management and student success. "It's time we began to ask if there's a different way of doing things."
Renick said it would've taken "hundreds" of staff members to crunch the data a decade ago, but with modern technology the school has only had to hire a handful of employees dedicated to analytics. The school has hired nearly 50 advisors to meet with students who trigger a red flag or are getting poor grades in some prerequisite courses.
For years, Georgia State students had been required to get only a C in beginner-level math courses before taking an accounting course. But school administrators found that many students who get a C in math end up doing so poorly in their accounting courses that they have to take them again.
Now students who get a C in beginning math meet with counselors to come up with a strategy to improve before taking accounting courses, Renick said. "It just doesn't make any sense to pay for a course when you have such a high chance of getting a D or F," he said.
Since the school began reviewing data, the six-year graduation rate has gone up by six points to 54%, Renick said.
At Arizona State, administrators began more closely tracking student performance in 2007 and changed requirements for certain majors once they discovered some undergraduates would sign up for a major but not take any courses in it.
"They become film majors because they think they like movies until they have to take film history," said Frederick Corey, the school's vice provost for undergraduate education.
At USC, Bickers and others began crunching student records about five years ago. They suspected that the language requirement might be a common stumbling block, and it turned out to be "the No. 1 thing that jumped out of the data."
NEWSLETTER: Get the day's top headlines from Times Editor Davan Maharaj >>
In 2010, nearly 120 upperclassmen weren't on track to take three semesters of a foreign language, meaning a delay in graduation.
After instituting the new rules in 2011, the number of students who were in danger of not finishing their requirement fell to about 10 last year, Bickers said.
He said administrators are still looking for trends among students who are behind in fulfilling their requirements, but are careful not to rely too heavily on data or take a one-size-fits-all approach. "It could be very dangerous in certain cases," Bickers said. "It's not foolproof.
"Not all students were thrilled that they had to take beginning Spanish," he said. "There were people who didn't completely appreciate it. They said, 'I'm 21, why can't I choose my schedule?'"
Sin said she didn't mind the new rules. She speaks Korean fairly well but her writing is shakier and she learned a lot in beginning Korean last year. "I feel like I got a good foundation," she said.
And as glad as Sin is to be on schedule to graduate in four years, there are others who may be even more interested in seeing her get a diploma.
"My parents are paying for my education and they want me to get my degree," she said.
jason.song@latimes.com

Twitter: @byjsong
MORE ON EDUCATION
After John Deasy, LAUSD faces a tough choice: Play it safe or take another risk?
Numbers of freshmen from outside California increase at three UC campuses
As a new school year begins, this dad laments a culture where 'too soon is never soon enough'
Sign up for Essential California for news, features and recommendations from the L.A. Times and beyond in your inbox six days a week.
You may occasionally receive promotional content from the Los Angeles Times.