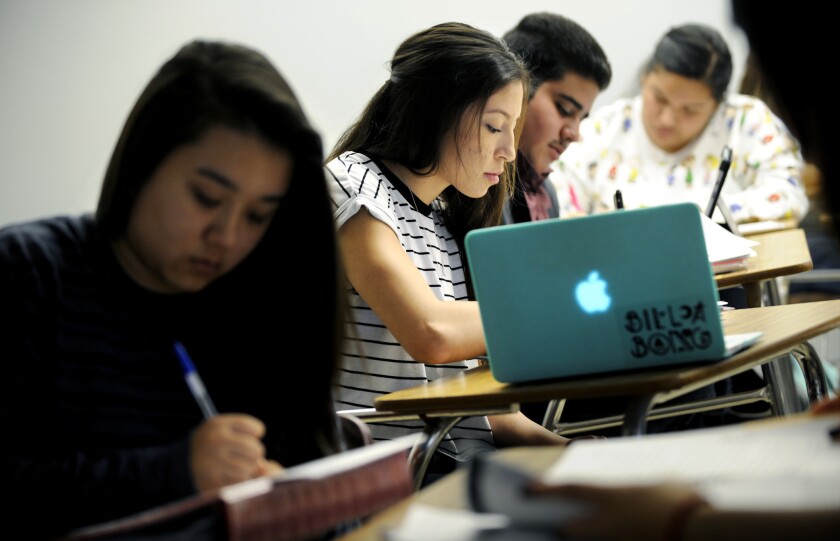 Students in South Los Angeles public high schools will soon receive priority admission to Cal State Dominguez Hills.
On Thursday, the Los Angeles Unified School District announced an agreement with the university to guarantee admission to qualified students who attend the high schools nearby.
The collaboration's stated goal is to provide a clearer path into higher education for students in the largely low-income neighborhoods around the university. The program hopes to encourage students from the included schools to study science, technology, engineering and math — the so-called STEM disciplines.
"We don't have an abundance of students lining up to become STEM majors, especially in the south district … especially the African American male population," said Kamal Hamdan, director of the Center for Innovation in STEM Education at Cal State Dominguez Hills. "We are just simply failing that population."
Those admitted will need to complete the course requirements that all L.A. Unified students need to graduate, and their grades and SAT scores must meet standards as set by a sliding scale. The district's south area encompasses roughly 20 high schools and magnet programs with about 4,700 high school seniors.
Qualifying students who completed an elementary or middle school magnet program focused on math and science, but not a local high school, will also receive guaranteed admission. Students who attend charter schools or continuation schools are not eligible.
The program will make it easier for newly minted Dominguez Hills graduates to return to district schools to teach — with a focus on those hard-to-staff math- and science-oriented classes.
"They'll understand where our students are coming from, the barriers that they face," said L.A. Unified's south district superintendent, Christopher Downing. "They'll also serve as role models ... because they came from that very community."
Elementary and middle school students from the surrounding neighborhoods will visit the campus and meet faculty as part of the program, Hamdan said.
The agreement does not specify how many jobs will be offered each year.
The university and district will not cover tuition for students who are accepted, Downing said, but many local students will qualify for federal and state funding. Tuition and fees this academic year add up to about $6,200.
Garfield High School in East Los Angeles has a similar agreement with Cal State L.A., and other districts, including Long Beach Unified, also have promise programs.
Reach Sonali Kohli at Sonali.Kohli@latimes.com or on Twitter @Sonali_Kohli.
MORE FROM EDUCATION
Tenacious change agent makes improving L.A. Unified his mission
Loyola Marymount University wall with pro-immigrant slogans is defaced
Cal State faculty union postpones planned strike after tentative salary agreement is reached
---