Reporter's Notebook: Behind the story: How a Times reporter gained intimate access to abortion clinics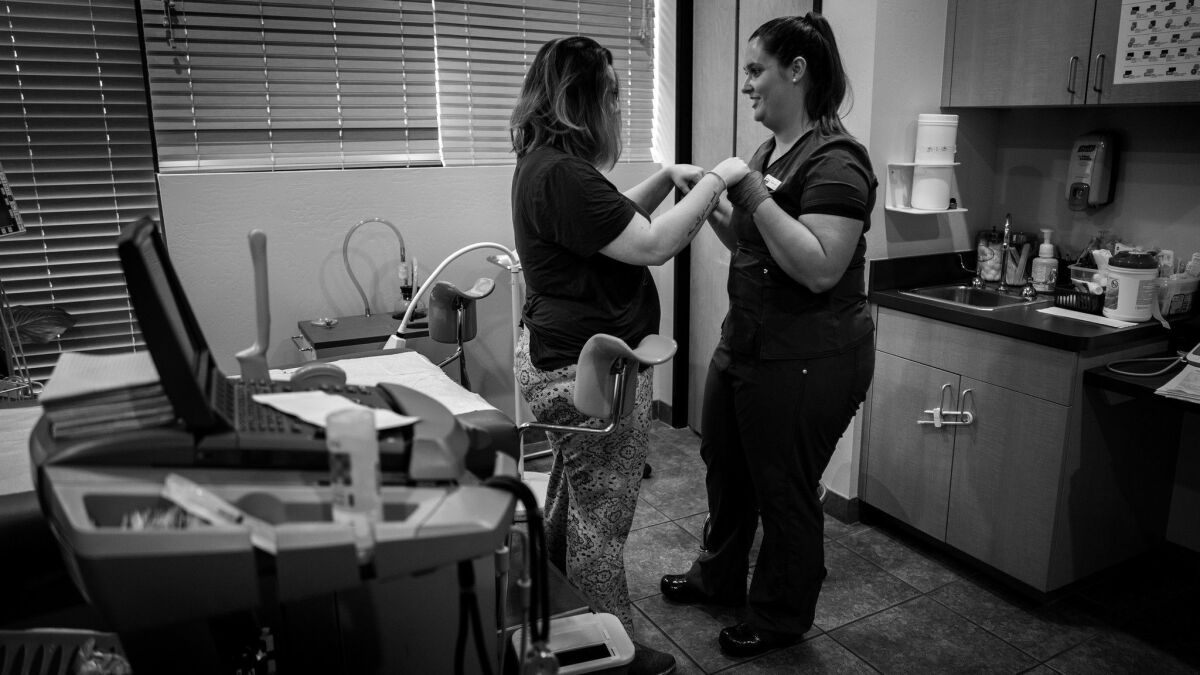 At the end of our phone call for a story about drug overdoses, my source told me that she probably wouldn't be free for any follow-up questions the next day because she would be on a plane to Kansas.
She explained that for the last two years, she had been flying there monthly to perform abortions — and that there were other doctors from California who traveled to other states.
I had read stories about abortion clinics closing and patients having to drive hours, sometimes across state lines, to seek abortions. But I had never heard of physicians commuting long distances to provide them.
Once I started talking with these doctors, I noticed a tangle of pride and fear in their voices. All had trained for years to become abortion providers and wanted to share the work they believed in so strongly.
Column One: A special kind of storytelling returns »
But they were scared of facing violence in states that were less friendly to abortion. They repeated stories of abortion doctors who have been killed.
A couple of these doctors agreed to allow our photographer, Gina Ferazzi, and me to tag along on their monthly pilgrimages if we allowed them to remain anonymous.
At a clinic in Texas, I got an extraordinary glimpse into this highly charged, intimate issue. I tailed a doctor as she saw patients, positioning myself in the corner of the exam room with my notebook and pen but no phone, because anything that can record audio or take pictures makes clinic staff nervous.
A few patients shooed me out of the room, but most were open to having a reporter listen to how they ended up at an abortion clinic. Some women said they were on birth control or had used a contraceptive but became pregnant anyway. Many women already had children — and they were in tow in the exam rooms. (It turns out that 59% of women who get abortions have previously given birth.)
I watched patients tear up looking at the ultrasound, that shifting Rorschach test, and others sigh with relief when the doctor told them she could do their procedure the next day. I learned that for some women, the decision to end a pregnancy is heart-wrenching, and for others, it isn't.
I also approached demonstrators stationed outside the clinic. One man told me that he and his wife were unable to have children, so he protested outside the clinic every weekend. As he prayed, tears rolled down his cheeks.
Soon after, I traveled to Arizona with another doctor who had started flying there in part because she could not find work doing abortions near her home in California.
California is home to more than a dozen residency training programs that specialize in abortions. The physicians who train at those hospitals tend to settle down in the state, creating a surplus of these doctors in some regions, including the Bay Area. So they travel.
The doctor recalled her shock the first time she visited the Arizona clinic and a patient showed up after taking a $100 Uber to get there, only to discover that she needed to wait 24 hours after her first visit with the doctor for her abortion. She broke down crying when she found out she had to come back. She couldn't afford it.
More than a third of state abortion regulations passed since the Roe vs. Wade decision in 1973 were approved in the last eight years, according to the Guttmacher Institute, a research organization that supports abortion access. Mandatory waiting periods are now common.
Several states banned insurance companies from covering abortions, even in cases of rape. I witnessed women in the Texas clinic's waiting room counting out $20 bills to pay for their procedures.
These laws undoubtedly affect women seeking abortions, but inside the clinics' walls their experiences felt far from anything happening in the outside world.
Women talked about their abusive boyfriends, their dreams of going to college, their money troubles. They lay down for the procedure and wiped away tears when it was over.
For them, this moment was incredibly private and personal, and I appreciate their willingness to share it with our readers.
---
The stories shaping California
Get up to speed with our Essential California newsletter, sent six days a week.
You may occasionally receive promotional content from the Los Angeles Times.