Aspiring L.A. firefighters feel cheated by aborted hiring program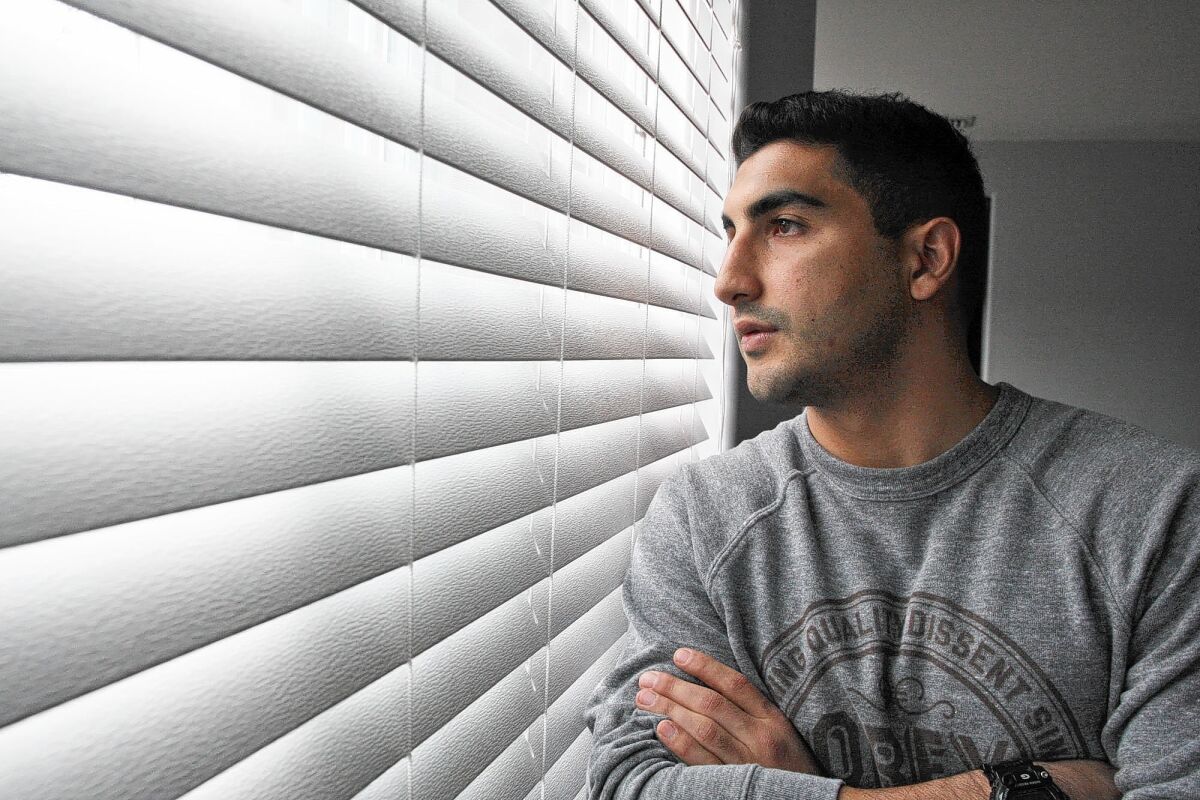 John Mireles spent six years preparing to become a firefighter. The Signal Hill resident took fire science classes and worked nights on an ambulance crew, in addition to his full-time day job. He said he passed the Los Angeles Fire Department written exam, made it through an interview and background check and reached the final stages of the hiring process.
But last week he was among hundreds of candidates who received a terse, two-sentence email from city personnel officials: They would no longer be hiring from a pool of applicants who had advanced through a yearlong screening process.
Mayor Eric Garcetti had scrapped what he described as a "fatally flawed" hiring program amid concerns about mismanagement and nepotism in the LAFD's first round of hiring in five years.
Among other things, internal emails show dozens of department officials were alerted to information that could give their relatives an advantage submitting key paperwork to personnel officials. In the end, nearly 25% of a class of recruits who began their training earlier this year were related to LAFD firefighters.
In an interview, Mireles said he had no family ties to the department or inside information. For him, discarding the list of vetted candidates for upcoming classes is especially bitter. At 56, he said, he may not have another chance.
"This may have been my last shot because of my age," he said. "I understand the concern about fairness, but I feel the process now is unfair for me."
Several others told The Times they feel they are being punished by the mayor's action.
"We have proven our worth," said 26-year-old Yasha Vand of Torrance, a licensed paramedic who said he prepared himself by volunteering as a firefighter for five years. "This is not logical … especially when the deed has already been done."
Garcetti spokesman Yusef Robb said the mayor has the responsibility to reform the system for everyone. "We expect that all candidates would have to redo most of, if not all of, their application process," Robb said. "A broken system isn't just broken for some. It's broken for all."
The mayor said hiring will resume in the next fiscal year after a review by experts from Rand Corp. in Santa Monica.
Capt. Frank Lima, president of the influential union representing Los Angeles firefighters, wrote the mayor Monday, saying that discarding the hiring list at this point in the screening process is "patently unfair" to candidates who made it to the final stages.
"You are penalizing qualified individuals who had no role in this broken system," Lima told the mayor.
Lima said the fault lies with the Personnel Department, which managed the testing process.
The mayor's action followed a Times report last month that thousands of candidates who passed a written test were excluded from consideration for a new training class because some of their paperwork wasn't received in the first 60 seconds of a filing period last spring.
Internal LAFD emails obtained by The Times show that dozens of department officials were alerted last year that the paperwork, certifying that candidates had passed a physical fitness test, needed to arrive at the city in the first minutes of the filing period if applicants were to have a chance.
Another email discusses a coaching session for relatives of firefighters that was held at a city fire station. The captain who wrote the emails is the focus of a disciplinary investigation. He told The Times that he did nothing wrong and also gave workshops to people not connected to the LAFD.
The hiring process has been criticized as arbitrary and unfair by some applicants and city officials, including Garcetti and Interim Fire Chief James G. Featherstone. Critics said qualified candidates, including some with paramedic and firefighting experience, were passed over simply because they missed the one-minute window.
Lima said the department, which has lost hundreds of firefighters to attrition since the start of the recession, needs more firefighters soon. Candidates who have already made it to the final steps of the scrapped process should be fast-tracked in future hiring, he said.
"They have been thoroughly screened and have taken extensive written and oral tests," he said. "They have proven themselves worthy."
The stories shaping California
Get up to speed with our Essential California newsletter, sent six days a week.
You may occasionally receive promotional content from the Los Angeles Times.