Art walk shows there's more to Bell than scandal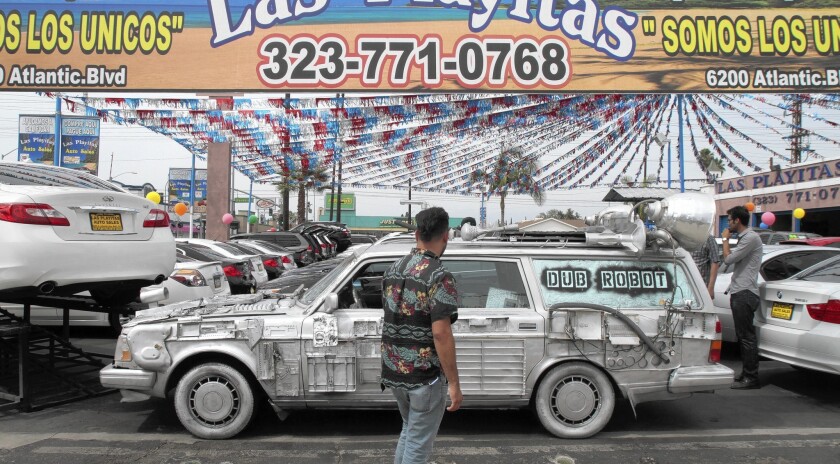 The silver Volvo station wagon covered with salvaged computer and electronic parts stood out Saturday amid the cars on display at Las Playitas Auto Sales in Bell.
The vehicle didn't belong to the dealership. It was an art piece created by Brian Wallace, one of several artists participating in the city's first art walk event.
"It's nice to finally have a show here," said Mike Alcala, 23, of Maywood, another artist. "Usually I have to go to downtown Los Angeles or farther west, but it's nice to see something in my backyard."
The fair was free to the public, and it included live music, art and community workshops on urban gardening and social justice.
Several business along Atlantic Avenue, between Gage Avenue in Bell and Slauson Avenue in Maywood, also participated by exhibiting some of the artwork.
"I've never seen anything like this," said Celina Lopez, 25, of Huntington Park.
The city's first-ever art walk was organized by the Southeast L.A. Collective, a group composed of young people who live in the cities situated along the 710 Freeway.
Most of the members met through Alivio, an open-mic event that is held out of the garage of one of its members, Eric Contreras.
In March the collective began to meet, and among one of the projects the group wanted to see come to life was an art walk festival, according to Adilene Lopez Valenzuela, 24, of Bell Gardens.
The group later took the idea to the city of Bell, which supported the event by approving permits, providing a space and staff.
"Once I saw these young people trying to put this together I just thought, 'How can the city as a whole help them get this done,' " Bell Councilman Ali Saleh said.
Valenzuela said the event is the collective's effort to expose residents to local artists and musicians by providing a platform for them, but also to show another side of a city that became tainted by a corruption scandal.
In 2010 it was revealed that city leaders were receiving some of the highest public employee salaries in the state.
At the time, Robert Rizzo, the top administrator at the heart of the scandal, was receiving about $1.5 million a year in salary and benefits, and his assistant, Angela Spaccia, was being paid more than $800,000.
In addition, four of five council members were receiving more than $100,000 a year.
Eight officials, including former council members, were arrested and accused of misappropriation of public funds. They have since been convicted and sentenced to prison or county jail and ordered to pay the city back.
Organizers hope Saturday's event will help show a different side of Bell and the other cities in southeast L.A. County.
"I feel the media attention of the southeast has been on political scandal and corruption, but look at the people who are living here, look at the talent that lives here, there's an actual community here," Valenzuela said.
---
The stories shaping California
Get up to speed with our Essential California newsletter, sent six days a week.
You may occasionally receive promotional content from the Los Angeles Times.