Beverly Hills mayor, developers tangle over Hilton high-rise plan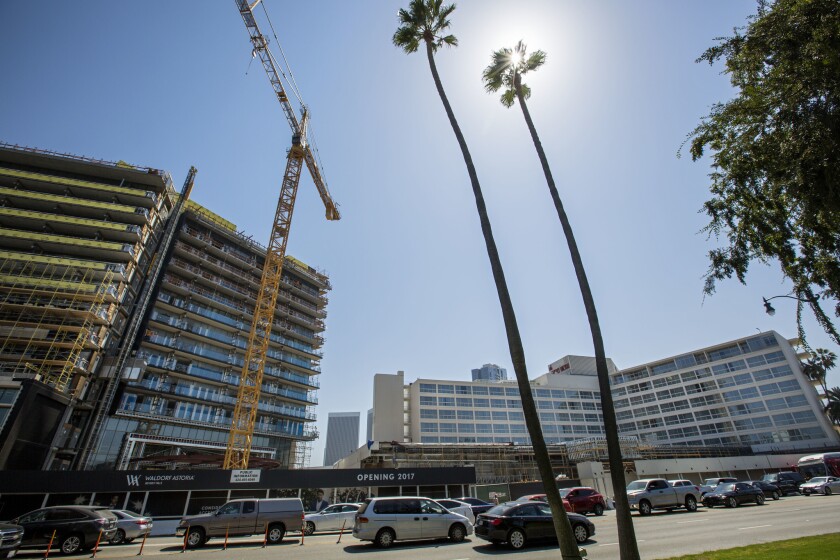 Plans to erect Beverly Hills' tallest building ever have pitted two deep-pocketed developers against each other and sparked public debate about whether a dramatically altered skyline might forever change the character of the self-proclaimed "Garden Spot of the World."
But it's more than just the relative merits of proposals by the Beverly Hilton and China's Wanda Group, on neighboring pieces of prime real estate at Wilshire and Santa Monica boulevards, that are fueling controversy in the wealthy enclave.
There's also Mayor John Mirisch, whose online salvos and public comments have cast him in the unusual role — for a city leader — of championing one mega-dollar project while vehemently opposing another.
The object of Mirisch's ire is Hilton's bid to build a 26-story high-rise adjacent to its landmark hotel, which has long hosted the annual Golden Globe Awards show and other gala events. The $700-million project would effectively stack two previously approved condominium towers of eight and 18 stories each, while adding a Waldorf Astoria hotel and expanding a green space from 1.25 acres to 1.7 acres.
Hilton owner Beny Alagem describes it as a win-win for his Oasis West Realty and the city.
"After 62 years in Beverly Hills, we are steadfast partners with the community and care about what the future holds for Beverly Hills," he said. "This proposal is about true community partnership and creating a new asset for our neighbors and a stronger legacy for the Beverly Hilton."
Mirisch contends it's something else altogether.
"This is a skyscraper initiative masquerading as a garden and open space initiative," he said in a recent interview, noting that the 375-foot Hilton tower would be more than twice the height of anything in Beverly Hills now.
He also said it will harm the small-town feel and architectural character of the city, which he calls "low-rise and human-scale."
"Beverly Hills is not Manhattan; we are not Dubai; and we are not Century City," he wrote in an open letter to city residents in April, included with an anti-Hilton piece he penned for The Huffington Post. "There is simply no good reason for us to allow such a ridiculously outsize monstrosity just to satisfy the financial desires of a developer."
What has rankled Mirisch, besides the tower's height, is that Alagem is going directly to voters for final approval with an initiative on the November ballot. Alagem, who was born in Israel and founded Packard Bell Electronics in 1986, has spent more than $3 million to organize and promote the initiative, city records show.
Mirisch calls it a "loophole" that allows the project to bypass the usual public-review process.
Hilton spokeswoman Marie Garvey said Mirisch has distorted the issue and notes that if the 26-story structure is voted down, her client will still be allowed to build the smaller, previously approved towers. Mirisch opposed that plan, which was approved in a 2008 referendum marked by allegations of voter fraud.
"It's not clear what is motivating the mayor to misinform the residents, especially when you consider that his opposition, if successful, results in the construction of the very project he fought so hard to stop eight years ago," she said.
But it's not just Mirisch's opposition to the Hilton project that has raised hackles in and around City Hall. It's also his unabashed support for Wanda's $1.2-billion One Beverly Hills development, itself a modified plan that's now under city review.
Wanda Group, the real estate and entertainment giant run by Chinese billionaire Wang Jianlin, owns the largest movie theater circuit in China and the AMC chain in this country. It bought Burbank production firm Legendary Entertainment for $3.5 billion earlier this year, and more recently has sought a 49% stake in Paramount Pictures.
In 2014, Wanda purchased the property at 9900 Wilshire, a former Robinsons-May store site, which had been approved for 235 condos. Its current plans call for 193 luxury condos and a 134-room hotel, which would compete with Hilton properties just to the east, across Merv Griffin Way.
Mirisch has praised Wanda as "the good twin" of the two developments.
"They're good because they're going through the process, the way everybody else does — the way that Mrs. Smith does if she wants to add a balcony or a second floor to her house," he said. "She has to go through the process, and that process is meant to protect the residents."
Mirisch's stances have prompted some current and former city officials to criticize him for taking sides.
"Our job is not to advocate for one project over another," Vice Mayor Nancy Krasne said at a Beverly Hills Municipal League meeting earlier this summer.
"I do not know what the views of my other council members are except you, and I will not speak on their behalves," she told Mirisch. "The voters will tell us what they want, and that's what I'm going to listen to."
Former Mayor Bob Tannenbaum echoed her sentiment.
"All I'm saying is if you don't like the 26 stories or whatever, you vote against it," he said at the meeting.
Mirisch, a fourth-generation resident of Beverly Hills and the scion of a celebrated Hollywood film family, was elected to the City Council in 2009 and 2013 and is on his second one-year term as mayor, a part-time post that pays $785 a month but is his full-time job for now.
He spent nearly five years beginning in 2006 as a marketing and distribution executive for IMAX, building the entertainment technology company's business in China and Japan, according to his online biography. He later worked for Paramount Pictures for about a year, during which he also had dealings with emerging markets including China and Russia, his bio states.
In the interview, Mirisch said he'd had some dealings with Wanda's entertainment division years ago, but that no one he knew then is involved in the Wanda project now.
Emails obtained by The Times through the California Public Records Act indicate he has been chummy with at least one top Wanda project manager, Rohan a'Beckett, director of marketing and sales for Wanda Beverly Hills Properties LLC.
In one exchange last fall, a'Beckett apologized to Mirisch for being unable to get together for a Dodgers game and told him about the impending birth of his child. He also mentioned Mirisch's son, Vincent.
"Also, my father is going to be paying us another visit in mid-November," a'Beckett wrote to the mayor. "Last time he was here we missed out on catching up with you, but I want to make sure that doesn't happen again! ... It would be great if we could arrange a lunch together with you and Vincent while he is here."
He closed by telling Mirisch he would soon submit a written update on the Wanda project.
Other emails included brunch and dinner invitations, offers to drop by the mayor's office to discuss the project and references to their mutual interest in Australian rules football and the Geelong Cats Football Club in a'Beckett's native country.
Mirisch said his friendship with the Wanda executive is based on their common sports interests and has no bearing on his decisions on the projects.
A'Beckett also said there was nothing unusual about his friendly interactions with the mayor.
"Our office and myself personally are involved in a wide variety of social and community programs throughout the city," he said in a email to The Times. "Just as I am sure that you have discussed the Dodgers, Lakers and other misc. items, I have had similar discussions with every staff person, vendor, appointed and elected official with whom I have had the pleasure to work throughout my career."
Nor, Mirisch said, was there was anything unusual about a brief meeting he had with Wanda executives, including the chairman, during a nine-day tour of China this summer by mayors and other elected U.S. officials.
It's his job to meet with anyone interested in bringing business to Beverly Hills, he said.
"It's nice to be able to connect with people on a personal level," he said. "But ultimately it's about business and doing what's right for the city."
Hilton's project has borne the brunt of controversy, but Wanda's has had it share, including allegations of illegal lobbying by Barry Brucker, a former mayor.
Brucker voted to approve the project in 2008, when it was under different ownership. He registered as a Wanda lobbyist last October, two years after he left the City Council.
In a July 29 letter to city officials, Sacramento attorney Gary Winuk accused Brucker of violating Beverly Hills' prohibition on former elected officials lobbying for projects they voted on while in office — and demanded the city withhold final approval.
Brucker said he had not lobbied Beverly Hills officials, but resigned his Wanda post on July 6 "out of an abundance of caution."
In a follow-up letter this week, Winuk again called for a halt to the project, saying that Brucker's phone logs showed at least 31 calls to 12 different city officials after he registered as a lobbyist.
Wanda, meanwhile, has mounted an offensive against Hilton, forming Beverly Hills Residents and Businesses to Preserve our City, an exploratory committee to oppose the initiative, according to California secretary of state records.
The committee is sponsored by Wanda and its development partner, the Athens Group, with major funding from Lakeshore East Parcel P LLC, a Wanda entity involved in a $1-billion hotel-condominium project in Chicago.
"We are working with community leaders to review the initiative and are hopeful we can get answers over the next 85 days about this ballot measure," Eric Rose, a Wanda spokesman, said of the Beverly Hills committee.
The two sides and their top-tier attorneys squared off last week at a city planning commission meeting, which featured a procession of residents and business people speaking for or against either project.
Wanda representatives said their project would have no new environmental impacts, and that the addition of a hotel, restaurants and other commercial space is a marked improvement over the original 235 condos planned for the site.
"The public enjoyment of the property is greatly enhanced by adding the hotel" and adjacent public gardens, said Jay Newman, Athens' chief operating officer.
Hilton's people underscored their previous concerns about increased traffic, including delivery and garbage trucks using an underground loading dock situated directly across from the Beverly Hilton's main entrance. One likened it to Wanda "turning its backside" to the Hilton.
Another, Ted Kahan, president of Oasis West Realty, said the Wanda project poses "an undeniable danger to the future of the Beverly Hilton."
"The Wanda project as proposed is flawed," he said. "If approved, it will damage the city and it will damage the Beverly Hilton."
Newman refuted that notion.
"I think there is a bit of 'The sky is falling' going on with the loading dock," he said, adding that the entrance will be landscaped and barely noticeable from the street. "We think it is much ado about nothing. We really we think it's kind of a smokescreen for [Hilton's] concerns about non-competition."
Farshid Joe Shooshani, chairman of the planning commission, which will take up the project again on Sept. 19, seems to agree.
"Obviously, the Hilton and the new hotel they're building don't want the competition," he said in an interview. "I'm sure that other hotels in the city don't want competition either. But God bless America, this is the land of opportunity — and everybody has to have the opportunity."
ALSO
SpaceX rocket exploded in an instant. Figuring out why involves a mountain of data
Chinese regulators are reviewing Uber-Didi and Dreamworks-Comcast deals
---
The stories shaping California
Get up to speed with our Essential California newsletter, sent six days a week.
You may occasionally receive promotional content from the Los Angeles Times.