City Beat: Want to keep L.A. weird? Embrace the weirdness we still have
L.A. Times Today airs Monday through Friday at 7 p.m. and 10 p.m. on Spectrum News 1. 
How do we hold on to the L.A. that we love — the shaggy one with rough edges, full of personality and surprise?
This is the discussion I've found myself in since I declared last week that L.A. was fast losing its weird, and that I wasn't happy about it.
It turns out I'm not alone in the feeling. The response I've gotten on that front has been clear. A lot of us care not just about L.A.'s odd one-of-a-kind spots but also about its old-school restaurants and buildings, about the places that evoke its past.
And we're not the only ones fretting about the creep of bland, boxy development and the corresponding erasure of distinctive city character.
People have written to me from all over the country: You should see what's going on in Austin, Texas, or with the sprouting condos of Portland, Ore. Don't get us started on how much New York has changed. It's happening in Baltimore, even Detroit.
So what do we do about it? I do think we play a role, even if we're just a small part of the story.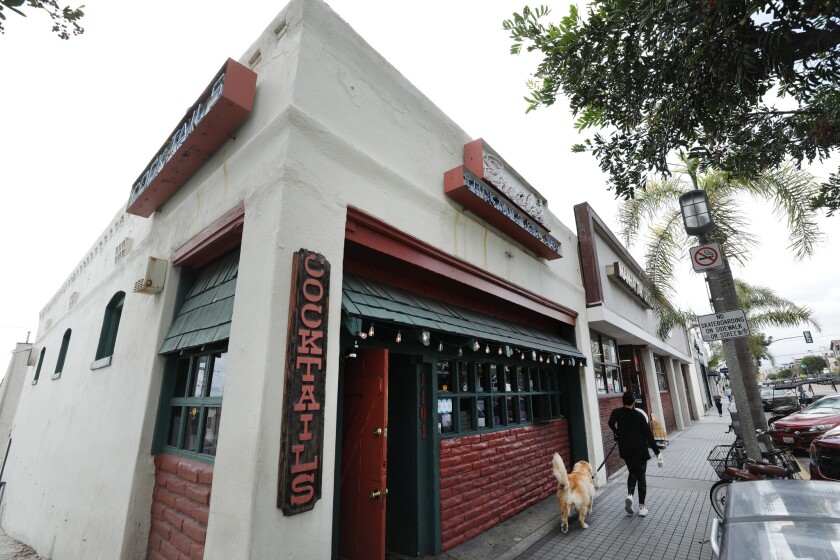 It's so easy to love the old, quirky things in our city while also leaving them vulnerable by forgetting to visit and support them. When we learn that they're about to disappear, we protest and we cry. But by the time we show up and pledge our undying aid, it's often too late to turn back the clock.
I know this story. I've written it — many times.
The last was when Victor's Square Restaurant in Hollywood closed down in 2015, when owner Bill Gotti found out he couldn't extend his 30-year lease and knew that he wouldn't be able to afford the new rent.
His deli had been a community gathering spot. Neighbors would meet there. Children grew up there. (When they were babies, Gotti would pick them up and carry them around to give their tired young parents time to eat.) But a lot of the regulars had stopped being so regular. And the place had often been all but empty — until its last days, when it was packed.
I'll never forget the face of an outraged 88-year-old woman who was about to lose her go-to matzo ball soup and who surveyed the unusual crowd in the room and said she wanted to get up on a table and scream: "Where the … were you when we needed you?"
Sometimes, of course, we shouldn't keep change at bay — if it's to make way for something we need desperately, such as affordable new housing to keep people off the streets. Sometimes we can't, no matter how hard we try.
But recently I heard about one old L.A.-area business that was going to shut down but then changed its plans — because of the enormous public reaction.
This week I paid a visit to that business, Broguiere's Dairy in Montebello, which has been owned and operated by the same family for 99 years. A lot of people love its slogan — "Milk so fresh… the cow doesn't know it's missing" — and thick glass bottles, especially when they contain its rich chocolate milk and holiday eggnog. The place itself is the kind of drive-up stand that used to be common but now isn't. And it doesn't just sell milk, it sells Fruit Loops and Lucky Charms to pour it on, as well as a wonderfully retro selection of candy, including boxes of Nerds and bright yellow packs of Juicy Fruit gum.
The first word that Broguiere's planned to close came late last month, when the supermarket chain Gelson's posted an announcement on its Facebook page. The dairy, it said, would no longer be making shipments of its "famous milk." Customers would need to return their glass bottles by June 5 in order to get back their deposits.
Those who read the post didn't accept that news. They lit up social media, begging the owner to change his mind. And instead of meekly returning their bottles, they called the dairy and showed up in person, asking for more.
Tony Leos of Long Beach was one of hundreds who began making the trip to Montebello to fetch the milk once his Gelson's stopped carrying it. I found Leos, who restores classic cars for a living, loading up his giant white pickup — with four half-gallons and one quart of milk, enough to last him a week, after which he planned to return.
Rhoberly Gillon had driven from Echo Park, Javier Hernandez from San Juan Capistrano. "It's basically just kind of a nostalgia," Hernandez told me. "You don't see this around anymore."
They were all making a big effort to keep the place they love alive. And maybe, just maybe, it will work.
As for the bland, boxy new buildings I complained about last week, some people wrote to me to say that once the latest breed of outsiders discovered that L.A. offered much more than its cliches — once they started showing up here with their high-tech businesses and high-end needs — they created demands that have driven the demolition of the messy, interesting old in favor of the tidy, uniform new.
Some readers wrote to me with strong words for developers, who they said cared only about profits, not about aesthetics or blending in well to neighborhoods. A few chastised me for criticizing the new construction, saying more housing was necessary — though I would argue that a lot of the buildings I'm talking about are high-priced apartments and luxury hotels, which aren't going to help those who most need our help.
This week, on KPCC radio's "Take Two" show, after I read a version of my column, Timothy Ivison, who studies urban history and teaches at SCI-Arc, the independent downtown L.A. architecture school, spoke about the issues I had brought up. In the early days, he said, architects' visions of L.A. as a new frontier encouraged them to defy convention. Land was plentiful and cheap, and there was plenty of room to experiment with style.
That's obviously no longer the case, he said, and stricter building codes also help produce sameness. Developers push right up to the codes' limits, trying to squeeze out as much profit as possible, he told me later. And because they're building apartments for profit, almost as a form of currency, they make them bland on purpose, to appeal to the broadest possible pool of potential customers. "They want them to be as transferable as possible," he said.
On Twitter, the column prompted a wide-ranging conversation about new and old L.A. I encouraged people to talk about their favorite places — the ones already gone and the ones we might work together to keep going. For days, they waxed lyrical about their city — about the martinis at Musso's, the view of twinkling lights from Mulholland, the taste of the macaroni salad at a place called Zelda's Corner in Venice.
Victoria Bernal, a public historian and native Angeleno, wrote on Twitter that she was "chewing on" my column, trying to figure out how to keep L.A., as I put it, Wild West.
"And then," she wrote, "the naked bike ride rolls by." She posted a photo of a dozen men on bikes, wearing helmets and nothing else.
Which is to say, perhaps as our surroundings grow less colorful, in our people we still have weirdness to spare.
Nita Lelyveld wants to know your L.A. story. Email her at citybeat@latimes.com.
---
The perils of parenting through a pandemic
What's going on with school? What do kids need? Get 8 to 3, a newsletter dedicated to the questions that keep California families up at night.
You may occasionally receive promotional content from the Los Angeles Times.