DWP union is a big donor in mayor's race, its members get big pay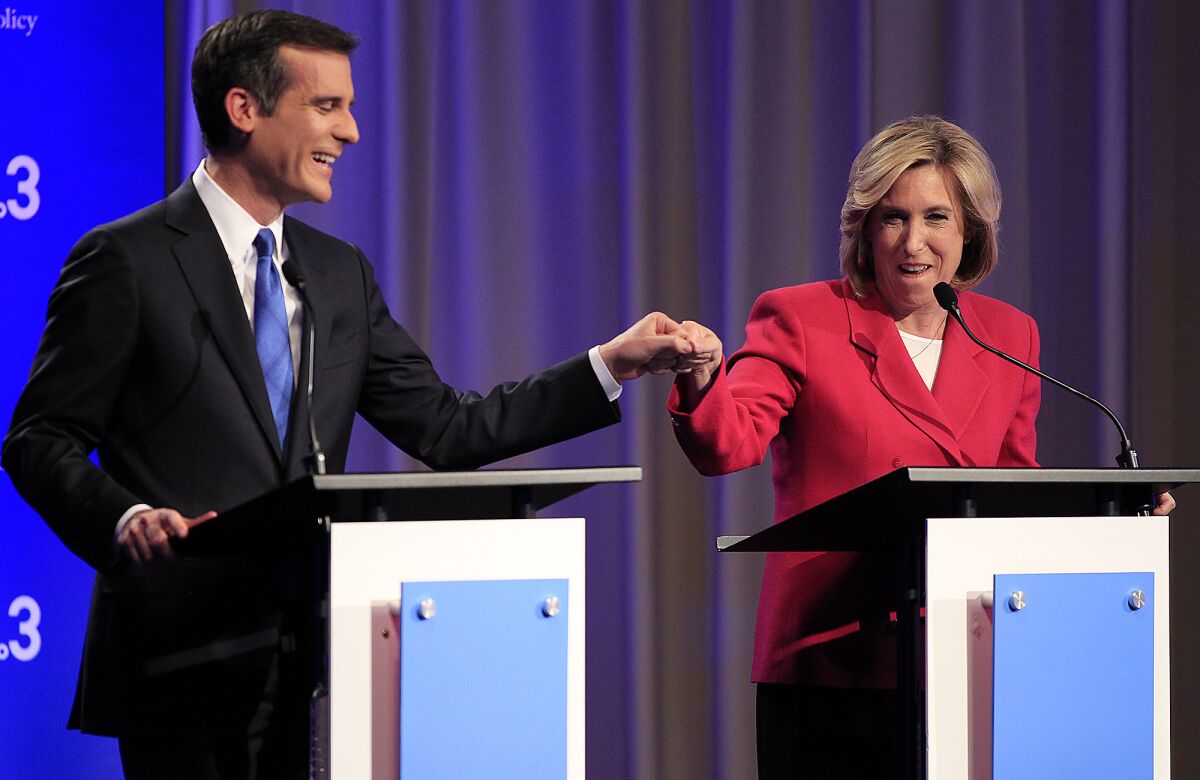 Employees at the Los Angeles Department of Water and Power, whose union is the single biggest contributor in the current mayoral race, earned average total pay of nearly $100,000 in 2011, according to a Times analysis of the most recent publicly available payroll data.
That's more than 50% higher than the average total pay of all other city employees, The Times found. It's also about 25% higher than employees at comparable public and private utilities, according to a report commissioned by the City Council last year.
The International Brotherhood of Electrical Workers, which represents the vast majority of employees at the DWP, has made itself a key player and a central issue in the campaign by giving $1.45 million to an independent effort to elect mayoral candidate Wendy Greuel. That has made the union by far the largest single source of cash in the race.
The DWP has released far less detailed and current data about employee salaries than other city agencies. This week, the union signaled it plans to go to court in an effort to further delay the release of salary information about individual DWP workers.
In 2011, the DWP's $99,381 average total pay — which includes salary, overtime, and a wide range of other compensation such as unused sick and vacation time and cost of living bonuses — covered more than 10,000 department employees from the highest-paid engineers to the lowest paid temps and clerks, according to the Times' analysis.
The 2-year-old payroll snapshot showed General Manager Ron Nichols made $347,000. His five executive assistants averaged $198,000. Mechanics who install and repair power lines averaged $153,000. Service representatives who answer customer calls averaged $68,000.
The City Council-commissioned study last year found DWP workers received significantly higher compensation than those working at more than a dozen comparable utilities. Groundsmen and utility workers, for example, made 41% more and call center workers made 20% more, according to the report.
In February, The Times requested data showing what DWP employees made last year and how their pay has changed during the five years after the economic collapse. The Times requested — and received — the same data for other city employees.
After multiple delays, DWP officials were poised to provide the information Wednesday — three weeks before the election. But union officials notified the city attorney's office that they would seek a court order indefinitely delaying the release.
Such information is routinely made public by state and local governments across California, including the city of Los Angeles. In limited cases, courts have allowed the identities of undercover police officers and employees with restraining orders against violent stalkers to be withheld due to safety concerns.
DWP spokesman Joseph Ramallo said his agency eventually will release the payroll data, but only after administrators finish asking each worker if he or she has a reason to withhold the information.
William Carter, chief deputy in the city attorney's office, which advises the DWP, said the city would not join the union's legal battle, and the agency should release the information as soon as possible.
Dan Schnur, director of the Jesse M. Unruh Institute of Politics at USC, said the delay appears to be designed to put off the release of pay data until after the May 21 election. "If there wasn't something embarrassing or unflattering, the information would already be public," he said. "This isn't the type of information you can delay indefinitely."
Organized labor has put more than six times as much money into the effort to elect Greuel than it has placed toward Eric Garcetti's bid. She has promised to initiate talks with city worker representatives, including at the DWP, to discuss sacrifices that may be needed to balance future budgets.
"I am committed to sitting with our union leaders to figure this out together," Greuel said in an email to The Times. "I will be able to bring labor to the table, because I have their trust." Garcetti has claimed the DWP union is trying to buy the election for Greuel and she would find it difficult to stand up to its members.
Labor leaders providing the most financial backing to Greuel's election effort have indicated they'll seek more money, not less, when they open contract negotiations with the new mayor next year. As city controller, Greuel provided five years of salary data for city workers not employed by the DWP, which has its own payroll system. The broader city data included names of employees, except at the Police Department. Greuel has repeatedly asked the police to provide names, but they have so far refused.
The police union is the second-biggest financial backer of Greuel's mayoral bid, having contributed $580,347 so far to independent pro-Greuel campaign activities. Officers' average total pay last year was $87,183.
The city firefighters union has spent $250,000 on Greuel's election effort.
Firefighters' average total pay rose 15% over the last five years, from $114,000 in 2008 to $132,000 in 2012. The increase was driven mostly by overtime, as the department reduced overall payroll costs by not replacing some 300 retiring firefighters.
Frank Lima, spokesman for the United Firefighters of Los Angeles City, said he is not interested in pay cuts or trimming the workforce. He said he'll ask the new mayor to hire more firefighters when contract negotiations begin in 2014. Lima said the reductions in the size of the fire force have contributed to increased response times and left the department stretched dangerously thin.
The firefighters' unions contributions to assist Greuel are a response to Garcetti's vote as a City Council member to support reductions in Fire Department staffing, Lima said. "We needed to set the tone for the other politicians," he said. "You will not kick us in the ribs, decimate us, then walk into our union hall and ask for our endorsement."
Brian D'Arcy, head of the DWP union, did not respond to repeated requests for comment for this story. He told the Times in February that he is expecting raises for his members from the new mayor.
The Times analysis found a quarter of DWP's employees made more than $100,000 in 2011. The department-wide average total pay of $99,381 dwarfed the average for all other city employees, which was $65,274, the Times found.
The DWP ratepayer advocate, Frederick Pickel, said in an interview that city utility workers' benefits and pay are higher than others in the industry. "They get at least 25% more [pay] and that doesn't count the value of their pension plan, which is at least as good if not better than other utilities' pension plans," he said.
DWP spokesman Ramallo initially refused to tell a reporter how much he made. In a follow-up conversation he said he made $218,000 in 2011.
That specific amount does not appear in the 2011 data the DWP provided. Seven employees worked the full year at Ramallo's rank of "Assistant General Manager." One made $210,392, three made $233,396, one made $235,601 and two made $249,446, records show. That year, Mayor Antonio Villaraigosa made $213,011.
Times staff writers Maloy Moore and David Zahniser contributed to this report.
---
The stories shaping California
Get up to speed with our Essential California newsletter, sent six days a week.
You may occasionally receive promotional content from the Los Angeles Times.