In the Coachella Valley, hope withers on the vine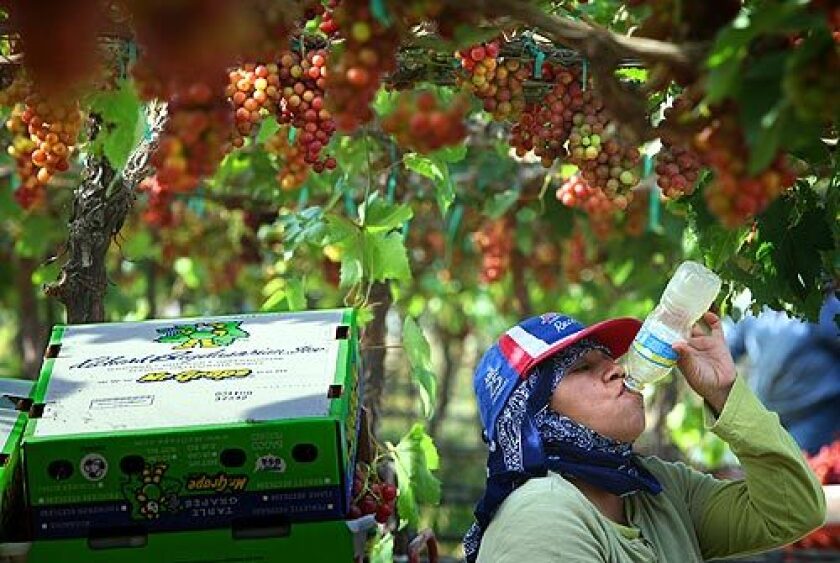 Reporting from Mecca, Calif. —
An hour before dawn in the camp of last resort. Dozens of men and a few women are asleep in the beds of pickup trucks, in the back seats of cars or on flattened cardboard boxes in the dirt behind the Toro Loco market. The air is cool, but the terrible sun is close at hand.
Martin Zavala is wrapped in a blanket, his head resting on a Scooby-Doo pillow, a pack of Marlboros under his neck. Thieves prowl at night and will snatch what is not secured. Drunks and meth-addled tweakers tease the dozing grape pickers, poking them with knives or guns. Zavala, his brother and four friends positioned their vehicles to form a protective perimeter -- modern-day covered wagons on a wild frontier.
A rumbling freight train a block away is today's alarm clock. Some of the men relieve themselves next to their cars. Others fire up small stoves and cook eggs and tortillas. An old man rubs the sleep from his eyes, checks the leaky radiator in his ancient Ford van and tops it off.
Zavala, 42, slips on socks and tennis shoes. He rises stiffly from the ground, brushes his teeth and spits in the dirt. Brother Alberto, 49, showers his head with water from a plastic Coke bottle.
Zavala's life is scripted by the harvests he follows: winter in Arizona picking lettuce. Spring in the Coachella Valley picking table grapes. Summer in the Central Valley picking more grapes. Home to Mexicali, where he has a wife and four children.
Repeat. Then repeat again.
"I'm poor. I'm uneducated. I don't expect this to ever change," Zavala says in Spanish. "But I'm doing it so my children may not have to."
Daylight blooms on the horizon behind the dry hills east of town. The campers fold up their cardboard mattresses. They pick the parking lot clean of trash because this is their home and they don't want any problems. One by one they load their vehicles and drive away.
It's time for work.
Right now, someone reaches for a bag of grapes in a supermarket. The shopper cradles the chilled, voluptuous fruit in his palm and admires the uniform size and color. Perfection for as little as $1 a pound.
Regardless of whether the grapes are green or red or where the supermarket is, from mid-May until mid-July it's a good bet they came from about 9,000 acres of vineyards surrounding the hard-luck town of Mecca.
The Coachella Valley stretches across the desert for 45 miles. To the northwest are golf resorts, retirees and lush subdivisions. Relatively few people ever see the southeast side, hard against the dying Salton Sea. It's among California's most fertile farming regions, with a $1.7-billion-a-year agricultural economy.
Table grapes have been the valley's biggest crop for more than a century. Each year, some 100 million pounds are picked by an army of laborers during an epic harvest against which the ugly realities of global agribusiness stand in vivid relief.
The work is hard, dirty and dangerous. It begins at dawn when the air is sweet and moist and stretches until midafternoon, when temperatures can top 120 degrees and the sun feels like a steel-toed boot to the head.
The pay is $8 to $9 an hour, less than it was 40 years ago when adjusted for inflation.
"Nothing changes," says Arturo Rodriguez, an attorney in the Coachella office of California Rural Legal Assistance. "It's the same harvest of shame."
In the 1960s, Cesar Chavez and the United Farm Workers of America turned working and living conditions of grape pickers into a potent symbol of rural poverty. After years of protests, strikes and boycotts, the union's first table grape contract was signed in Coachella in 1970.
But that's all in the rearview mirror. Chavez -- who died in 1993, a year after visiting Mecca to kick off another campaign for higher wages -- is still revered here. But the union isn't a player in the valley's vineyards and no longer has a local office.
Eddie Leon and his family have owned Leon's Meat Market for half a century. Situated at Mecca's main crossroad, it's a hub of activity day and night during the grape harvest.
"Might sound bad, but the heat helps us," he says. "When it gets to 100 degrees, people come in here and buy more Gatorade, more beer."
Mecca is a listening post where a visitor can tap into the atmosphere of exploitation and corner-cutting that pervades this end of the valley, a place to find a guy who knows a guy who can get a fake Social Security card.
Leon is 54 and has the weary shoulder shrug of someone who has heard most everything.
"There's a ton of illegals here," he says. "People bring in checks with aliases that they've been given. Or they may have papers but work under a different name so they don't lose their unemployment" from a previous job.
Privately, farm laborers talk of being cheated out of pay, forced to skip rest or lunch breaks and fired if they complain. But what happens in the fields tends to stay in the fields.
Heat killed five farmworkers in California last year, including a 17-year-old pregnant Mexican girl who collapsed after working nine hours in a Lodi vineyard without shade and little water. Dozens of others were hospitalized.
State law requires employers to provide water and shade and for employees and supervisors to be trained in heat-illness prevention. Nearly four out of 10 work sites inspected in California last year weren't in compliance.
Last year, one of the Coachella Valley's largest growers settled a lawsuit by agreeing to pay nearly $500,000 to workers who claimed they were denied breaks and forced to taste grapes off the vine to judge their ripeness. Another major grower paid more than $1 million in 2005 to settle a lawsuit brought on behalf of female grape workers who claimed they were sexually harassed -- in one case raped -- and punished or fired for speaking out. Both growers denied the allegations and said they settled to stem mounting legal costs.
Officials acknowledge they don't have nearly enough manpower to police the more than 1,000 licensed farm labor contractors in California who serve as the middle men for growers -- not to mention the unknown number of unlicensed ones.
But even when the laws and regulations are followed to precision, farm work remains what it has always been: a life sentence of poverty. In the Coachella Valley vineyards, it's common to find men and women in their 50s and 60s doing work that would challenge most twentysomethings.
"No one will hire me to do anything else. I'm too old," says a 62-year-old man from Mexicali who has been following the harvest most of his adult life.
After a day of picking grapes, sweat and dirt cover him like a second skin. He walks with a limp and his hands are gnarled and scarred as if he had been punching a brick wall.
"This is the only work I can do," he says. "I'm going to work doing this until I'm dead."
Her head is covered with two bandannas and a cap, a spectral mask to protect her from dust and pesticides. She ducks under the leafy canopy and snips off a cluster of green grapes. She works quickly but carefully, cradling the bunch in her palm and scanning the berries. She snips off those that are shriveled, scarred or split. She snips those that are too small, misshapen or the wrong color.
She grabs the stem with slender fingers and flips the bunch over, mindful not to over-handle the delicate fruit. Snip, snip, snip. Then she places the cluster in a box at her feet and darts back under the canopy to get another.
"Animo," says a foreman passing by. "Animo." Show energy.
The table grape harvest is both a marathon and a sprint. It starts slowly, but as the fruit ripens the pace escalates. At its height, upward of 250,000 18-pound boxes a day are hauled out. When it's done, $100 million in grapes will be transported from vine to supermarket.
The workforce is almost exclusively Latino. Single men with families back in Mexico. Bands of brothers and sisters. Young couples and grandparents. College students who hope they are only temporarily doing the work their parents did. Former construction workers who saw hope -- and their jobs -- disappear in the housing bust.
Two years ago, Jose Montenegro made $20 an hour framing new houses.
"No more jobs in the framing," he says in halting English. So here he is, 36 years old and making $8.50 a hour plus a 32-cents-a-box bonus, which he shares with his sister and brother who work beside him.
He has a wife and six kids in Mexico who depend on money he sends back. It's a lot less today. "I have money now just for food."
His brother, Jesus, 43, once earned $20 an hour as a plumber. Three years ago, he lost his job. Then he lost his house in Coachella.
"A lot of people lost the house," he says.
A 2006 survey by Riverside County found that nearly three-quarters of the Coachella Valley's farmworkers are year-round residents, shifting from grapes to lettuce, celery, peppers, dates and onions with the seasons. Nearly half live in squalid trailer parks scattered throughout the valley.
Housing the migrants who pour into Mecca for two months before moving on has been an intractable problem for decades. The Coachella Valley Housing Coalition provides college-dorm-like apartments at Las Mananitas, a project built for farmworkers as the result of a lawsuit against the county.
Eight men each pay $30 a week to share a unit. But with a capacity of 128, the complex makes only a dent in the need.
Nearly a third of migrants live in places the county's survey deemed "not meant for human habitation." The camp that springs up each night behind the Toro Loco is one such place. Countless others live out of their vehicles.
Many homeowners in Mecca cram tenants into spare bedrooms, backyard sheds and crumbling mobile homes. Many of these rentals don't have running water, electricity, toilets or air conditioning.
In one warren of misery, a dozen men share what was once a garage. The aqua-green walls are filthy, the kitchen is caked with grease and the bathroom appears to be held together by mildew. But most of the beds are made and a few are stacked with folded, freshly laundered clothes.
The living room and kitchen are illuminated by a single bare bulb. The swamp cooler broke, and although it's stuffy and hot, it's probably for the best considering the jury-rigged wiring. Plastic bags filled with food hang from nails in a ceiling beam.
"There's a lot of cockroaches," says tenant Carlos Ramirez. "At night, it's a party for them."
His roommate, Filiberto Pimentel, laughs. He has bunked here during the grape harvest for 10 years. At $30 a week, it's a fair value, he says. The stove and refrigerator work, and there's no deposit, no paperwork and no one asking for identification.
Pimentel is 60 and slumped on a couch. He says his age is making it harder to find work. He got only three hours today and was told there's no work for him tomorrow, even though the harvest is in full swing.
Ramirez nods in agreement. He's 52, but age is the least of his problems. Ramirez lost half his left leg in a motorcycle accident last year. He has been a farmworker for 22 years. Now he is on disability.
"Until they give me my other leg," he says in Spanish.
He has been told Medi-Cal will provide a prothesis in three months. Afterward, he plans to go back to work.
"Why not? This is not a problem for me. It's only an accident."
Outside, the sun is in retreat. Girls hand out fliers for a meeting organized by California Rural Legal Assistance in the Mecca elementary school auditorium.
Representatives from government agencies are on hand to educate farmworkers on their legal rights. Tables are stacked with literature on workplace discrimination, wage and overtime laws, sexual harassment and pesticide danger. But the crowd gravitates to a table where the Mexican Consulate is giving away children's books, novels and school textbooks.
An overhead projector is being readied for the evening's presentation when someone announces dinner is served. A hundred men and women hurry to form a line and patiently wait to receive paper plates heaped with barbacoa and beans.
Later, there is dessert. Sheet cake from Costco.
Feliz Dia Del Trabajador, the inscription in icing reads.
Happy Day of the Worker.
---
Get breaking news, investigations, analysis and more signature journalism from the Los Angeles Times in your inbox.
You may occasionally receive promotional content from the Los Angeles Times.