L.A. fights plague of garbage in central city neighborhoods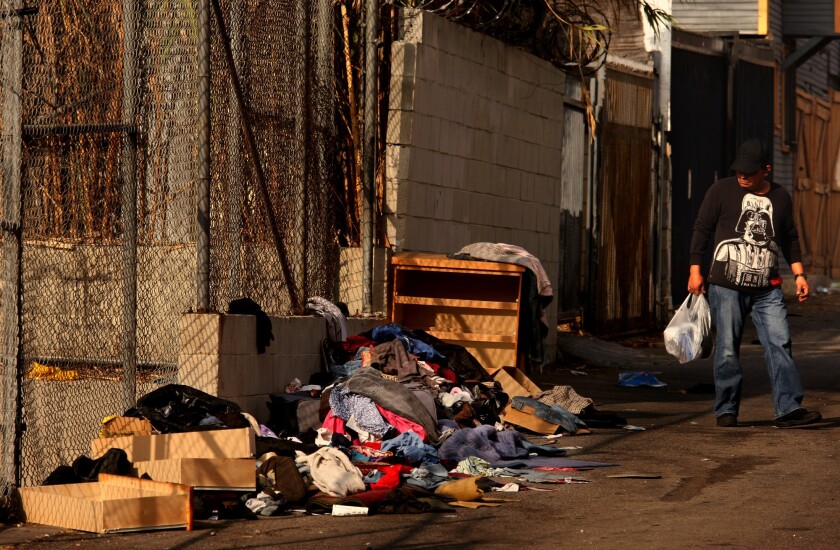 A pedestrian walks past furniture and clothing discarded in an alley in the Pico-Union neighborhood.
(Genaro Molina / Los Angeles Times)
City Councilman Gil Cedillo walks through an alley that was cleared of debris by members of the Los Angeles Conservation Corps.
(Genaro Molina / Los Angeles Times)
An abandoned chair, shopping cart and other debris mar an alley in the Westlake neighborhood.
(Genaro Molina / Los Angeles Times)
Rubbish piles up around a palm tree on Beacon Avenue in the Pico-Union neighborhood.
(Genaro Molina / Los Angeles Times)
Discarded furniture is shoved against a building on Beacon Avenue.
(Genaro Molina / Los Angeles Times)
Members of the Los Angeles Conservation Corps remove junk from an alley.
(Genaro Molina / Los Angeles Times)
Members of the Los Angeles Conservation Corps clean up an alley in the Pico-Union district under the direction of Solid Resources Supervisor Russell Zamora, right, who is with the Bureau of Sanitation.
(Genaro Molina / Los Angeles Times)
Jose Fernandez looked out his apartment window near MacArthur Park and admitted, in defeat, that he's grown accustomed to the view:
Torn couches, dingy mattresses, broken dressers, dusty headboards.
The procession of rejected furniture piles high and wide on the sidewalk, compliments of neighbors and whoever else decides to dump and run.
"I've seen junk stay out there a week … sometimes a month," the 24-year-old said. "Everyone walks by and stares. No one does anything about it."
Hoping to put a stop to the rubbish, the city recently launched a $1-million cleanup effort aimed at Councilman Gil Cedillo's 1st District, including areas such as Lincoln Heights and Mount Washington. Much of the focus is on the immigrant-heavy neighborhoods of Westlake and Pico-Union just west of downtown.
The tiniest refuse — candy wrappers, grocery bags, fliers — spreads across gutters like confetti. Chairs, rugs and other larger pieces block the alleys and sidewalks in a smelly obstacle course that sometimes reaches 10 feet high.
Saturated with overcrowded apartments and tenants who pack their belongings and move with unusual frequency, the low-income area is notorious among trash collectors because of how tough it is to keep clean.
"It's like weeds," said Jose "Pepe" Garcia, superintendent with the Bureau of Sanitation. "You clear up one alley one day, and the next week — sometimes the next day — it's back to how it was."
Backed by money from Cedillo's general fund, sanitation workers and the Los Angeles Conservation Corps have flooded Westlake and Pico-Union in recent weeks — using trucks, rakes and trash bags to deep-clean the alleys that abut businesses and high-rise apartments. So far, more than 250 tons of trash has been removed, Garcia said.
Garbage is being collected five days a week, rather than on the once-a-week schedule the rest of the city has. Cedillo is working to establish an appointment service so residents can have bulky items carried right out of their homes rather than putting them on the curb.
Several solar-powered and laser-triggered trash compactors, costing close to $20,000 combined, have been placed around MacArthur Park — ground zero for litter.
"What we're trying to do is change the culture of the place," Cedillo said. "To keep people from setting their sofas and mattresses on sidewalks, to stop them from tossing their hot dog and burrito wrappers on the floor."
On a recent weekday, the sanitation department's hard work was apparent: Most alleys were free of debris and discarded furniture.
"They do a good job and leave everything looking great," said Bertha Wooldridge, a community leader and business owner. But like many others who have lived in the area awhile, her optimism was tempered. "The biggest challenge for any council member," Wooldridge said, "is to educate people to keep it nice."
In 30 years, she said, she has lived through cleanup efforts launched by four council members. She's participated in countless community cleanups, collecting bags upon bags of trash. Yet the issue remains the same.
"You work hard to teach a bunch of people. You get momentum," Wooldridge said. "And then they move away, and you have to start all over again."
Cedillo's education campaign, expected to roll out in a few weeks, will target residents as well as property owners. There will be neighborhood meetings, fliers, street signs and billboards. Children at local schools will be encouraged to be more conscious of their waste.
The goal is to find out what causes the constant mountain of garbage, city officials said. Is it overcrowding, bad habits, public events, homelessness, not enough trash collection or some combination of factors?
"We're going to have a full-on assault on trash and litter," Cedillo said. "I don't believe and accept that people think this is OK. If everybody plays their modest role, I know we can keep things clean."
Carmen Rocha, a longtime Pico-Union resident, said she will do her part to spread the word. But persuading people to change their ways won't be easy.
For years, the 46-year-old homemaker handled cleaning at her apartment complex, a building with 101 units on West 3rd Street. She kept asking that people keep trash in the bins and schedule an appointment with sanitation before placing old furniture on the curb.
"They never listened," Rocha said. "My husband would have to help me push these heavy pieces around to get them out of the driveway and sidewalk."
Along South Alvarado Street, merchants do their best to keep the front of their businesses clean. They sweep constantly, sometimes hosing down the sidewalk.
They dread those who stand along the busiest sections, handing out fliers and business cards announcing that "Jesus is the ticket to heaven" or advertising free pregnancy tests. Most, if not all, of that paper ends up as litter on the pavement.
"You never want the city to put a trash can outside your door," jewelry store owner Jaime Medal said. "It will overflow every day of the week."
Fernandez, a Guatemalan immigrant, said there is more to worry about than trash piles.
There was the time someone set fire to the abandoned furniture outside his window and the flames almost reached his apartment. And not too long ago there was a bedbug infestation in his building. Many residents had to toss their furniture. It ended up, as usual, on the curb.
"People would come by and pick a nice chair or sofa," he said. "They had no idea what they were taking home."
esmeralda.bermudez@latimes.com
---
The perils of parenting through a pandemic
What's going on with school? What do kids need? Get 8 to 3, a newsletter dedicated to the questions that keep California families up at night.
You may occasionally receive promotional content from the Los Angeles Times.