Trouble with a South L.A. gang-intervention agency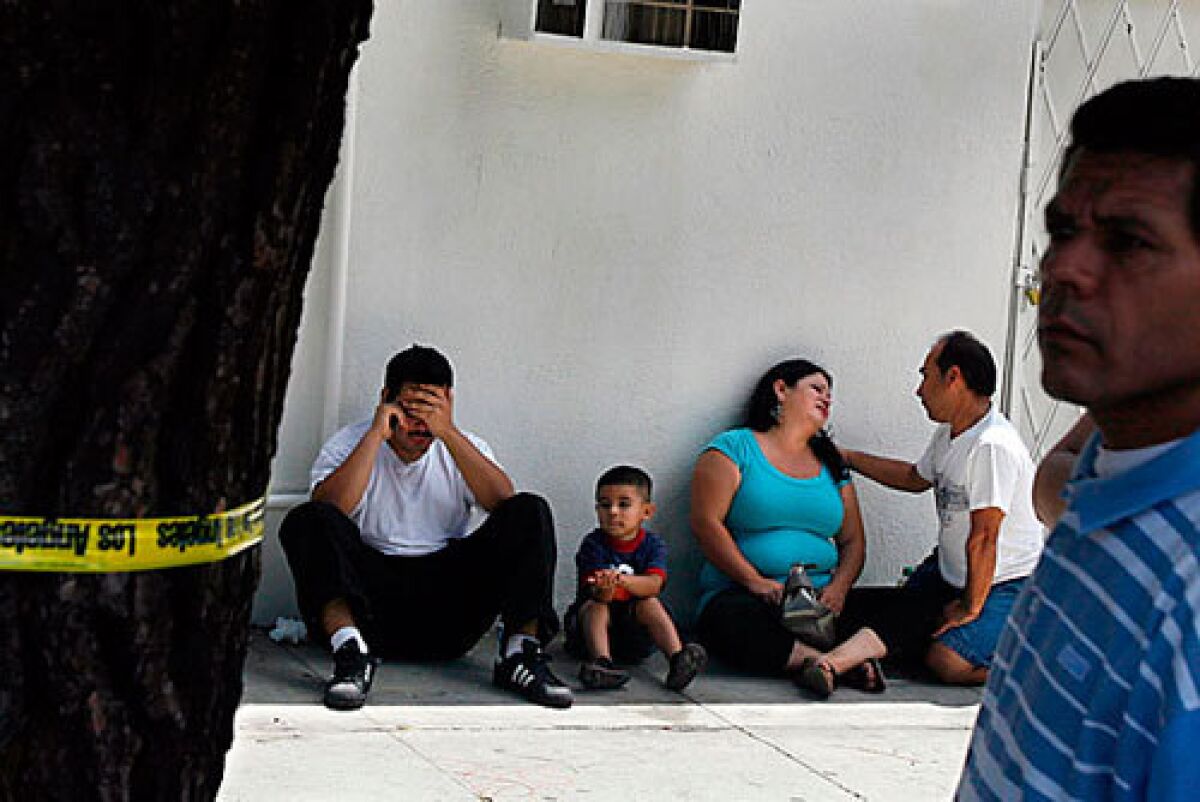 Even for a gang member, Ivan Valencia led a particularly precarious lifestyle. He was a commuter.
Valencia, 30, was a member of the Temple Street gang, which operates mostly on the southern edge of Silver Lake and Echo Park. He lived seven miles away, on West 55th Street in South Los Angeles -- where five other gangs operated within a quarter-mile of his house.
"He was living out of his area," LAPD Capt. Tina M. Nieto said. "People move all the time in Los Angeles. If you don't make it known, it doesn't become an issue. If you do . . ."
Shortly before noon July 17, Valencia walked from his house to a gritty, weed-choked corner of South Broadway, a stone's throw from the cars zooming past on the 110 Freeway. A friend pulled up in a freight truck and Valencia hopped in; he'd promised to help with deliveries that afternoon. Suddenly, a car roared up. A gunman shot Valencia through the windshield, killing him instantly. Police believe a local gang was responsible.
The slaying was a potentially explosive development. Officials suspect Valencia might have been targeted for living in the "wrong" neighborhood; a new crosstown gang rivalry, they say, could offset the considerable progress that has been made in reducing gang violence in South L.A. The case was tailor-made for gang intervention.
Officials called in Unity T.W.O., a high-profile South L.A. intervention agency and City Hall contractor that has received more than $350,000 in public money this year and considerably more in the previous five years.
Unity T.W.O. never showed up -- and yet, days later, it submitted a standard form to City Hall reporting that it had responded as promised and spoken with gang members in an effort to reduce the tension, according to sources close to the city's gang-reduction efforts.
The discrepancy was the latest, and perhaps last, stumble for Unity T.W.O. According to documents obtained by The Times, including financial reports and e-mails between Unity T.W.O. and City Hall, the agency has left gang-reduction supervisors, city officials and nonprofit executives frustrated with its operation. The documents paint a portrait of a troubled, overwhelmed agency -- of overdrawn bank accounts, blown deadlines and missed payrolls.
Gang-intervention workers, many of them former gangsters themselves, act as liaisons between police and the community; increasingly, the city relies on them to monitor street gossip and prevent revenge shootings. Civic leaders are attempting to professionalize the field, which has long operated on the fringe. Unity T.W.O. was supposed to be a central part of that effort.
Instead, the mayor's gang-reduction office is preparing to sever ties with Unity T.W.O. The agency's slide -- from securing inner-city truces to squabbling over red tape -- may be a portent of the hurdles ahead.
Susan K. Lee, director of urban peace at the Advancement Project, the L.A. public policy nonprofit, said the troubles underscore the growing pains attending the city's efforts to overhaul gang-reduction programs. City Hall, she said, has failed to help traditional grass-roots groups such as Unity T.W.O. develop the "administrative capacity" to operate like regular contractors. At the same time, she said, intervention agencies have to learn to abide by new rules: ethics standards, dress codes, drug testing.
"There is a higher bar being set," Lee said. "There are adjustments that are going to have to be made on both sides."
Unity T.W.O.'s founder, Kevin Mustafa Fletcher, did not return calls seeking comment; he had previously decried the city's decision as "an injustice." The mayor's office has said the decision was "in the best interest of the city" but has declined to elaborate, citing instructions from the city attorney.
Unity T.W.O. was established in 1998 and quickly gained a reputation for fostering "understandings" between rival gangs. The most notable instance occurred in 2004, when Unity T.W.O. helped end a "civil war" between the Swans and the East Coast Crips, two umbrella gangs with membership spanning 21 L.A. neighborhoods.
About the same time, Unity T.W.O. began receiving tax dollars for its efforts -- funneled, at the time, through the nonprofit Toberman Neighborhood Center, which was funded by the city's old and oft-criticized gang-reduction program.
Documents show that although Unity T.W.O. worked as a Toberman subcontractor, it ran out of money and could not account for its spending. By last January, Unity T.W.O. was not paying personnel. And according to a letter written by Toberman's chief financial officer, Unity T.W.O. lied to unpaid workers, claiming that Toberman and the city were withholding funds.
City officials were aware of Unity T.W.O.'s troubles, according to the documents. Still, last spring, after Mayor Antonio Villaraigosa consolidated gang-prevention programs and boosted funding for gang intervention and prevention, the city gave Unity T.W.O. a $250,000 contract to oversee intervention in a troubled pocket of the city bisected by Slauson and Van Ness avenues. Unity T.W.O. was also named the lead intervention subcontractor in the LAPD's Newton Division, where Valencia was killed.
Unity T.W.O.'s problems continued under the new contracts. According to the documents, the agency often failed to file required incident reports outlining its intervention efforts. Unity T.W.O. staff members missed appointments to get fingerprinted by city officials and to provide information for background checks.
In May, two staff members in the mayor's Office of Gang Reduction & Youth Development (GRYD) submitted sexual harassment claims against Unity T.W.O. employees -- "unwelcome sexual advances, inappropriate remarks and continued harassment even after our staff asked them to stop," according to one document. Unity T.W.O. workers were ordered to stay away from GRYD's female staffers.
By June, executives at Soledad Enrichment Action, which hired Unity T.W.O. as a subcontractor in the Newton area, were having difficulty even making contact with Fletcher and other Unity T.W.O. workers and resorted to sending a letter asserting that "we have no record that substantiates that any services have been or are being provided by your agency." City officials also were raising questions about Unity T.W.O.'s decision to "delegate" responsibilities to yet another intervention organization.
"OK. What exactly does he do then?" e-mailed the Rev. Jeff Carr, GRYD's director, referring to Fletcher. "Still don't know," replied Jorge Reyes, a GRYD supervisor.
Fletcher seemed stymied by the bureaucracy's confusing demands.
"We want to comply. We will happily comply. But please help us do so," he wrote to Carr and Villaraigosa on June 26.
But the city already was taking steps toward ending its relationship with Unity T.W.O. -- even as some officials fretted in e-mails that the decision could have "repercussions" for truces between rival gangs, particularly the Swans and the East Coast Crips. The city finally ended its contract with Unity T.W.O. on Friday. (The city cannot unilaterally block the agency from working as a subcontractor in Newton; the fate of Unity T.W.O.'s work there remains uncertain.)
Other high-profile gang-intervention workers seem torn over Unity T.W.O.
"There has to be rules. If there aren't rules, people will abuse this thing, and I think the city is making an honest effort to do something to stem the violence," said Ted Baker, a case manager with a group that works closely with Unity T.W.O. in South L.A. "But you still have to have real contacts on the street level. There is no other way to break that cycle. I just don't know. The politics here run pretty deep."
---
The stories shaping California
Get up to speed with our Essential California newsletter, sent six days a week.
You may occasionally receive promotional content from the Los Angeles Times.