Labor march ties up traffic near LAX on busy getaway day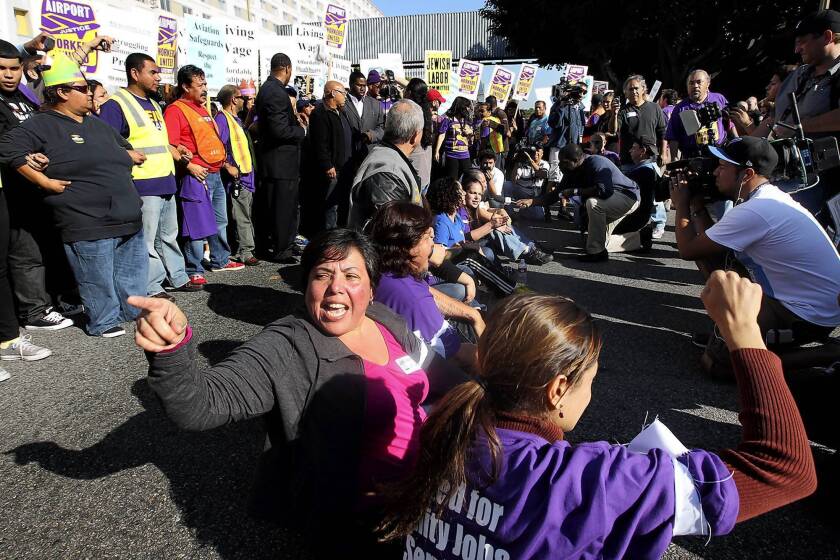 The day before Thanksgiving is one of the busiest days of the year for Los Angeles International Airport, and union organizers knew it would likely send a message if they could snarl traffic by marching through the streets and clogging a heavily used intersection near LAX.
So while travelers hurried to their terminals Wednesday afternoon, about 1,500 protesters carrying signs that read "Living Wage & Affordable Health Care" and chanting "Respect, respect, respect at LAX" filled one side of Century Boulevard near the entrance to the airport for a briefly disruptive, but mostly permitted walk and rally.
"We're out here to fight to keep affordable healthcare, the living wage ordinance, and to get rid of this rogue contractor Aviation Safeguards, who is threatening everybody's livelihood," said Robin Wilson, 39, a security worker at the airport and a member of SEIU United Service Workers West, the union that organized the march.
About 45 minutes later the group intentionally disobeyed the law and clogged the intersection of Century and Sepulveda boulevards. A dozen activists, including three who organizers identified as L.A. City Council candidates Ana Grande, Ana Cubas and Ron Gochez, then sat down in the middle of the intersection, knowing they would likely be arrested. They refused to leave even after police told them to disperse, while the rest of the crowd backed away.
The 12 were arrested on a misdemeanor charge. Los Angeles Police Department Cmdr. Andrew Smith said they would be booked and probably released on their own recognizance. Smith said another man was also arrested on suspicion of disobeying police orders because the man "kept pushing back, pushing back against our officers."
Mary Grady, a spokesperson for LAX, said the demonstration caused "some congestion initially.... [But] once we started rerouting people, it started to get moving."
"We did have some employee buses, they had to be diverted and were 20 minutes behind schedule, but other than that we didn't have any reports — preliminarily — of any flight delays or anyone missing their flights" because of the protest, Grady said.
Union officials and their supporters have repeatedly demonstrated at LAX to protest working conditions and what they consider improper conduct by Aviation Safeguards, an airline services company whose employees are no longer unionized. The private firm has 450 employees who work as security personnel, skycaps, baggage handlers and wheelchair assistants for more than 50 airlines at LAX.
Company officials said that in December 2011, a majority of the firm's employees exercised their legal right to reject the SEIU as their union.
"We voted to cancel our agreement with the SEIU because they took our money and did nothing for us," said Edgar Rivas, a security guard who has worked at Aviation Safeguards since 2006. "Now we earn more money, and have more healthcare options."
SEIU United Service Workers West alleges Aviation Safeguards ignored proper procedure for decertifying representation and coerced its employees to vote against the union. But there have been no findings by government oversight agencies that support the accusations.
Union officials also say the company is denying affordable healthcare to its workers and has violated the city's living wage ordinance because it gave workers a choice to take insurance or a higher wage.
Joe Conlon, a regional vice president for Aviation Safeguards, says that the firm has a different interpretation of the Los Angeles living wage ordinance, but has agreed to obey a city determination that employers cannot give workers a choice to take insurance or more pay even if the worker has other medical coverage.
Last month, the SEIU demanded that Los Angeles World Airports, which operates LAX, revoke Aviation Safeguards' five-year agreement to operate at the airport. The company has about four years to go on the license, which can be canceled without cause by either party.
So far, the city's Board of Airport Commissioners has not terminated the agreement.
Wednesday's action might also have been a strategic show of strength by the SEIU at a time when its labor contracts with five airline service companies are set to expire for about 2,000 workers at LAX, including cabin cleaners, wheelchair assistants, janitors, cargo workers and baggage handlers.
---
The stories shaping California
Get up to speed with our Essential California newsletter, sent six days a week.
You may occasionally receive promotional content from the Los Angeles Times.