A July 4 guide to police crackdowns, protecting pets and fireworks — legal and illegal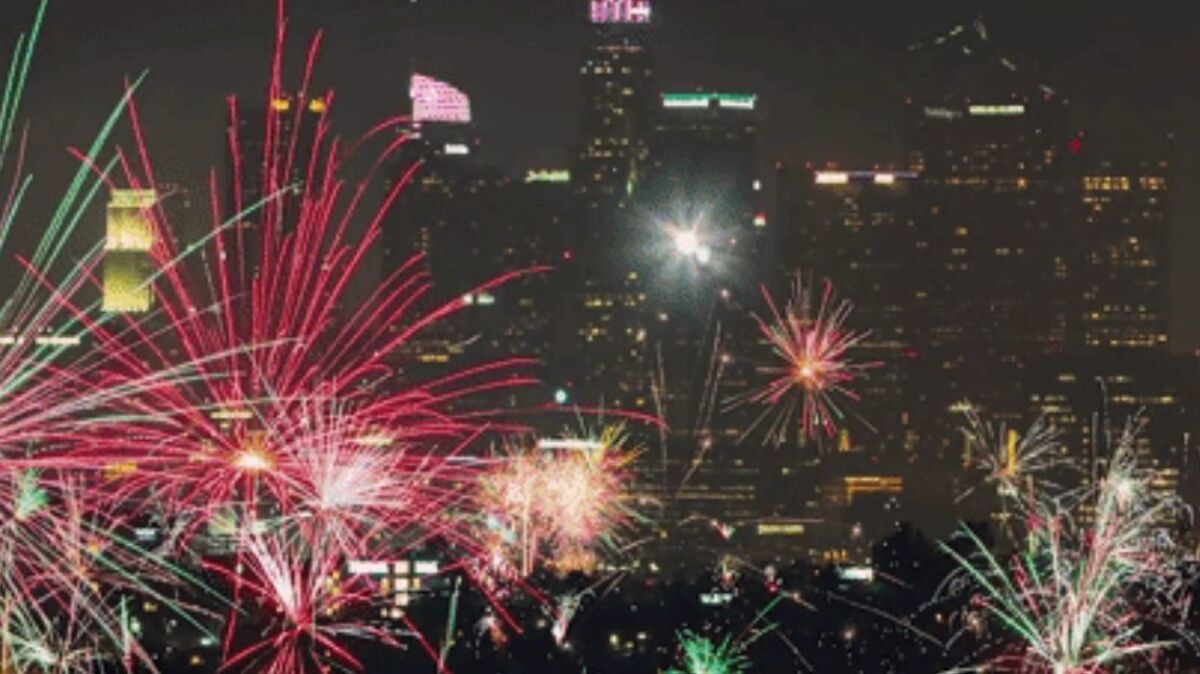 July 4 is here, and it won't be all barbecues and beer.
Southern California law enforcement will be on heightened alert during the July 4 weekend, looking for drunk drivers and illegal fireworks.
Meanwhile, animal services officials are warning that this will be a tough day for pets.
Weather-wise, it will actually be a fairly mild holiday, with temperatures getting into the 70s along the coast and the mid-80s inland.
Law enforcement cracks down
Expect heightened police enforcement during the holiday weekend.
The California Highway Patrol began a "maximum enforcement period" at 6 p.m. Wednesday, and it will continue through 11:59 p.m. Sunday. All available officers will be on the streets searching for impaired motorists.
Last year, on July 4 alone, the CHP arrested 389 motorists on suspicion of DUI statewide. According to the agency, 18 people were killed in collisions investigated by the CHP during the 2018 enforcement effort.
RELATED: Times columnist Frank Shyong on the magic of L.A. on July 4th »
Southland law enforcement agencies will also have officers out in force, particularly on Thursday when Fourth of July parties will be in full swing.
"The consequences are abundantly clear, yet people still make the poor decision to drive after drinking," Pasadena police Lt. Mark Goodman said. "Please be smart and make this Fourth of July holiday a fun and memorable one."
Legal fireworks
You will see a lot of illegal fireworks tonight. But here are some legal fireworks shows:
Pasadena - Rose Bowl
Event begins: 5:30 p.m.
Fireworks: 9 p.m.
Price: $15 for general admission, $35 for reserved seating
Details: The 93rd annual AmericaFest begins with a children's fun zone at 2 p.m., and the evening events begin at 7 p.m. with live performances followed by a fireworks show.
Long Beach - Queen Mary
Event begins: 3 p.m.
Fireworks: 9 p.m.
Price: adults $49, kids $29
Details: Celebrate the Fourth of July with the "All American Fourth of July" fireworks show from the stern of the historic Queen Mary.
Downtown L.A. - Grand Park Block Party
Event begins: 3 p.m.
Fireworks: 9 p.m.
Price: Free
Details: Live music includes performances by the Boogaloo Assassins, DJ Linafornia, the Delirians, Earth Arrow, Victoria La Mala and more. Food can be brought from home and vendors will be in the event space. No outside beverages are allowed.
Dodgers Stadium - Post-Game Holiday Fireworks
Event begins: 6:10 p.m.
Fireworks: After the game
Price: $32 and up
Details: Watch the Los Angeles Dodgers play the San Diego Padres and enjoy a fireworks show after the game.
Hollywood - Hollywood Bowl Fireworks Spectacular
Event begins: 7:30 p.m.
Fireworks: At dusk
Price: Adult: $25 to upward of $100. Kids pricing starts at $12.50 and goes to $80
Details: The Hollywood Bowl promises a "funky Fourth" with performances from Nile Rogers, CHIC and the L.A. Philharmonic.
Here is a full list of events.
Illegal fireworks
Of course, there will be a different kind of fireworks show after the sun sets.
Authorities will also be on the lookout for illegal fireworks, which is of particular concern this year due to the extreme fire danger.
Over the past few weeks, Costa Mesa police have seized more than 4,500 pounds of illicit incendiaries valued at about $25,000 and made 14 arrests, authorities said.
"This might not solve the problem of a loud night that upsets pets and possibly veterans and senior citizens, but let's see if it makes a difference," the Police Department wrote on its Facebook page. "Let's celebrate Independence Day with the right fireworks."
Costa Mesa is one of 10 Orange County cities that allow the sale of "safe and sane" fireworks — generally those that don't leave the ground or explode in the air.
Permitted pyrotechnics went on sale Sunday and can be purchased through the holiday Thursday. They can be lit from 4 to 10 p.m. Tuesday through Thursday.
Another city that allows "safe and sane" sales is Huntington Beach. Police there said last week that they bought more than 200 pounds of illegal fireworks as part of an undercover investigation and turned over the haul to the Orange County Sheriff's Department bomb squad.
All told, Huntington Beach has collected 1,020 pounds of fireworks from operations conducted through June and into July, according to police spokeswoman Angela Bennett. Arrests have been made, though specifics weren't available earlier this week.
It is a misdemeanor under state law to possess, store, use or transport illegal fireworks, and doing so is punishable by a $1,000 fine and jail time.
Protecting pets
Fireworks take a toll on pets.
Animal-advocacy officials urged pet owners to keep their animals inside today and as far away as possible from fireworks.
Dogs and cats can escape from small openings in houses and fenced yards in search of a safe place and may be injured in traffic or wind up in a crowded shelter, officials warned.
Some tips:
-- Make sure pets have up-to-date identification tags and, if possible, a microchip registered with owner contact information
-- Keep pets inside in an enclosed room or, if they must go outside, make sure gates and fences are very secure
-- Create a safe space at home, off-limits to guests, with windows closed and covered and plenty of water and food; and be sure to leave animals with a responsible party if leaving town for the holiday.
City News Service and Times Community News contributed to this report.
The stories shaping California
Get up to speed with our Essential California newsletter, sent six days a week.
You may occasionally receive promotional content from the Los Angeles Times.