College admissions scandal enters next phase: New charges, more deals coming?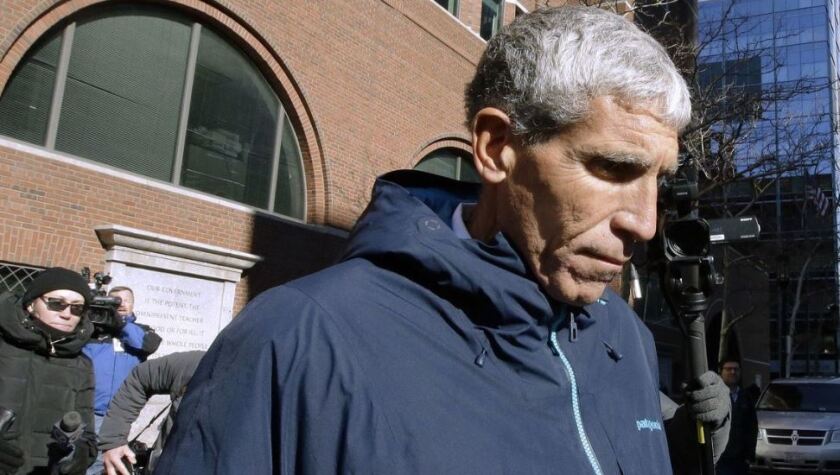 Defendants in the sweeping college admissions cheating scandal began appearing in Boston court amid growing questions about how many would cooperate with authorities and which other parents could get swept up in the scandal.
Some of the parents named in the charges are under pressure from federal prosecutors to make deals, which could occur in the coming week as the defendants go to court.
By cooperating, the parents could provide evidence to prosecutors, who say they are still investigating.
FULL COVERAGE: Dozens charged — including Hollywood actresses — in connection with college admissions scheme »
Sources familiar with the case but not authorized to discuss it say several additional parents and their attorneys have been informed they are subjects of the federal inquiry.
It's possible some of those parents could attempt to resolve those accusations before being charged.
More than 750 parents used self-described "master coach" William "Rick" Singer's services. But sources have said only a relatively small group are suspected of illegal activity.
While 33 have been charged, the sources say prosecutors have sent subpoenas to high schools in Southern California with names of students whose parents have not been charged — which suggests authorities are preparing to expand the number of prosecutions.
Some of the defendants were caught on wiretaps talking about cheating and bribes aimed at getting their kids into elite colleges, court records show. There are also documented emails, checks and financial transfers for payments to Singer's charity and businesses owned by several coaches linked to the scam.
A dozen athletic coaches, test administrators and others charged in the nationwide college admissions scandal — including former USC senior assistant athletic director Donna Heinel, USC water polo coach Jovan Vavic and Jorge Salcedo, UCLA's men's soccer coach — pleaded not guilty Monday to a variety of fraud and conspiracy charges.
Full coverage: Dozens charged — including Hollywood actresses — in connection with college admissions scheme »
The scheme, which began in 2011, centered on a Newport Beach college placement firm run by Singer. Wealthy parents are accused of paying Singer to help their children cheat on college entrance exams and to falsify athletic records of students to enable them to secure admission to elite schools, including UCLA, USC, Stanford, Yale and Georgetown, court records show.
Prosecutors allege that Singer instructed parents to donate funds to a fake charity he had established as part of the scheme. Most of the parents paid at least $200,000, but some spent up to $6.5 million to guarantee their children admission to top universities, authorities said. Parents were then able to deduct the donations from their income taxes, according to the Internal Revenue Service.
The scheme itself was fairly simple, prosecutors said: Singer instructed parents to seek extended time for their children on ACT and SAT exams. In at least one instance, a student claimed to have a learning disability to obtain medical documentation required by the College Board and ACT Inc. to grant additional time on the tests, according to court documents.
Yale University has rescinded the admission of a student in connection with the far-reaching college admissions scandal, the university confirmed Monday.
It is the first known case in which a student's involvement in the scheme has resulted in a revoked admission. Dozens of parents are accused of cheating or paying bribes to get their children into elite schools, including Yale, USC and UCLA.
University spokesman Thomas Conroy said he could not provide the exact date of the revocation of the student's admission, and he would not answer further questions about the matter.
Conroy referred a Times reporter to a March 15 statement from Yale, which said the university is aware of only one student admitted with a fraudulent athletic endorsement from former head women's soccer coach Rudy Meredith, who resigned in November. In the statement, Yale said it was investigating the allegations and that if they proved to be true, it would rescind the student's admission.
USC announced last week it has placed holds on the accounts of students possibly tied to the far-reaching scandal, which bars them from registering for classes or acquiring transcripts from the college while they are under review. The university said it had notified the affected students but did not disclose the number involved.
---
The perils of parenting through a pandemic
What's going on with school? What do kids need? Get 8 to 3, a newsletter dedicated to the questions that keep California families up at night.
You may occasionally receive promotional content from the Los Angeles Times.