Why wasn't William H. Macy charged in college admissions scandal that targeted wife Felicity Huffman?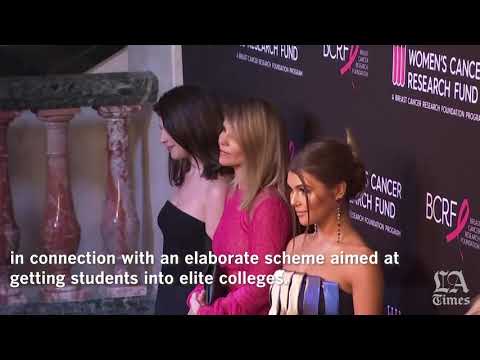 William H. Macy arrived at L.A.'s Edward R. Roybal Federal Building hours after his wife, Felicity Huffman, was charged with conspiracy to commit mail fraud.
In a federal court Tuesday afternoon, Felicity Huffman stood in front of a magistrate to answer charges that she took part in an audacious scheme to get her child into an elite university through fraud.
Her husband, fellow actor William H. Macy, was sitting in the courtroom, but in the audience. Federal prosecutors had charged Huffman in the case but not Macy.
This has raised some questions. Here is what we know.
Q: What is Huffman accused of doing?
Huffman is accused of disguising a $15,000 charitable payment in the bribery scheme, according to court records. Prosecutors allege she met with a confidential witness who explained that he could control an SAT testing center and could arrange for someone to proctor her daughter's test and correct it.
Huffman's older daughter took the test in December 2017 and received a score of 1420. That was a 400-point improvement from her first test. In October, Huffman was recorded by the FBI allegedly discussing participating in the same scheme for her younger daughter; however, she did not ultimately pursue it.
She was among dozens swept up in what prosecutors called the largest college admissions fraud scheme they'd ever seen.
Full coverage: Dozens charged — including Hollywood actresses — in connection with college admissions scheme »
Q: What do the court documents say about Macy?
The court documents mention Macy much less than Huffman. But they suggest Macy knew about many of the activities. The alleged mastermind of the scheme, William "Rick" Singer, met with the couple at their homes and laid out parts of the plan, court records show.
The records say the couple agreed to the plan.
The complaint alleges Macy was on a Dec. 12, 2018, call with Huffman and Singer. Their discussion was about their youngest daughter taking the SAT over two days.
"Do we want two days?" Macy is quoted as asking. "She'll score higher. Just her base score will be higher if we did it over two days."
In that case, the couple didn't pursue the idea.
In an interview published in Parade magazine in January, Macy talked about his daughter applying to colleges. "We're right now in the thick of college application time, which is so stressful. I am voting that once she gets accepted, she maybe takes a year off. God doesn't let you be 18 twice," he said.
Huffman was charged with conspiracy to commit mail fraud and honest services mail fraud. She has a court appearance in Boston in several weeks.
Her attorney declined to comment.
Authorities have not said why Macy was not charged.
Louis Shapiro, a defense attorney who regularly represents federal defendants, said "when it comes to William H. Macy, it comes down to how culpable is he and how much evidence the government has against him."
"Based on the evidence in the complaint, his wife played a far more significant role," Shapiro said.
"Felicity Huffman is the more active member of the couple and is in more of the communication clearly with Rick Singer," Shapiro said.
Shapiro said it is common for prosecutors to mention a spouse in a filing who "doesn't have criminal culpability."
He added Macy's discussions about his younger daughter didn't actually amount to anything.
Q: Wasn't the case of Lori Loughlin different?
Yes. Loughlin, of "Full House" fame, was charged along with her husband, Mossimo Giannulli, the creator of clothing brand Mossimo.
The couple allegedly agreed to pay $500,000 in bribes to have their two daughters recruited to the USC rowing team (even though neither of them actually row) in order to gain admission to the school, according to the complaint.
A cooperating witness told the couple their younger daughter's crew profile would show their daughter, falsely, as a coxswain for the L.A. Marina Club team, and asked for an "action picture," according to the complaint. In response, Giannuli sent a picture of their younger daughter on an ergometer, an indoor rowing machine.
In 2017, a guidance counselor from the high school their daughters attended did not believe they rowed and raised concerns that their applications might have misleading information, according to the complaint.
Shapiro said it is relatively rare in his experience for two spouses to be charged in the same case.
Sign up for Essential California for news, features and recommendations from the L.A. Times and beyond in your inbox six days a week.
You may occasionally receive promotional content from the Los Angeles Times.