'We're missing one, but we gained one from above.' Slain sheriff's deputy honored at funeral
Throngs of mourners including law enforcement officers from across the state said their final goodbye to Joseph Gilbert Solano on Monday, two weeks after the Los Angeles County Sheriff's deputy was shot in a surprise attack that claimed his life.
Solano's funeral at the Cathedral of Our Lady of the Angels in downtown drew officials including state Atty. Gen. Xavier Becerra, county supervisors Kathryn Barger, Hilda Solis and Mark Ridley-Thomas, and dozens of family and friends who gathered to honor the 13-year Sheriff's Department veteran.

For the record:
12:05 a.m. June 25, 2019An earlier version of this post misspelled the last name of shooting victim Dmitry Koltsov.
"We're missing one, but we gained one from above," said Sheriff Alex Villanueva, who has remarked at the tragedy of losing one of his deputies so early in his term. "To the Solano family, I want to let you know we're with you all the way. We'll always be with you."
It was a Monday just after work when Solano, 50, was shot once in the head while standing in line at a Jack in the Box in Alhambra.
The random shooting on June 10 left the deputy, who had been wearing civilian clothing, on life support until he died two days later while being treated at L.A. County-USC Medical Center, the same hospital where he had worked with inmates needing medical care.
The suspected gunman, 30-year-old Rhett McKenzie Nelson, was charged with two counts of murder in the deaths of Solano and another man, Dmitry Alekseyevich Koltsov, who was killed in a separate shooting the same day. Koltsov, 31, was a champion snowboarder from Russia who moved to the United States to pursue his athletic passions.
Solano was remembered by colleagues as a calm professional who had a gift for de-escalating encounters with inmates.
Those qualities were part of why he was assigned to a specialized unit within the department's Access to Care Bureau that required transporting dangerous inmates or those who needed protection from themselves or others, according to his colleagues.
Capt. Tania Plunkett, his supervisor, shared stories from Solano's partners and friends in the department, who joked that the deputy was a foodie and fitness enthusiast who loved to dress well.
"He would often share memories of his disco days. I learned where he shopped because he would point out stores and say, 'That's where I bought my Cavaricci pants and my silk shirts,' " Plunkett said, relaying a remembrance from another deputy.
Plunkett said Solano installed the one and only full-length mirror in the locker room of the unit where he worked, sometimes eliciting laughter from his colleagues by looking at his reflection and remarking, "Man, I look good."
"He was full of life, loved his family, and everyone around him. So as we're gathered here today, I am absolutely certain that Joe is looking down on us saying, 'Man, they look good,' " Plunkett said.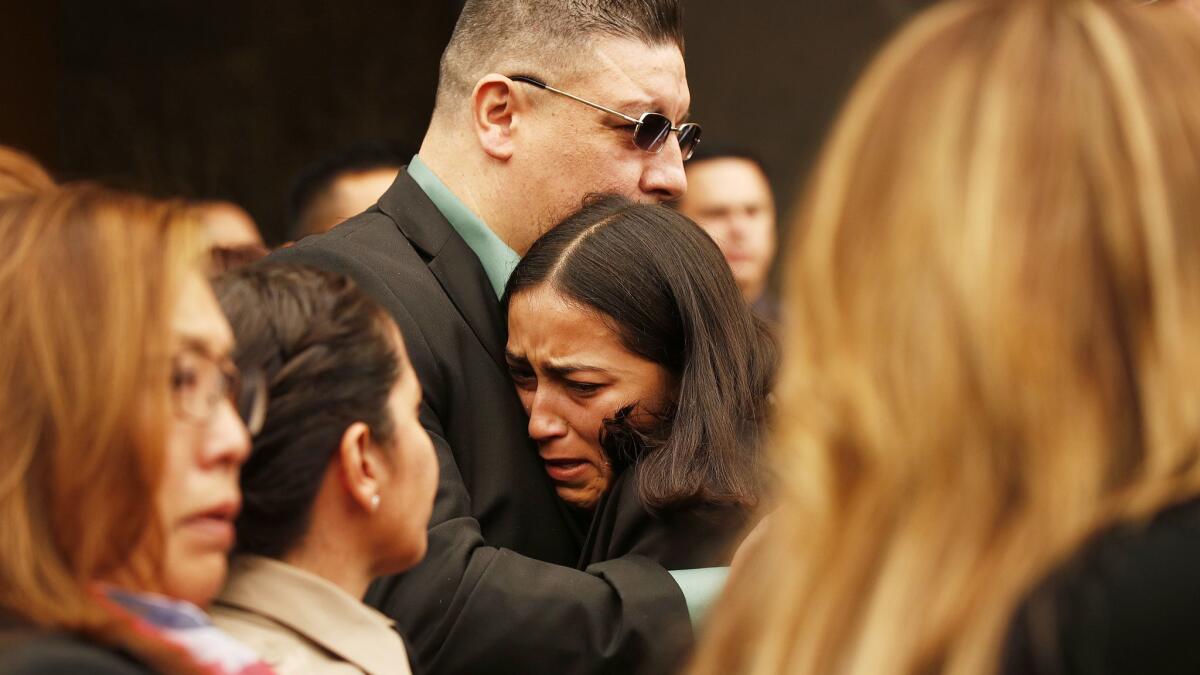 Much of Solano's heart was devoted to his family life, which he shared with his longtime partner, Julianna Loza, her daughter, Jessica Jimenez, and his adult son, Matthew. The Glendale-born deputy also was the sole provider for his mother.
Loza and Solano had recently purchased a house with a pool, one of his proudest accomplishments, Loza said.
Less than two weeks before he was shot, Solano was driving with Loza to buy a bougainvillea plant for their new back yard when he missed an exit on the freeway, prompting Loza to point out his mistake, she said. Loza said the two later learned there had been a shooting near where they were traveling and that his blunder had saved them.
"He always had a way of comforting me and reassuring me that everything would be all right," Loza said through tears. "Thank you for loving Jessica and I unconditionally and wholeheartedly, babe. I can't wait to see you in heaven."
Prior to his most recent assignment, Solano worked in court services and at Twin Towers Correctional Facility.
Solano is set to be buried Monday at Calvary Cemetery and Mortuary in Los Angeles.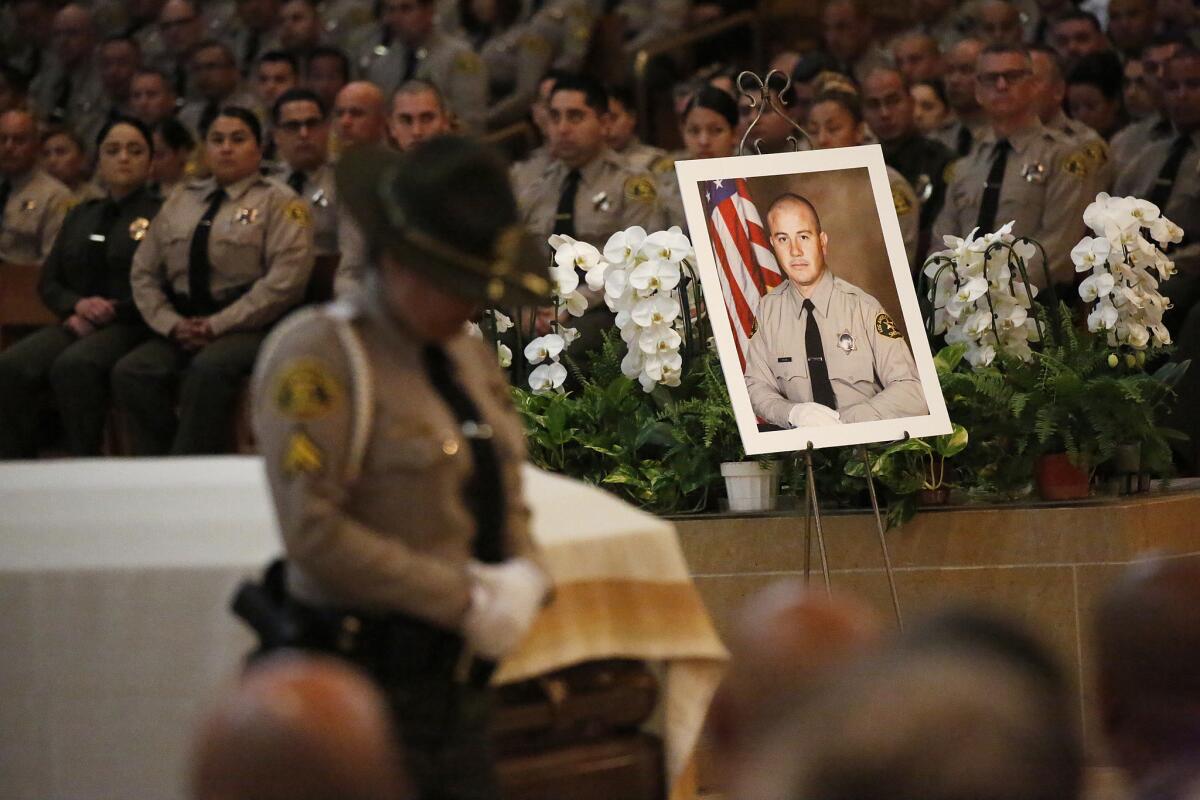 Twitter: @mayalau
Sign up for Essential California for news, features and recommendations from the L.A. Times and beyond in your inbox six days a week.
You may occasionally receive promotional content from the Los Angeles Times.