'It was the scare of my life': Residents near Ridgecrest feel intense shaking and fear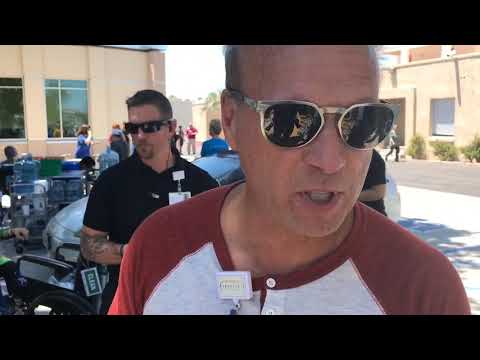 Ridgecrest Regional Hospital evacuates patients as a precaution.
The largest earthquake to hit Southern California in nearly two decades left residents near the epicenter in Ridgecrest and Kern County shaken.
The quake caused some fires and threw merchandise off shelves at stores, but there did not appear to be any major damage. There were reports of injuries, but it was not immediately clear how serious they were.
The temblor interrupted holiday plans for many who were gearing up for July Fourth celebrations.
Kevin Chambers and his 5-year-old daughter, Kailyn, were rotating their vanilla cake on a turntable and layering on the chocolate frosting when the pictures on the wall started to vibrate and the refrigerator started to move.
Kailyn froze. "She just stopped and was like, 'Uhhh,' " her father said, adding that the girl handled her first quake like a pro, resuming her frosting duties after the shaking stopped.
Her mother, Jazmin, was a little more rattled. A Texas native, she'd only seen earthquakes on TV and in the movies.
FULL COVERAGE: 6.4 July 4 Southern California earthquake »
"Oh my gosh, it was the scare of my life. I'm still waiting for another one," she said.
Some family photos fell off the walls and a drinking glass broke, but overall the family and house weren't any worse for wear, Kevin Chambers said.
Some residents described the rocking and rolling as "creepy."
Edith Mata, a student at Bakersfield College, said she was lying in bed with her feet on the wall when she felt the first movements.
"I felt like both of the sides of the house were moving and shaking, so I ran and grabbed my brother and kid and came outside," said Mata, 22. Her son is 3 years old, her brother 17.
Others described two different shaking events.
Why L.A.'s early warning system didn't send an alert before the magnitude 6.4 quake »
"I was in my kitchen trying to get some coffee and all the windows started rattling," said Emma Gallegos, a 34-year-old journalist in southwest Bakersfield. "It was just a little bit at first — I thought something was going by, and then I realized all the windows were rattling. It was kind of a long, gentle roll, and I felt two distinct waves."
There were reports of some damage near the epicenter, including bottles and other items falling off shelves. Fire officials said they were responding to "nearly two dozen incidents ranging from medical assistance to structure fires in and around" Ridgecrest.
In nearby Trona, where the Searles Valley Minerals plant operates, nonessential personnel were dismissed after the quake. A security representative who did not want to be named because he was not authorized to speak to the media said although workers at the plant felt the quake "drastically," no one was evacuated.
"Our chemicals are secure and did not release into the community, and I can say there are no injuries," the representative said.
The small, industrial town was quiet as aftershocks continued to rock the area, with many businesses sporting "Closed" signs for the holiday, including the general store and a clinic.
When The Big One hits, will you be ready? Take our quiz to be sure »
Barbara Butler, 90, was shopping in the Dollar Tree at China Lake and Ridgecrest boulevards when the shaking started.
"There was a shelf with all of the supplies for cleaning, and all of a sudden, I felt a big jolt and that was coming down," she said. "It fell all around me, and liquids went everywhere, and the lights went out."
Butler, who walks with a cane, said she was able to maneuver out of the way before the shelf crashed to the floor. After the rolling stopped, other shoppers helped her out to her car, where she drove straight to her house to assess the damage.
She said a collection of glass cups and saucers that had belonged to her mother was destroyed, as was an antique case that housed them. "But they're just things," said Butler, who has lived in the area for 50 years.
Jenny Campbell, a bookkeeper at the Albertsons on China Lake Boulevard in Ridgecrest, said the entire store was moving with light fixtures and pieces of the ceiling falling, bottles and glass broken in the aisles. The store is without power and running on backup generators.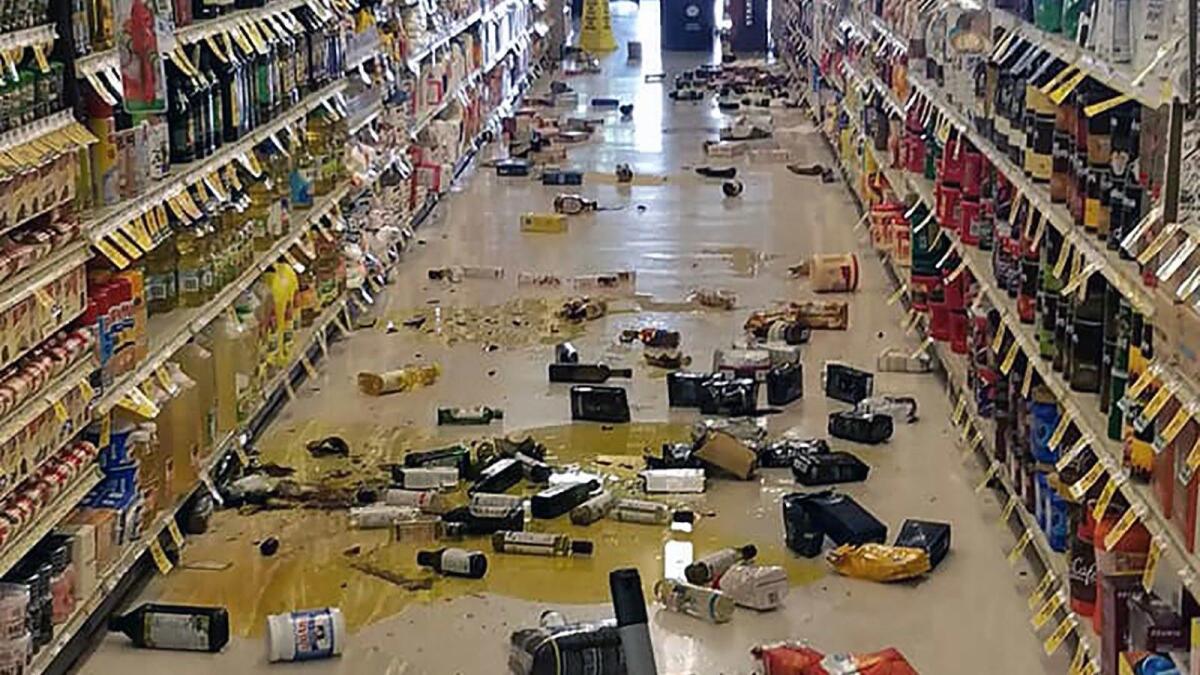 "I was just shocked. It was like nothing I've ever experienced," she said.
Virginia Henry was reading in her Inyokern bedroom — about 10 miles from Ridgecrest — when the shaking started.
"It was feeling a whole like the Loma Prieta earthquake up in San Francisco in '89," she said.
The 72-year-old toy store owner had experienced the deadly magnitude 6.9 earthquake 30 years prior. Remembering how her husband had been knocked out by falling bookcases in the 1989 quake, Henry retreated from her bookcase-filled bedroom to her closet during the shaking. "I immediately thought, 'I probably shouldn't be sitting there.' "
Get ready for a major quake. What to do before — and during — a big one »
She drove into Ridgecrest shortly after the earthquake to check on her toy and game store, Just Imagine. There didn't appear to be any damage to the store, which had been closed for the holiday. "We just have a whole bunch of things lying on the floor," Henry said.
Other shopkeepers weren't as lucky, though. Javaid Waseem, who owns the Minit Shop with his brother, was at home when the earthquake hit but drove to the store after getting a call from his brother for help.
The brothers briefly closed the store while they worked frantically to clean up the mess inside: hairspray cans, diapers, beer cans, spilled pet food, pools of liquor and wine from broken bottles. Workers swept up broken glass and wiped off products to see what they could salvage and put back on the shelf.
By 4 p.m., several aisles were still closed. Waseem said it could be days before the cleanup is done.
"This is the first time I've seen this since I moved to California," said Waseem, who moved to Ridgecrest in 2006 from New York. "I've never seen this hard of an earthquake before in this region. I'm glad we are safe, but the damage inside the store — it's going to take time."
Engineer Mark Leach was in his Ridgecrest garage about to drive to a July Fourth barbecue in Los Angeles when the shaking started. He's lived in California for 12 years, but this was his first major earthquake here. It felt like the shaking went on for 30 seconds, he said.
It wasn't his first earthquake ever. He was in Seattle for the Nisqually earthquake in 2001 — a 6.8 in Puget Sound. This felt just as bad to him.
Feeling earthquake anxiety? Here's what you can do to be prepared »
"About halfway through it I dashed out into the road completely freaking out," he said. "But there was massive shaking even when you were out on solid ground, terra firma. There was substantial shaking of the whole house. You can see some cracking in the seams of the drywall, and stuff was knocked off the shelves — books and CDs and stuff. A lamp went over, but nothing really huge — like a bookcase or anything — fell over."
A little while after the earthquake, Southern California Edison shut off the power, but sent messages to customers that it expected to turn it back on by 12:30 p.m.
Leach's neighbors also came out of their houses. "Our neighbor was totally calm." But as the aftershocks started, Leach said, he could hear the quakes before he felt the shaking.
Ivan Amerson also heard the aftershocks. The 35-year-old was at home in nearby Trona with his five children and girlfriend when the morning quake struck. He cautioned the kids what to do if a big one followed.
While eating Mexican food from a nearby restaurant for lunch, that moment came.
"Everybody was running for the door," Amerson said. "It was kind of an odd earthquake because you could hear it coming. ... Then everything in my house started jumping out of cabinets."
Big earthquake would topple countless buildings, but many cities ignore the danger »
Striking at 10:33 a.m., the 6.4 magnitude temblor was centered about 125 miles northeast of Los Angeles in the Mojave Desert's remote Searles Valley, near where Inyo, San Bernardino and Kern counties meet.The earthquake was centered 10 miles northeast of Ridgecrest, a city of about 29,000 in Kern County mostly known as a stopover for skiers and snowboarders headed from Los Angeles to Mammoth.
The earthquake was felt widely throughout the Los Angeles area, said Caltech seismologist Egill Hauksson. It's unlikely there was significant damage in a major urban area given that the earthquake was centered in such a remotely populated area.
The area that ruptured occurred in an area of faults slightly east of the Sierra Nevada. The Little Lake fault is one of them, and last went through a magnitude 6 earthquake in 1984, Hauksson said.
Sign up for Essential California for news, features and recommendations from the L.A. Times and beyond in your inbox six days a week.
You may occasionally receive promotional content from the Los Angeles Times.