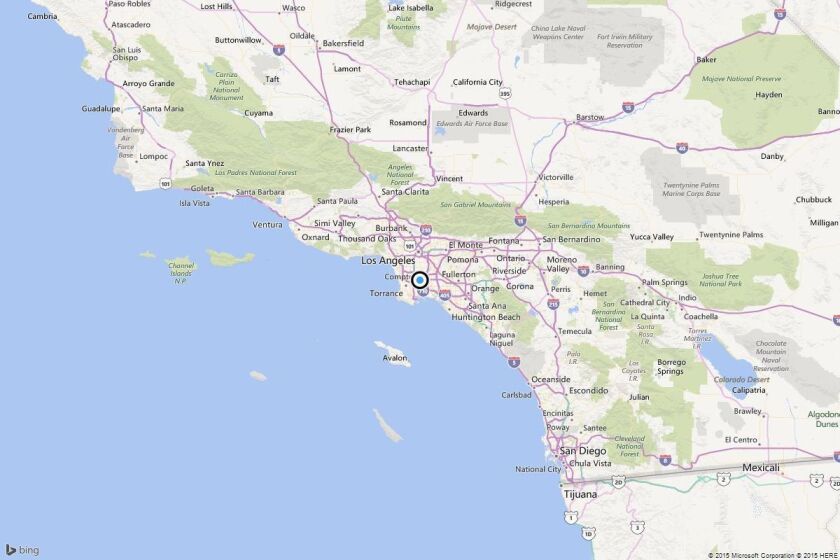 It wasn't straight under Compton.
But a magnitude 2.9 earthquake reported Monday morning was about a mile away from the city. It did not cause any damage or injuries, authorities said.
The temblor occurred at 9:05 a.m. PDT at a depth of 7.5 miles.
According to the U.S. Geological Survey, the epicenter was two miles from Willowbrook and three miles from Carson. But Compton was the closest sizable city.
Southern Californians reported feeling the shaking as far away as Newport Beach more than 40 miles away. The earthquake occurred along the Newport-Inglewood fault, tweeted Lucy Jones, a seismologist with the USGS.
The fault is about 46 miles long and is considered particularly hazardous because it runs through heavily populated areas, from Culver City through Baldwin Hills, Long Beach and Huntington Beach before it heads offshore.
The fault unleashed the 1933 Long Beach earthquake, which killed 120 people and prompted some of the state's first seismic building regulations.
In the last 10 days, there have been no earthquakes of magnitude 3.0 or greater centered nearby.
This information comes from the USGS Earthquake Notification Service and this post was created by an algorithm.
Times staff writer Rosanna Xia contributed to this report.
Read more about Southern California earthquakes.
---