Mother turns Starbucks into her son's classroom as LAUSD teachers strike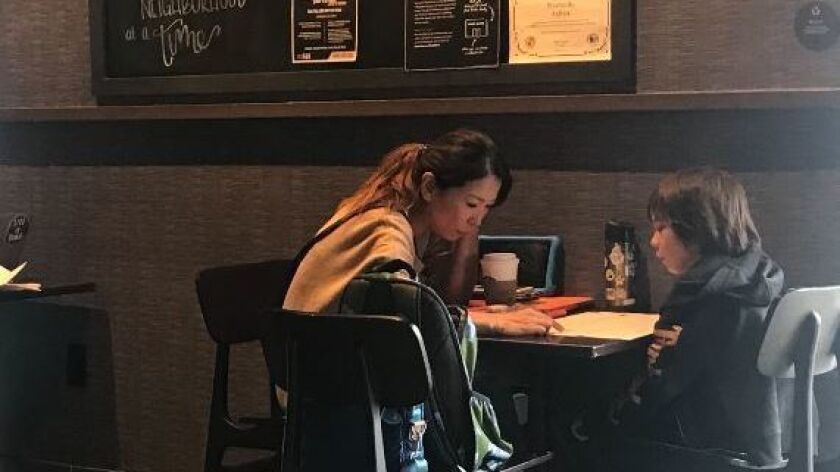 Mari Enyart, 42, leaned in and used her index finger as she helped her 7-year-old son, Waska, read a Japanese nursery rhyme.
On any other day, the first grader would be at Broadway Elementary School in Venice.
Today, the school campus was Starbucks in Gardena.
PHOTOS: L.A. teachers go on strike »
"We're waiting on his little brother, who is preschool," she said.
She said if she had taken Waska to school, he would have sat in a cafeteria with other students, watching a movie, perhaps reading a book.
"I felt it was better to homeschool him," she said.
Enyart said she hasn't been told how long the LAUSD teachers' strike may last. Until that happens, the stay-at-home mom is her son's teacher. Maybe, she said, there will be field trips to the museum.
"He's interested in rocks," she said, and Waska pulled out a large rock with crystals sticking out. He also had a small baggie containing rocks and gems.
Despite the disruption to his education, Enyart said she supports the teachers' strike. She said she believes teachers should have smaller class sizes and that the district should agree to the union's terms when it comes to nurses and librarians.
She said there are no nurses or librarians at her son's school and that she wonders why the children of friends in other school districts have those resources.
---
The stories shaping California
Get up to speed with our Essential California newsletter, sent six days a week.
You may occasionally receive promotional content from the Los Angeles Times.