Firefighters have never seen a wildfire like this one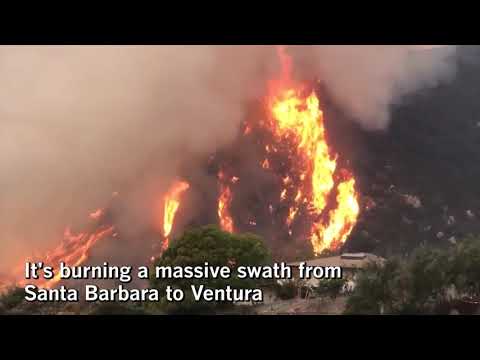 Firefighters took advantage of light winds in Santa Barbara County late Sunday, mounting an aggressive attack directly on the massive Thomas fire's western face a day after powerful gusts pushed flames toward homes along the coast.
Reporting from Ojai —
Over the last three weeks, the Thomas fire has burned its way through the history books with a menacing pattern.
Powerful Santa Ana winds push flames through hillsides, mountains and canyons at a rapid pace firefighters can do little to control. Then the winds die down, giving crews a chance to regroup and mount aggressive defensive actions before the Santa Anas return.
Firefighters are used to battling the wind, but not this much of it. Southern California set a record this month for the longest sustained period of fire weather warnings — 12 consecutive days — due to the winds, which have made it impossible for firefighters to get a handle on what is now California's third-largest fire on record.
Officials are using the latest reprieve in the winds to set new backfires and build fire lines that they hope will halt the fire from advancing when strong winds return Wednesday. But the conditions are setting the stage for a long fight, with officials saying they don't expect full containment until January. By Monday night, the blaze was 50% contained.
"Usually Santa Ana winds last two days," said Ventura County firefighter Antonio Negrete. "We've been firefighters for decades and have never seen anything like this."
The Thomas fire has scorched 271,000 acres across Ventura and Santa Barbara counties, destroyed more than 1,000 structures and damaged 250 more. An additional 18,000 structures remain threatened and thousands of residents still can't go home.
Some 8,450 firefighters are on the lines, making the response to the Thomas the largest deployment of fire resources in California history. The cost to fight the fire has exceeded $130 million.
Forecasters said that weaker winds, cooler temperatures and higher humidity early this week should help, giving crews a brief opportunity to consolidate hard-fought gains.
"It's one of the longest respites we've had," said Dave Bruno, a meteorologist with the National Weather Service. "It's been pretty relentless since the 2nd of December."
The winds and extremely low humidity — and the lack of rain — were a recipe for a historic fire. Extreme winds that come straight out of the north and northwest can be a big problem for the canyons of Santa Barbara County, which are oriented in a north-south direction, and can create dangerous fire conditions from the northern mountains to the populated coast. They're often called "sundowners" because they tend to occur during evening hours.
Similarly, Santa Ana winds that come from the northeast can cause extremely fast fire growth in Los Angeles and Ventura counties, such as in the river valley that connects Santa Clarita to Ventura.
Another major problem has been the lack of rain in Southern California.
"We usually get a good storm by now," Bruno said. "This is kind of ridiculous."
As exhausted crews entered their third week of the battle, keeping firefighters energized proved challenging. They're working three-week shifts, and many know they'll be working on Christmas Day.
Some spent Monday torching areas of the hillside along Highway 33 that's dense with brush in an effort to keep the wildfire from spreading there when winds pick up Wednesday. Others mopped up hot spots they feared could reignite.
"All you need is a small hot spot the size of your palm and it can start a fire all over again," said Derek Alkonis, assistant fire chief with the Los Angeles County Fire Department.
Firefighter Hannah Key and her crew from Porterville, Calif., spent 14 hours raking thick brush from the hillside of Ojai Valley and stomping out hot spots using shovels.
As Key walked down the hill and reached the shoulder of Highway 33, she turned and shouted toward the charred hillside where members of her team were still making their way down.
"Fill up your water, I'll meet you at the truck," she told them as they headed back to the firetruck. Monday was their last day at the Thomas fire.
"They want to go home for the holidays," she said.
To keep her team motivated, Key said she makes sure to talk to each member individually. She helps them look forward to the end of the shift with the lure of food.
"Food is a great motivator," she said, laughing.
She, too, is excited to go home. She plans to spend the holidays with her boyfriend and celebrate her birthday next week at the Grand Canyon.
Rachele Oman, a fire engineer who traveled from Utah, expects to work through the New Year's holiday. But she said she doesn't mind.
"It'll give an opportunity to those who can go home to be with their families," she said. "They'll need people working on this fire still throughout January."
Areas of concern for firefighters include the coastal communities of Santa Barbara, Summerland and Montecito, as well as the Matilija Wilderness and Rose Valley, according to the California Department of Forestry and Fire Protection. On the eastern side of the fire, the threat continues for Fillmore in Ventura County.
Anxiety remains high among evacuated residents, many of whom have been displaced for more than a week. Some have no idea if their homes are still standing.
Stephen Dougherty has been on edge since Dec. 10, when he and his wife left their Montecito home for a Red Cross shelter at UC Santa Barbara.
But the Doughertys have been through this before. This is the third time in a decade that the couple has had to evacuate their home because of wildfires.
"It's part of California life," Dougherty said.
Etehad reported from Ojai, Tchekmedyian and Branson-Potts from Los Angeles. Times staff writers Rong-Gong Lin II and Nicole Santa Cruz contributed to this report.
alene.tchekmedyian@latimes.com
Sign up for Essential California for news, features and recommendations from the L.A. Times and beyond in your inbox six days a week.
You may occasionally receive promotional content from the Los Angeles Times.