Former USC gynecologist George Tyndall charged with 29 felonies in sex abuse case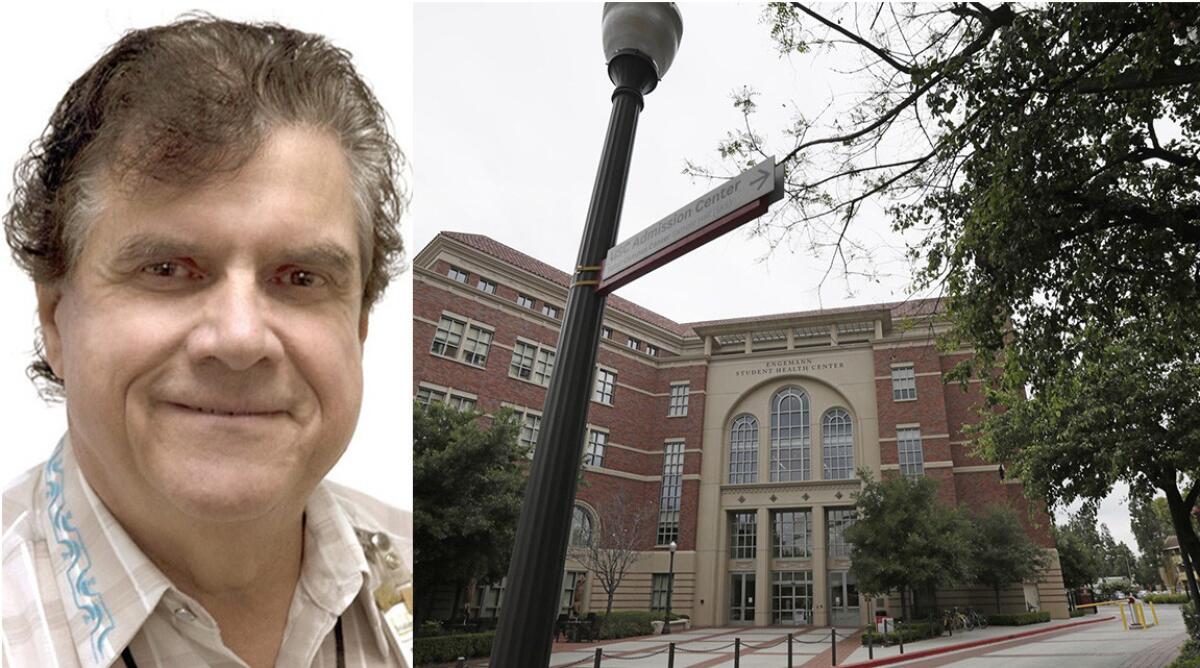 George Tyndall, the gynecologist accused of sexual misconduct toward hundreds of USC students, was arrested Wednesday and charged with committing more than two dozen felonies at the campus clinic where he practiced for decades.
The physician was taken into custody at 7:45 a.m. as he exited his apartment in a high-rise near Lafayette Park. Los Angeles police said he was carrying a loaded .38-caliber handgun, a concealed weapon for which they said he did not have a permit. Immediately after detectives approached him, the 72-year-old began complaining of chest pains and was driven to L.A. County-USC Medical Center for treatment. He remained there Wednesday evening.
The 29 felonies laid out in a criminal filing Wednesday by the Los Angeles County district attorney's office concern allegations by 16 women involving incidents between 2009 and 2016, and carry a potential prison term of up to 53 years, authorities said.
The arrest was the capstone of a yearlong investigation that ballooned into the largest sex crimes inquiry involving a single suspect in Los Angeles Police Department history. The charges represented only a tiny fraction of the allegations made to police and prosecutors by nearly 400 women and span the final seven of Tyndall's 27 years at the university.
Detectives from the elite Robbery-Homicide Division presented the district attorney's office with evidence about the alleged sexual abuse of 145 former patients for potential prosecution. Dist. Atty. Jackie Lacey said at a news conference Wednesday afternoon that her office was still reviewing cases and that more charges were likely.
Those filed this week, she said, represented allegations that were within the 10-year statute of limitations and had evidence corroborating the women's accounts.
"You have my word that my office will not rest until justice is served in this case," Lacey said.
Tyndall has asserted repeatedly that he did nothing wrong and that his treatment of patients was consistent with good medical care. After his arrest, an attorney for Tyndall, Leonard Levine, said, "After one year of being tried in the press, Dr. Tyndall looks forward to finally having his case adjudicated in a court of law."
Complete coverage: Former USC gynecologist Dr. George Tyndall accused of inappropriate behavior »
His arrest was heralded by many former patients. Mai Mizuno, who saw Tyndall in 2016 as a 19-year-old freshman, said the district attorney's office notified her Wednesday that she was one of the victims described in the criminal complaint.
Mizuno, who graduated in May, said that as the investigation dragged on, she worried that Tyndall would never face criminal consequences.
"I felt slowly erased by process because the D.A. took so long to charge him," she said. With his arrest, she added, "it does give me hope that justice can be served for the victims of his abuse."
Lacey acknowledged frustration by many women over the pace of the investigation but said the months of work by prosecutors and detectives were necessary to ensure the cases held up at trial. She said there were unique aspects to Tyndall's situation, including his medical training, that made the detective and prosecutorial work more challenging.
"His [case] is unusual in that it involves a doctor who is trained to examine a woman's genitals," she said.
Investigators had to consult experts to understand how the gynecologist's behavior differed from legitimate care, she said.
The criminal filing Wednesday, signed by sex crimes prosecutor Reinhold Mueller and LAPD Det. Juan Gonzalez, charged Tyndall with 18 counts of sexual penetration of an unconscious person. As explained in the filing, the charge relates not to the victims' state of wakefulness but instead to their lack of understanding of the gynecologist's motivations, specifically that he had "no professional purpose" in touching them during pelvic exams.
Additionally, Tyndall faces 11 counts of sexual battery by fraud for touching an "intimate part" of a patient "for the purpose of sexual arousal" and under the guise of a "professional purpose," according to the criminal filing.
The women ranged in age from 17 to 29 at the time they saw Tyndall, police said.
The charges were a relief even to former patients whose cases are not being prosecuted.
"I think I may have screamed," said alumna Nicole Haynes of the moment she learned of Tyndall's arrest. "This is just one step closer to getting the justice that all of us victims are owed."
Haynes, who saw Tyndall at the clinic in 1995, said she felt confident the 16 women in the criminal case would represent an entire generation of women treated by the gynecologist.
"I know they will do a phenomenal job sharing their experiences," she said.
The Times revealed in May 2018 that Tyndall had been the subject of numerous complaints from female students and staff over his tenure at USC. Among the accusations were that he touched women inappropriately during pelvic exams, made suggestive and lewd comments about their bodies and photographed their genitals for purposes colleagues found dubious.
He was allowed to continue treating students until 2016, when nurse Cindy Gilbert, frustrated by administrative inaction, complained to a campus rape crisis center counselor.
Tyndall was placed on paid leave, and a year later, university lawyers and administrators reached a secret deal with him under which he left USC in 2017 with a financial payout and a clean record with the state medical board.
Since The Times' report, the board has moved to strip Tyndall of his license, and USC has agreed to a $215-million federal class-action settlement with former patients. More than 700 additional suits against the university are winding their way through state court.
Interim USC President Wanda Austin, who took over after the Tyndall scandal forced C.L. Max Nikias from the leadership post, welcomed the charges against the doctor.
"We hope this arrest will be a healing step for former patients and our entire university," Austin said in a statement.
LAPD Chief Michel Moore was asked at an afternoon news conference whether authorities were considering charges against USC or its employees — as occurred in the wake of sex abuse scandals at Penn State and Michigan State.
"We have not to this point identified any criminal allegations against the university for obstruction of justice or interfering with our criminal investigation," the chief replied.
Twelve of the Robbery-Homicide Division's 50 investigators worked full time on the Tyndall case for a year, police said. They executed half a dozen search warrants, including searches of his apartment and storage unit that turned up numerous hard drives. Police believe some images found in the storage unit were taken in clinic settings, and they have tried to identify patients.
Their digital analysis of the hard drives is still underway, Capt. Billy Hayes said, but investigators have already reviewed about 1,000 videos he described as "homemade sex tapes" filmed in the Philippines.
Tyndall attended medical school in the country and married a Filipina.
Detectives crisscrossed the U.S. over the last year, visiting 16 states and Canada to interview hundreds of alumnae about their experiences with Tyndall.
One alumna they interviewed had a unique insight into their task. Audry Nafziger, who was treated by Tyndall as a student at USC's Gould School of Law in 1990, became a Ventura County prosecutor and later a sex crimes supervisor.
"They asked all the questions I would've asked as a prosecutor," she said.
Though she was not one of the "Jane Doe" victims described in the criminal filing, she said, she found relief in Tyndall's arrest.
"He's done this for 30 years. This is who he is, and he'll never stop. I think it's a public safety risk that he has been walking the streets for a year," Nafziger said. "Knowing he will never hurt another person again means the world to me."
It's unclear when Tyndall will be released from the hospital and appear in court. His bail is set at $2.1 million, according to court papers.
Sign up for Essential California for news, features and recommendations from the L.A. Times and beyond in your inbox six days a week.
You may occasionally receive promotional content from the Los Angeles Times.