Hollywood street vendor receives $1,000 in donations after pedestrian overturned his cart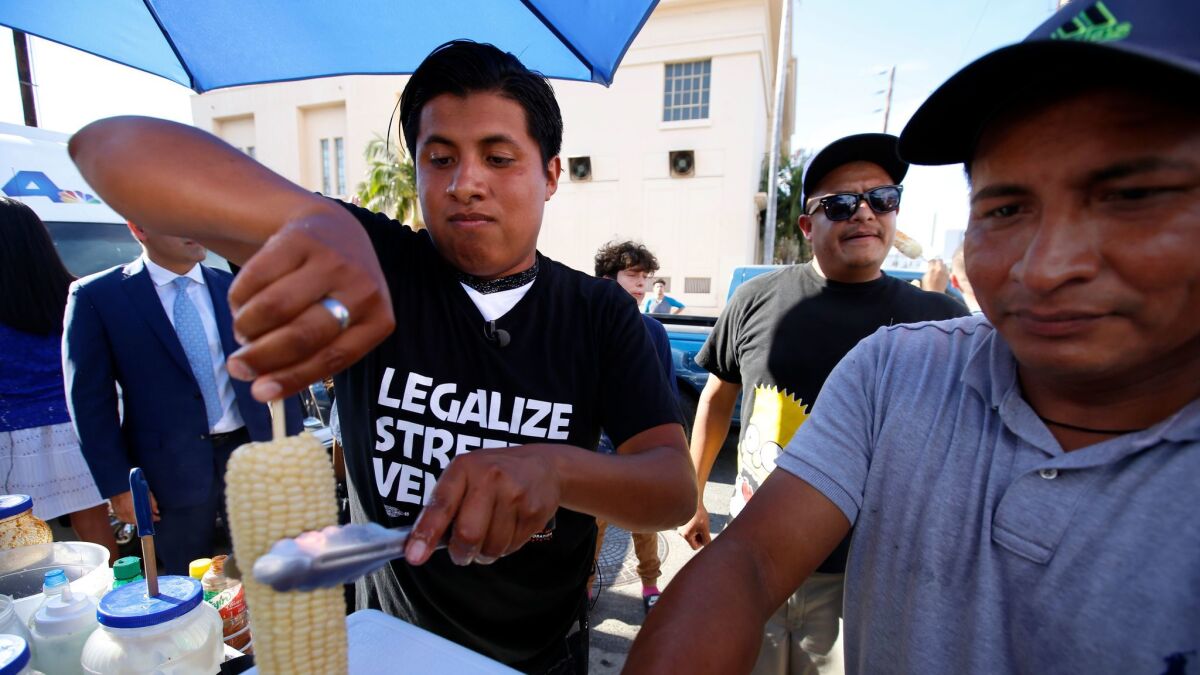 Benjamin Ramirez smiled and spoke the only English he knew: "Thank you very much."
Looking at a group of news cameras and residents, Ramirez kept his smile as he received a check for $1,000 Thursday to help repair his wooden cart and replace the items he lost a week ago when a bearded man pushed his cart over, spilling ears of corn, fruit syrup and chips on a Hollywood street.
Ramirez recorded the July 17 incident on his cellphone. The video went viral on social media this week, unleashing public anger against the man and triggering a wave of support for Ramirez.
In the video, the bearded man is seen standing several feet from Ramirez. The man is walking his dog with a woman who appears to be his girlfriend. After several exchanges, Ramirez tells the man that he has room to pass.
"Move the cart, or I'm going to move it myself," the man said in Spanish.
"Go ahead," Ramirez said.
The man then hands the leash to the woman and walks toward Ramirez. He held an object in his right hand that Ramirez believed to be a knife. Ramirez said that in self-defense he threw chili powder at the man. Enraged, the man flipped Ramirez's food cart. Ramirez said it was only after speaking to a Los Angeles police detective that he learned the object in the man's hand may have been a stun gun.
Shortly after tossing the chili powder, Ramirez grabbed a metal bar to protect himself, apparently causing the woman to step in and warn him.
Ramirez turned the cellphone on himself.
"I'm recording this because this ... racist threw my things," he said.
"I'm not racist," the man said from a distance. "I'm Argentinian."
Since the video was released Monday, fundraising efforts have sprung up online to help Ramirez and other street vendors who have faced similar losses.
A combined effort by two GoFundMe accounts has raised more than $20,000. A march and rally were also held late Thursday afternoon by Unión del Barrio, a nonprofit organization involved in the Los Angeles Street Vendor Campaign. About 200 people participated in the march and rally.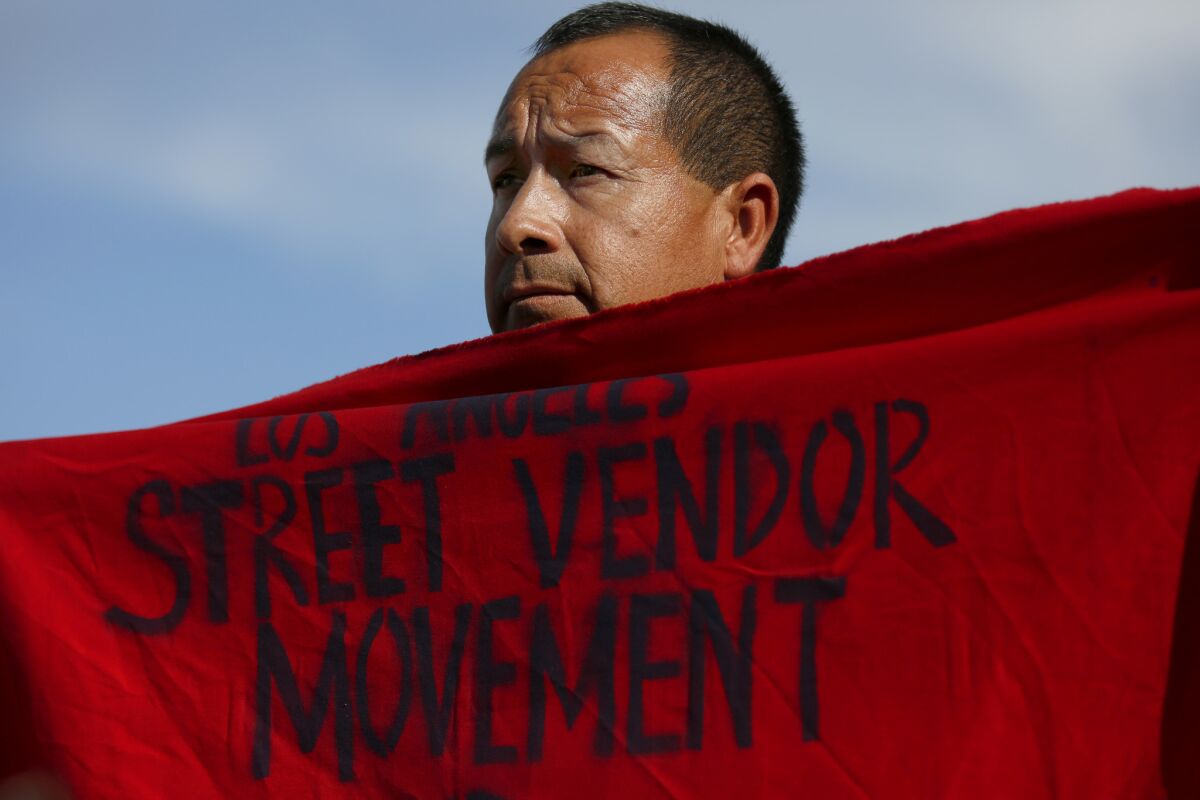 In Los Angeles, most street vending is illegal, but spurred by President Trump's tough talk on illegal immigration, city officials moved to decriminalize it this year in order to reduce the risk of deportation for vendors who are living in the country illegally.
At the corner of Romaine Street and El Centro Avenue, where the encounter happened, Ramirez held a large check written to him by Goldrich Kest, a real estate development and management company. As it celebrates 60 years of business, the company decided to launch a "60 Acts of Kindness" project.
So far, the company has awarded money to the family of a 4-year-old boy suffering from cancer so that they could go to Legoland. It has donated a wheelchair and helped some of its employees. Ramirez was the eighth person the company has helped.
"I saw the story and I just couldn't believe someone could dump someone's livelihood like that," said Leslie Suder, the company's director of marketing. "So much is going on in the country with so much hate going around, I think this is just really a bright spot that we can bring to Los Angeles."
Imelda Reyes, Ramirez's mother, said she has been overwhelmed by the public's support.
"I can't believe the solidarity we have been receiving from everyone," she said. "It's also good that this is helping raise awareness and support for other street vendors who have faced similar harassment."
Standing near her husband, who was preparing a Mexican shaved-ice slushy for a customer, Reyes was approached by a tall Argentinian man who wanted to donate money and apologize to the family on behalf of the Argentinian community.
"What this Argentinian guy did doesn't represent us," said Federico Rabe, 48. "This guy is the worst of our country."
Not far away, Julia Flores stepped out of her apartment and glanced at the crowd gathered at the corner. She said she's happy to see the community coming together for Ramirez.
"When you're poor you do whatever it takes to make a living and survive, and that's all that young man was doing," she said. "He deserves the help, and what that man did was just wrong."
The Los Angeles Police Department is continuing its investigation into the incident. Det. Warren Eberhardt said the case will eventually be turned over to the district attorney, who will determine if vandalism charges will be made against the man, who police have not identified.
For more Southern California news, follow @latvives on Twitter.
ALSO
UC Irvine is under fire for rescinding 500 admission offers two months before fall term begins
Majority of civilian oversight body wants L.A. County sheriff to stop flying drone
Irvine man faces hate crime charges after yelling slur, throwing coins at two Muslim women, officials say
35 'very, very scared' dogs found in squalid conditions at home of bank robbery suspect
The stories shaping California
Get up to speed with our Essential California newsletter, sent six days a week.
You may occasionally receive promotional content from the Los Angeles Times.