Why Inglewood has given few details of a deadly police shooting even after the 5 officers involved left the force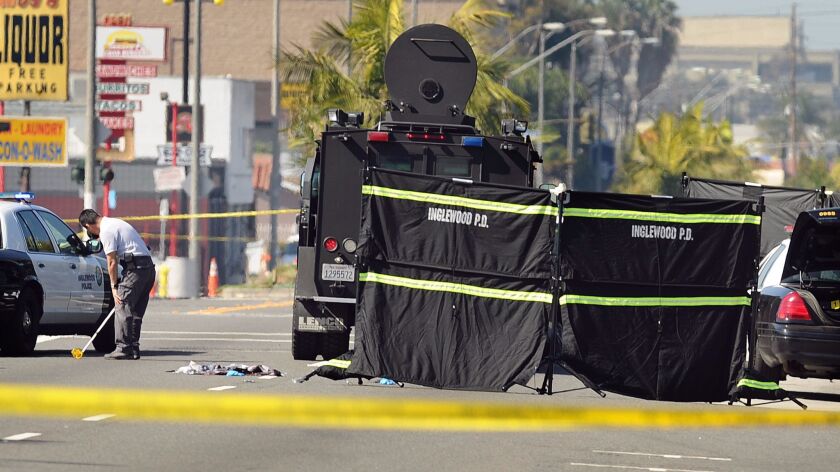 Fifteen months have passed since five Inglewood police officers unleashed a barrage of bullets at a Chevy sedan stopped at a busy intersection, killing the man and woman inside.
Despite protests, a civil lawsuit and two separate investigations, Inglewood officials have released few details about how Kisha Michael and Marquintan Sandlin were shot dead.
The city announced this week that the five officers involved in the shooting were no longer on the force and that an internal investigation had been completed. Still, Mayor James T. Butts Jr. and Police Chief Mark Fronterotta have balked at releasing a detailed account of the Feb. 21, 2016, incident.
Butts said he would consider providing more information after the Los Angeles County district attorney's office concludes its review of the shooting.
The response highlights a balancing act faced by many public agencies: how to keep the public informed while carrying out a duty to conduct a full investigation.
The question has taken on new significance at a time of heightened scrutiny of how law enforcement uses deadly force. Police departments vary in how much information they release about use-of-force incidents, but recently, many agencies have been striving to be more transparent, acting swiftly in cases that stoke controversy.
In December 2015, video showed L.A. County sheriff's deputies fatally shooting a man in Lynwood. At a news conference the next day, the department released videos and photos showing the man was holding a gun.
To quell protests, Fresno's police chief released body camera video of officers fatally shooting a 19-year-old man. El Cajon police took a similar step following a controversial shooting of a black man.
Law enforcement experts said Inglewood's approach is becoming less common.
"When you don't provide much information about a shooting, the public can lose trust, and certain members of the public will begin to believe the worst possible scenario," said Seth Stoughton, a University of South Carolina law professor and former Florida police officer.
For months, Inglewood officials refused to release the names of the officers involved in the shooting, doing so only after a public records request from The Times. They were identified as Michael Jaen, Richard Parcella, Jason Cantrell, Sean Reidy and Andrew Cohen. All but one of the officers had been with the department for two years or less.
Attorneys for the officers could not be reached for comment.
Some key details remain undisclosed. Police still have not explained the officers' reasons for firing. The city has noted the presence of a loaded gun but did not explain whether either person reached for or touched the weapon. And it's unclear if the car ever drove toward an officer — a potential explanation for the deadly shooting.
Questions about transparency are nothing new for the Inglewood Police Department, and the city has faced calls to reform its oversight of officers. In 2008, after police in a span of four months fatally shot four men — three of whom were unarmed — the U.S. Department of Justice launched a civil rights probe. Federal officials identified significant flaws in how Inglewood police oversaw use-of-force incidents and investigated complaints against officers.
"It is unheard of for the department not to disclose some explanation of their officers' actions," said Ed Obayashi, a deputy and legal advisor with the Plumas County Sheriff's Department. "How can it be they really cannot say anything?"
The shooting was a tragedy, said Jim Vaughan, vice chairman of the Inglewood Citizen Police Oversight Commission. But he urged the community to consider the officers' perspective.
"Those officers put that uniform on and it's like they put a target on them," Vaughan said. "I understand that two people are killed and seven kids are without parents, but why did they have a gun in the car?"
Vaughan said he hoped that lingering questions would be answered in a report stemming from the internal investigation, but he was uncertain how much of the report would be made public.
When you don't provide much information about a shooting, the public can lose trust.
— Seth Stoughton, a University of South Carolina law professor and former police officer
In a brief police statement put out in the aftermath of the shooting, Inglewood said uniformed officers responded to a call at 3:11 a.m. and arrived at the vehicle in the middle of the street at Manchester Boulevard and Inglewood Avenue.
The officers saw a woman "in possession of a firearm." The police took cover, ordered the couple out of the car, and the officers shot them, according to the statement.
Records reviewed by The Times, including autopsy reports and Los Angeles County Fire Department logs, provide more insight into how the encounter apparently unfolded.
A caller informed fire officials that a person was "slumped over the wheel of the car" at the intersection. Police told an L.A. County coroner's investigator that both Sandlin, 32, and Michael, 31, were "unconscious" when officers arrived. Toxicology reports later revealed Michael's blood-alcohol level was more than twice the legal limit for driving. Sandlin, who was behind the wheel, was also legally intoxicated, according to the reports.
Moments after arriving, officers spotted a 9-millimeter handgun in Michael's lap, and the car was barricaded by police vehicles, according to the autopsy report. At 3:15 a.m., an "unknown exchange" occurred between the couple and Inglewood police.
Butts confirmed this week that the officers used two police cars to hem in the couple's sedan.
"At some point, the driver attempted to drive away, but was pinned by the police vehicles," Butts said in an email this week. "Sometime thereafter, the [officer-involved shooting] occurred."
At 3:39 a.m., police told paramedics they were waiting for an armored vehicle to arrive at the scene. It's unclear when or if the armored vehicle arrived.
Roughly an hour after the incident began, at 4:11 a.m., police told fire officials that two people had gunshot wounds. Almost simultaneously, Michael was pronounced dead at the scene by police, according to fire records.
It would take four more minutes before paramedics were cleared to go to the scene.
Sandlin was taken to a hospital, where he was pronounced dead at 4:38 a.m., according to his autopsy.
Milton Grimes, an attorney representing Michael's family, said the city has provided no evidence that would justify the officers' use of deadly force. He viewed the departure of the officers as an "admission" that they violated department policy. But many questions remain unanswered.
"I cannot settle this case until I can tell this mother how and why her daughter was shot 13 times," Grimes said.
Twitter: @AngelJennings
Twitter: @MattHjourno
Twitter: @LACrimes
---
The stories shaping California
Get up to speed with our Essential California newsletter, sent six days a week.
You may occasionally receive promotional content from the Los Angeles Times.