'Devastated' Blac Chyna wins temporary restraining order against Rob Kardashian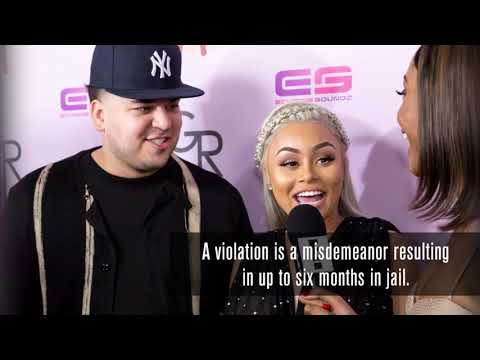 A Los Angeles court on July 10 granted Blac Chyna a temporary restraining order against Rob Kardashian. (July 10, 2017) (Sign up for our free video newsletter here http://bit.ly/2n6VKPR)
Blac Chyna said Monday that she was "devastated" after reality star Rob Kardashian posted sexually explicit images of the model on Instagram and Twitter.
"This is a person that I trusted ... I felt comfortable, you know, with even sending these pictures and even talking to him about certain things," Chyna told "Good Morning America."
Her interview came as a Los Angeles court on Monday granted Chyna a temporary restraining order against Kardashian.
Los Angeles Superior Court Commissioner James E. Blancarte issued the order Monday pending a hearing set for Aug. 8. Blancarte did not detail what the restraining order restrictions would entail at a brief hearing. He said his primary concern was Kardashian and Chyna's infant.
Kardashian, 30, posted the images Wednesday while accusing Chyna, the mother of his child, of cheating on him.
Lisa Bloom, one of Chyna's attorneys, said the court imposed "very strong and enforceable orders" that barred Kardashian from coming near her client, cyberbullying her or posting anything about her online of a personal nature including photos and videos.
"Revenge porn is a form of domestic abuse and it is also a crime in California and 38 other states. It is wrong," Bloom said. "We are just delighted about the victory we had this morning."
Chyna spoke briefly outside the courthouse. "I would first and foremost like to thank the judge for granting me this restraining order to protect me and I am just going to go back to co-parenting Dream," she said, referring to her and Kardashian's daughter.
Robert Shapiro, Kardashian's attorney, said he was voluntary complying with the order and was most concerned with parenting his 9-month-old daughter. Kardashian did not appear in court but Shapiro spoke to the media on his behalf.
"I personally, on Mr. Kardashian's behalf, apologized and offered our regrets for what has taken place in the past couple of days, and now we move forward to do one thing and one thing only, whatever's in the best interest of this child," Shapiro said
Some legal experts have said the posts could be problematic because in 2013, California lawmakers passed a law penalizing what is known as "nonconsensual pornography." A violation of the law is a misdemeanor resulting in up to six months in jail.
Chyna ended her relationship with Kardashian months ago, Bloom said, and "has the right to live as she chooses, work as she chooses, dress as she chooses, date who she chooses and be intimate with who she chooses."
"Chyna and I both believe that this is an important women's rights issue, as too many women and girls have been slut-shamed by exes." Bloom added. "It stops now…. Her body, her choice. Her life, her choice. Back off."
Los Angeles County sheriff's officials, whose jurisdiction includes Kardashian's residence, said they have not received any complaints about his postings. That would be required for any kind of investigation to begin. Attorneys for Kardashian did not return messages this week.
The Associated Press contributed to this report.
ALSO
Revenge porn? Rob Kardashian posts sexually explicit images supposedly of Blac Chyna on social media
Blac Chyna files for restraining order against Rob Kardashian after he posted sexually explicit images
---
UPDATES:
11:30 a.m.: This article was updated with comments from Bloom and Shapiro.
This article was originally published at 10:30 a.m.
Sign up for Essential California for news, features and recommendations from the L.A. Times and beyond in your inbox six days a week.
You may occasionally receive promotional content from the Los Angeles Times.